All Fruit Cranberry Sauce
A delicious sugar free cranberry sauce, made with apples and currants, and delicately spiced. The all fruit cranberry sauce is not too tart, not too sweet.
Well, it's that time of year… The leaves are turning (rather late, here, actually) and falling, friends north of the city are sharing pictures of a dusting of snow, and we describe a 60 degree day as warm, not chilly. We made the last CSA pickup of the season, and it was all winter squash, dark sturdy vegetables like Brussels sprouts, cabbage, and kale, and root vegetables.
And Thanksgiving Day, here in the US, is less than two weeks away! Time to start planning…
OK, turkey is a given, for us… and yes, a whole bird. Some years I just do a breast, but really, I like having the cooked meat and broth on hand… After that, though, everything is up in the air. Neither of our families really had a Must Serve dish, and we both do like variety. There are commercial gluten free stuffing mixes available, but I'm not going there – I'll make my own stuffing from either cornbread or rice. (I did a cornbread one about five years ago, in fact, and we liked it.) A rice stuffing would be a variant on the stuffing for the pumpkin – probably skip the lentils, might use wild rice for the nutty, chewy note. Might use nuts, for that matter – I have some pecans, and they'll get into something…
We have winter squash. I could do a plain baked squash… but I think I'm going to make a casserole of some kind with squash, and perhaps that's where the pecans will go… Brussels sprouts, certainly – possibly the pan roasted, possibly a less last minute recipe. I'm not actually sure if we'll have potatoes as well as the stuffing or not… but probably, we always seem to. Soup? Salad? Appetizer? One of the above…
Gravy, of course. I'll plan to make it from the drippings the way Grandma always did, to get the full turkey flavor – but instead of having packaged gravy as a fallback, as I did last year, I'll make sure I have some roux cubes, so I'll be able to use them with my giblet broth, if I don't feel up to fussing. (And then I don't have to worry about what it is thickened with…)
I'm not sure yet what I'm doing about dessert. Our own family tradition has been a cranberry apple crisp – I'd made an apple crisp for something else, once, and Rich suggested adding cranberries, and it has morphed from there. But the crisp part is oatmeal, and right now… I'll hold off on that. I'll figure something out.
That means, though, that I can use apples in my cranberry sauce without it feeling redundant. As I've mentioned, I don't use sugar (or other sweetening – though I certainly do eat fruit) but cranberries need… something…  Now – the point of them in this meal is that the lovely tart taste contrasts well with rich meat and gravy, and sweet squash or yams. The meal can start to get too heavy, and cranberries add sparkle and lighten it up. So I need a balance. Enough  of something else that we can enjoy the tartness of the cranberries without them being too sour to eat.  Last year I made – and we very much enjoyed – my mother's relish, which was just cranberries and an orange put through a food grinder. But this year I'm not making apple cranberry crisp… so I can use apples… And, years ago I'd made a spiced cranberry sauce, and promptly lost the recipe. It would be much too sweet for me now – as I remember it, the berries were almost candied – but I really liked the spice.
I decided to make it almost like a chutney – apples and cranberries, ginger and cloves, and some dried currants (initially because I had currants – raisins would work, but I find I really like the smaller currants, here.) And I added the ingredients in stages. One could just throw everything in together, but I like the texture I got this way – I didn't want it to feel like cranberry flavored apple sauce, but a real cranberry sauce.
Directions for All Fruit Cranberry Sauce
I peeled and cut up two large apples, and put them in a small heavy saucepan – if you don't have one like the enameled cast iron I'm using here, use the heaviest one you have, and keep a close eye on it. I then added 2 T of water, just to make a little steam to start it cooking (the apples release their own juice as they cook,) covered the pan, and put it on a medium heat for a few minutes, to heat up the pan. Then I lowered it as far as I could reliably do so, and let it cook for 20 minutes.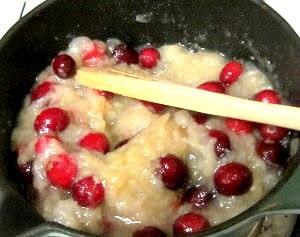 At that point, the apples were soft, and mushed down when I stirred them. I added 3 whole cloves, and 1/4 teaspoon of ginger. A note on ground ginger… it loses flavor even more quickly than other ground spices. Sniff it to see if it still has flavor – you may need to replace it. If I'd had fresh ginger on hand I might have used it…  but I did not. Anyhow, I added the spices, and stirred them in, then added 1 cup of whole cranberries. Stirred it all well, put the cover back on the pot, and let it cook another 15 minutes.
Now, this is the step that makes this sauce a little different. I stirred the pot, as the berries were starting to soften and break. I then added another half cup of berries. Adding the berries in two steps gives a better texture. The first batch melts into the apples, makes the sauce bright red, gives a lovely smoothness to the whole thing. The second batch remains distinct, so it is clearly cranberry sauce, not red mush. And they pop slightly when you eat them, as whole berry sauce should. Cook the sauce, still over low heat, another 15 minutes with the second batch of berries.
At this point, take the sauce off the heat, and stir in the currants. They will soften and plump in the warm sauce, and add another level of texture, as well as a little more sweetness to balance the cranberries. After it cools, package it and refrigerate it.
The sauce will keep a couple of days, and is best made a day or two ahead, so the flavors will meld. The spice is fairly light – even after a day or so to develop I don't think it interferes with other seasoning you may use, just adds a little complexity. The sauce has the best flavor at room temperature – put it on the table when you set it, and then it will be out of the way (and you'll remember it… An unintentional tradition at the table of an aunt, many years ago, was that half way through the meal someone would put the fork down and say "Cranberry sauce??!" and our hostess would leap up and get it… It happened so regularly it had become a family joke.)
All Fruit Cranberry Sauce
A delicious sugar free cranberry sauce, made with apples and currants, and delicately spiced. The all fruit cranberry sauce is not too tart, not too sweet.
Ingredients
2

large apples

2

T

water

3

whole cloves

1/4

t

ground ginger

1 1/2

c

fresh cranberries

1/4

c

dried currants
Instructions
Peel and core the apples, and cut them into chunks. Place them in a saucepan with the water over very low heat, cover, and cook for 20 minutes.

Stir in the spices, and 1 cup of the cranberries. Cover, and cook another 15 minutes.

Stir in the other half cup of cranberries. Cover and cook again for a final 15 minutes.

Remove pot from heat. Stir in currants, and let cool to room temperature. Refrigerate at least a day to let flavors develop.

Serve at room temperature, for best flavor.
---
---