Easy Pesto Hummus
Make this incredibly easy Pesto Hummus in five minutes! Then serve with crackers or vegetable stick dippers, or pack and carry for an easy snack or part of a packed meal.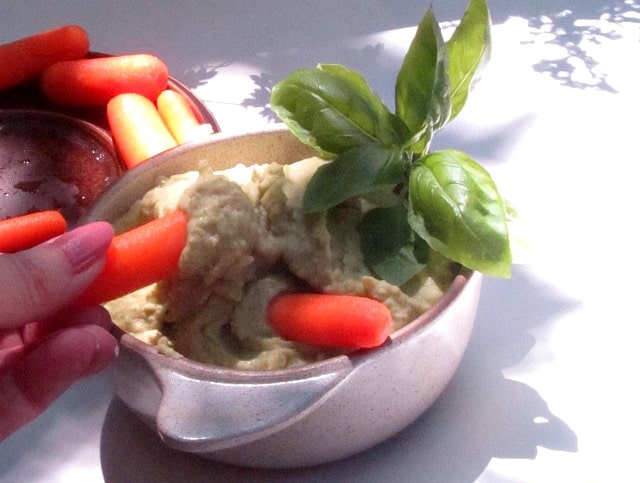 What if you take two great ideas – in this case, great recipes – and sort of smash them together?
OK, first, this is one of those recipes that I call "Hummus" so people can find it and understand at a glace what it is, but it's not really hummus… I didn't even use chickpeas! But it fits beautifully into that slot in your meal planning, and you can make it in five minutes (if you have the two ingredients already prepared – and I usually do.)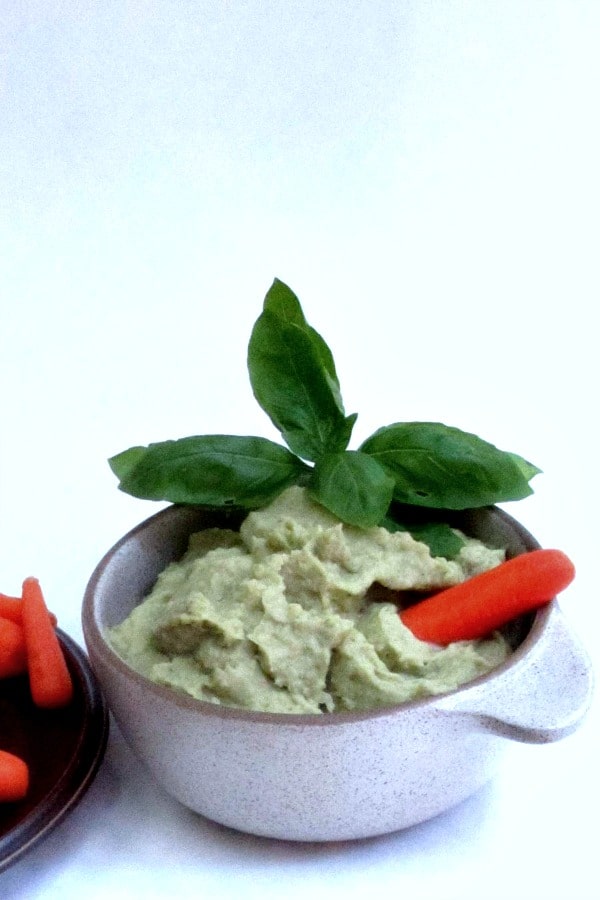 I like playing with ideas for bean spreads. If you enjoy either soup or salad for lunch (and I have typically eaten one or the other) a bit of hummus or the like either spread on crackers or eaten with vegetables as a dip just rounds the meal out beautifully. And it works wonderfully as part of a packed meal – whether it's a packed lunch for school or work or the gluten free dinner I stash so I can eat safely at the potluck. And it makes a perfect on the go snack – toss a small container in a bag with either crackers or cucumber slices, and eat between activities,  if an appointment ran late so lunch will be late as well, or any time you and yours need a bite of real food.
As much as I like to cook from scratch, I do tend to keep a jar of prepared pesto in my fridge. It adds oomph to so many recipes! Over pasta, of course – but I also stir some into soup, spoon it over vegetables, I use it as seasoning in Cherry Tomato Clafoutis and other recipes. So one day I threw some pesto into the food processor with a can of cannellini (because I didn't have the ingredients for Spinach Hummus on hand) and we liked the result.
Every spring our sister in law plants basil in her garden. She brought me an established plant in late spring, so I've used leaves here and there, but I haven't had enough to make pesto. So last week, she brought a whole container of her own homemade pesto over to share! I've used it for other meals, but it reminded me to make this.
The homemade pesto also reinforced something I need to point out – this recipe, even more than most others, needs to be made more by taste than established amounts. Pesto recipes vary greatly. I think hers uses more basil (yay) and less of the more pungent ingredients than the commercial one I'm used to, and it tastes wonderful, but the flavor was a bit lost in the beans. I usually use about a quarter cup – and needed two more tablespoons to make the basil flavor pop. And the need for flavors to meld further complicates all this… you really get much more flavor a few hours later than when you make it. (Especially if you use any garlic…)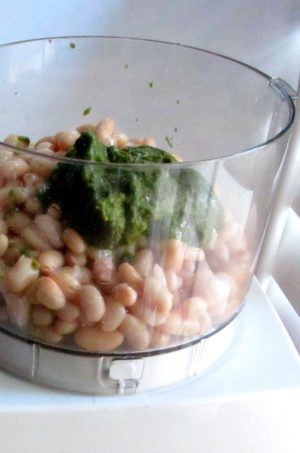 So, I'm going to say, start with a quarter of a cup. If it's just a bit bland, give it a few hours and then see if you need anything more – but if you hardly taste the pesto at all, add a tablespoon or so right away, then let it meld. And after you make it a time or two, you'll know how you like it with your particular pesto. (OK, so one problem with getting recipes from blogs instead of printed cookbooks is that you can't make a note in the margin. That is the reason we use recipe software that lets you print recipes out… you may want to do that, to make your own notes.)
We need to remember this in cooking for the elderly – as we age, we do lose some of our ability to taste. For many, this contributes to loss of appetite, on the one hand, and a fondness for very salty or spicy foods on the other – they can taste the salt or heat. So the basil may taste more subtle to your parents than to you, but the garlic or parmesan may carry the dish. If this is something you have noticed in your family, punch up the flavor.
Directions for Easy Pesto Hummus
Take three cups of cooked cannellini. Or navy beans, or great northern, or whatever white beans you like and have on hand… I use cannellini here because they're Italian (and they happened to be what I used first) but honestly the flavor doesn't change much if you vary them…  You can use either three cups of your own cooked beans, or two cans. Either way, rinse them well – the starchy liquid that sticks to the cooked beans can make the hummus a bit gummy. (And cause digestive problems for those who have them…)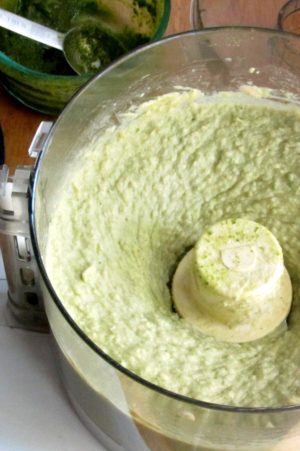 Put the beans in a food processor with a quarter of a cup of pesto. Then blend until smooth. And basically, now you have it… though you may wish to tweak a little.
Pesto classically combines fresh basil, pine nuts, parmesan cheese, garlic, and olive oil in varying proportions. Someone's personal recipe may change the nuts or oil, may skip the cheese or garlic, and so on. And you may prefer a thicker spread or a runnier dip…  Traditionally hummus is a smooth loose dip, whereas I tend to make a thicker spread as that is more useful for me.
I already discussed adding more pesto to taste. Remember that the pesto hummus will thicken with standing, and especially with refrigeration, so if you want it more liquid you can add a touch of olive oil (or even water.)  I tend to assume that your preferred pesto aligns with your preference for garlic – but you can always add a little if you want. You may want a touch of salt. I would not get more complicated than that, since the whole point here is to make it easy, but…  if a pinch of something means someone in the family will like it better, go for it.
I tend to eat it myself spread on rice cakes, but give it to the parents in small bowls with vegetable sticks as dippers. The crisp moist carrots, celery, and especially cucumbers make it easy to eat, and the flavor balances nicely. And they enjoy finger food – small manageable bitesized pieces of things that they can pick up instead of balancing on forks. I find a spoonful each of two kinds of spread or dip, or a spoonful of one and celery sticks filled with another, may whet the appetite rather than overwhelm it. It can be a balancing act, and may be different in your house (or in mine next month…)  but right now, this works for us.
Special Diets *
Both beans and any pesto I've ever seen are gluten free. They are vegetarian, though remember that most pesto includes cheese. If you need a vegan or dairy free recipe, you need to use vegan pesto. Both salt and fat levels will depend on your pesto – which includes both but is typically not eaten on large quantities.
Pesto Hummus is soft. You can vary the moisture level – and how you choose to serve it affects that also. I give it to the parents with crisp raw vegetables rather than bread to make it easier to swallow. (Chewing is not a factor for them – if it is in your house, cucumber slices may help.)
*Disclaimer – I am not a medical or nutritional professional, and this blog does not give medical or nutritional advice.  I merely share my own experience.
If you enjoy Easy Pesto Hummus, you may also like:
Easy Pesto Hummus
Make this incredibly easy Pesto Hummus in five minutes! Then serve with crackers or vegetable stick dippers, or pack and carry for an easy snack or part of a packed meal. 
Ingredients
3

c

cooked cannellini

or other white beans

1/4

c

pesto

or more, to taste
Instructions
Rinse and drain beans, and place in food processor. Add 1/4 c pesto.

Blend until completely smooth.

Taste and adjust seasoning, if needed.

Refrigerate and let rest a few hours to let flavor develop.
Notes
Pesto recipes vary greatly, so you will need to adjust to the pesto you use as well as to your own taste. Once you know what you like, just make a note for future reference.
Have you made this recipe?
I would love to hear about it – and see a picture! – on Facebook or Twitter! Just share and tag #inhabitedkitchen Or did you find me on Pinterest? Comment on the Pin!
---
---