Summery Dill Bean Spread
All right, it's another "Not really hummus" bean spread…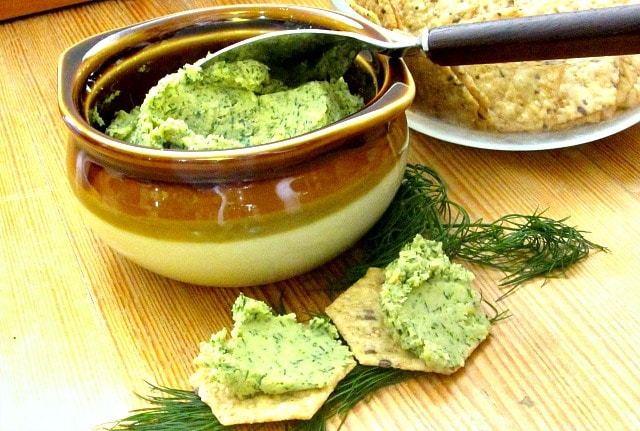 I make bean spreads like this all summer – usually chickpeas, sometimes white beans, occasionally other kinds… I've written about them with spinach, and scapes, and eggplant (don't seem to have written that one up!) I don't even know why I don't generally make them in winter – I think the summer vegetables inspire me. (I need to find some winter versions – maybe the traditional one? The peanut version? Because it's good to have on hand!) I make them pretty firm, because I'm really looking for a spread, not a dip – something to put on bread or crackers, or even use in a sandwich, if you want! I've never been a big sandwich fan, personally, so I don't tend to write about them, but it's nice to have another meatless – usually vegan – option.
At Greenmarket I got a nice big bunch of dill – my first fresh herbs of the season. I used some in Potato Salad, instead of the parsley,  but had plenty left. Well – I had cooked chickpeas, and wanted a spread… I thought a dill bean spread would be lovely!
I made a small batch, here, based on a single can of chickpeas so that you can make it if you haven't any cooked, and I made it in my mini processor. You can easily double it – or even more – if you want more on hand. It lasts several days in the refrigerator.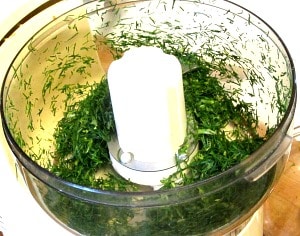 First, take the washed and dried dill, and break the leafy fronds away from the larger stems. The stems can get stringy, and you don't want that, but you don't need to worry about the small ones, just the large main stems. Then chop the dill roughly, and pack it into a measuring cup – for this batch I used a quarter of a cup.
Place the dill in your food processor, and pulse until it is minced. You may need to open it and stir down a few times.
Then drain and rinse the chickpeas. The cooking liquid from chickpeas,  called aquafaba, has this fascinating viscosity that lets it substitute for egg whites in some recipes – but it just makes spreads like this soggy  and slimy. Rinse it all off. If you cook the chickpeas yourself, the easiest way, actually, is to drain them completely while still hot – the liquid thickens as it chills.
Add the rinsed chickpeas to the food processor, and process. Here you will definitely need to start and stop, and stir down – you get a smooth paste at the bottom, and the rest, still chunky, rises against the walls of the bowl. I find a silicone spatula works best for stirring down.
Now you do need to add something else for the texture. Often this is some sort of oil, or a paste like tahini (sesame paste) but I decided to go in a different direction, here. Dill is frequently used with cultured dairy products – sour cream or yogurt – and combines beautifully with their tangy flavor. A little sour cream would be luxurious, and I may try that sometime for a party food! Here, though, I used Greek yogurt – tangy and thick, with enough moisture to smooth out the chickpeas, but not to make them sloppy. I used two tablespoons. Since different yogurts vary in moisture, and you may want a moister texture, I suggest starting with one tablespoon, pulsing and stirring down, and adding until you reach the texture you like, remembering that it may become a bit more firm as it chills and sets.
Once it is as smooth as you want (I do like to leave some texture) put it in a covered bowl and refrigerate to let it set and the flavors meld. Then – serve it with crackers or bread to round out a meal of salad or soup. I can't wait to serve it on thick slices of cucumber! Wouldn't that be a lovely appetizer? With perhaps a thin carrot curl, if you really want to be elegant?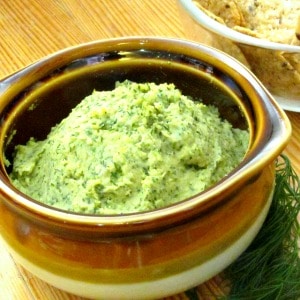 Oh – note – I did not add any salt, as I often use salty crackers. And if you use canned beans, they are probably already salted enough. If neither of those is your situation, you might want to add a pinch of salt with the chickpeas.
And – if you don't have a processor? Obviously spreads like this have been made for centuries by people without electric kitchen appliances…  The easiest thing to do is cook your own chickpeas, and drain and mash them while still warm. They are quite soft at that point, and a potato masher will do a good job – it's harder, once they chill (when that firm texture is precisely one of the features, in most recipes!) Then cool them to at least room temperature before adding the dill, so it won't wilt. And of course, mince the dill finely by hand, rather than chopping coarsely and counting on the machine. This mixture is too stiff for a blender, though if you felt you had to use one, you could make it a dip, with a lot more yogurt, and add it in with the chickpeas.
And however you make it, enjoy it!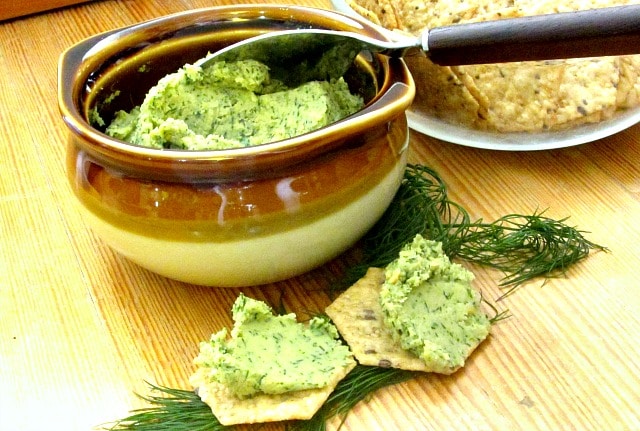 Summery Dill Bean Spread
A dill bean spread - not really hummus, though used in many of the same ways - to serve on crackers alongside a salad or soup, or as an appetizer.
Ingredients
1/4

c

roughly chopped fresh dill

large stems removed

1 1/2

c

rinsed and drained cooked chickpeas

pinch

salt

opt.

1 - 3

T

Greek yogurt

as needed
Instructions
Remove large stems from dill, and chop coarsely. Measure out 1/4 cup.

Put dill in food processor, process until minced.

Add rinsed and drained chickpeas (and salt, if using.) Pulse and stir down a few times.

Add yogurt, one tablespoon at a time, pulsing and stirring down in between, until you have the texture you want.

Refrigerate a few hours or longer to allow to set and the flavors to meld.
Save
Save
---
---