Peanutty Chickpea Spread
I wrote that whole discussion about terminology, citing bean spread specifically. And now I sit here staring at a pretty little dish of… something… wondering what on earth to call it. Hoist on my own petard and all that. (Pea Pate has a certain logic – chick peas and peanuts – but it would be so misleading!)
It all started with hummus – the real stuff. Or at least my desire to make some of the real stuff, with tahini. But I don't have any tahini in the house, and I didn't take the extra half mile detour the other evening to get some (as I'd sort of planned…) and I'd used most of the chickpeas in something else but still had a cup, and wanted a spread to eat with the new crackers I just got to try, so they'd make most of a lunch, with some vegetable soup. (And my father would be so shocked by that run-on sentence…)
Tahini is ground sesame paste, sort of like peanut butter but with sesame seed. So maybe I could use peanut butter – if Rich hadn't finished it the other day. It's on the shopping list… but…  On the other hand, I do have peanuts.
When I was a kid, you couldn't get "natural" peanut butter in the stores. It just wasn't sold. Everyone ate the stuff with hydrogenated oils and sugar and emulsifiers and… my mom didn't want to give us that. She remembered when she, in turn, was a kid, and her mom bought peanut butter at the butcher shop, where they put the peanuts through the meat grinder, and this paste came out… So she knew all you really needed was peanuts and maybe a touch of salt. And the booklet for her blender came with a recipe.
So she made our peanut butter. Now, the meat grinder does crush the peanuts a bit, which expresses the oil, but a blender just chops them – so the recipe did add a touch of peanut oil to bind it (which always feels odd to me, as we routinely drain the oil off the top of the jar when we get it…) But it tasted so much better than the Nationally Advertised Brands – it tasted like peanuts. And that is what I grew up eating, with jelly (grape jelly out of the Flintstone glass, if you wondered – we didn't eat entirely differently from everyone else, just a few things… it was apt to be cracked wheat bread, not white…)
Anyway – if I don't have peanut butter, I do still have options. I knew, because of my mother, that if I put the peanuts through the food processor I would not really get a paste, so it would not bind the chickpeas the way actual (crushed) peanut butter would – but it still seemed an idea worth trying. Down the road, I'll try the other, and see what the difference is! (I also do have a meat grinder, and may try that – but the mini-chop was easier at the moment, and I suspect more of you have food processors than food grinders.)
It was simple enough. I had a cup of cooked chickpeas, so I decided to add a quarter of a cup of peanuts. It was a small enough amount that I just used the mini-chop which lives behind the coffee pot, instead of hauling out the big food processor. I just tipped the peanuts into it, and processed until I had peanut meal, essentially. Then I added the chick peas, and started to blend them.
Now, this part can get a bit tricky. See, the water chickpeas cook in sort of congeals… so I generally drain them completely right away, if I plan to blend them for a spread, or it can get very runny. I reserve it, and may then add it back in as needed, when I cook with them. (And I always completely drain and rinse the canned beans – I sometimes have a little digestive difficulty with that liquid.)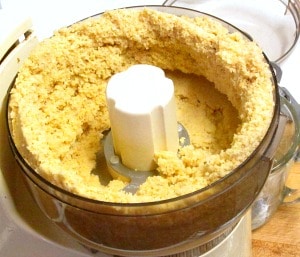 In this case, I'd already used all the reserved liquid in other recipes, and these beans were very dry. If I were flavoring them with something else, I might use olive oil, but I know there's plenty of oil in the peanuts, for richness – it just isn't released, for texture. And what I was getting was closer to a paste than a meal – but it was not going to hold together when I spread it. So I added water, a tablespoon at a time, and processed between each addition. Then I would open it carefully – you see the way it mounds up? – and stir it all down. Altogether I added a quarter of a cup of water, and got a stiff firm spread – you could add more, if you wanted something softer. Then I popped it in the refrigerator for the next day's lunch.
Quite nice. It's very firm – it really is a pate texture, rather than hummus or peanut butter… I do taste both flavors, and they blend well. We ate it on crackers, with soup for lunch (in this chilly weather!) I think it will be wonderful on a sandwich with slices of cucumber and ripe tomato, in July – firm enough to hold up with the moist vegetables. I wonder (I say now that it's all eaten) if I could roll it into a log, like a cheese log… that might be a nice option.
I will play with variations, but I usually do have peanuts in the house – and I'll be making this more.
Peanutty Chickpea Spread
Inspired by hummus, but made with peanuts and chickpeas, this firm spread with the texture of a vegan pate is wonderful on crackers or sandwiches.
Ingredients
1/4

c

roasted salted peanuts

1

c

cooked chickpeas

completely drained

1/4

water as needed
Instructions
Grind peanuts in a food processor. Once they are a fine meal, add the chickpeas, and process until you have a paste.

Now add water, one T at a time, processing in between. Stir down and mix well between processing. Continue until you have the consistency you want.

Chill at least a few hours before serving.
Save
Save
---
---