Egg Salad
Mix several condiments together to make sauce for your egg salad, with some chopped vegetables – add a little variety to the flavor!
I always seasoned egg salad basically the way I always seasoned deviled eggs. Mayonnaise, a little mustard, same way everyone I knew did it… Perfectly good, mind you – and if you've never done that, give it a try, it's quite nice – but… You know, I don't just make deviled eggs when I do stuffed eggs, I have a variety of fillings and enjoy them – why don't I do the same with egg salad?
The inspiration for this was lunch for the parents. They frequently enjoy hard cooked eggs with just a dab of sauce – but the sauce is a mixture of mayo, sweet pickle relish (so far so good, we have tartar sauce, though I never served it with eggs before) and salsa! Salsa? Now that gives a little punch of flavor, and a bit more interest!
I never used much sweet onion before, but they like it so I always have a big sweet onion in the fridge (and to be honest, don't use it fast enough… I need to work on that!) That and some celery add texture. Don asks for green pepper on his, which is good but which I do have in the recipe, because Barbara can't eat it….  but it's a nice addition if you like it.
Now, the relish is more their taste than mine, as well. It actually is sweetened… Another time, making it just for me, I might chop a dill pickle instead – I love that sour, but they don't. Anyway, there's not enough sweet relish in the recipe for the sugar to bother me, but since my recipes are typically sugar free, I just wanted to give a heads-up.
They enjoy it, I enjoy the variation. We just got some rye bread for them (yes, I have to work in a mixed kitchen these days – wheat and rye for them, gluten free for me, Rich floats in between and obsesses about what he can touch if he just picked that up… and we both wash our hands constantly. Oh, well – I'm not taking their bread and cookies away from people in their nineties…) So I made them egg salad on rye, a pretty common New York Deli Sandwich.  I, of course, used a rice cake.
Directions
First, you need eight hard cooked eggs – and you should make them ahead of time so they can be chilled. I have to confess that these days I'm cooking them in my pressure cooker – they are so easy to peel, it's mind boggling! – but if you don't have one or don't want to use it, the directions I wrote up a while back are still the best alternative. (Pressure cooker directions are all over the internet these days…) Peel your eggs.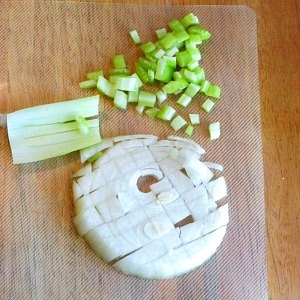 Now, I cut a thin slice from a big sweet onion – and I'm just going to tell you to do that, just as I'm going to tell you to just take a stalk of celery. Who measures out chopped onion? Exact measurements aren't really important, here…  And the same, use more or less as you like (for myself I'd use less onion, but that's me) add that bell pepper if you want… You're looking for a bit of crunch and color, as well as flavor. Mince the onion and celery.
Now take a bowl big enough to stir it all up in, and mix a quarter of a cup of mayo, two teaspoons of sweet pickle relish (aka Sweet Salad Cubes, on this jar, or hot dog relish, as I've always known it) and a tablespoon of salsa. Mix them well, then add the minced vegetables. Stir well.
Add the eggs. Now – I love to use food choppers. This one is Barbara's, I have one that is a round blade with a handle, they let me chop the slippery egg right in the bowl – so easy. You can also use a sturdy pastry blender. If you have none of the above, slice your eggs in half lengthwise, then chop them on a cutting board. That is also an option if you want your pieces of egg to be uniform – I personally like the variation I get with a food chopper, but not everyone does.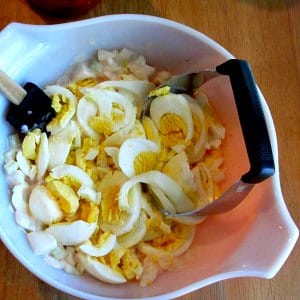 Once the eggs are chopped, mix everything up well – and serve. You can make sandwiches, as I did here – but I'm just as apt to put a scoop on a lettuce leaf as part of a salad plate. A scoop of this, some bean salad, perhaps, some coleslaw, and we have a lovely meal! (Rich and I find that we need a bit more protein than this to make a full meal, but this amount fills a sandwich – so that works well for us.)
Egg Salad
Mix several condiments together to make sauce for your egg salad, with some chopped vegetables - add a little variety to the flavor!
Ingredients
8

hard cooked eggs

1

thin slice sweet onion

1

stalk celery

1/4

c

mayonnaise

2

t

sweet relish

1

T

salsa
Instructions
Peel eggs. Mince vegetables.

Mix mayonnaise, relish, and salsa in a bowl. Add vegetables and stir well.

Add eggs, and chop them into small pieces, Mix well with the mayonnaise mixture.

Serve.
Notes
Serve on sandwiches, or as a salad plate.
---
---