Pumpkin Spice Hummus
Don't limit Pumpkin Spice to pie or coffee – make and enjoy Pumpkin Spice Hummus as a spread of dip! Delicious at lunch, fun for a party!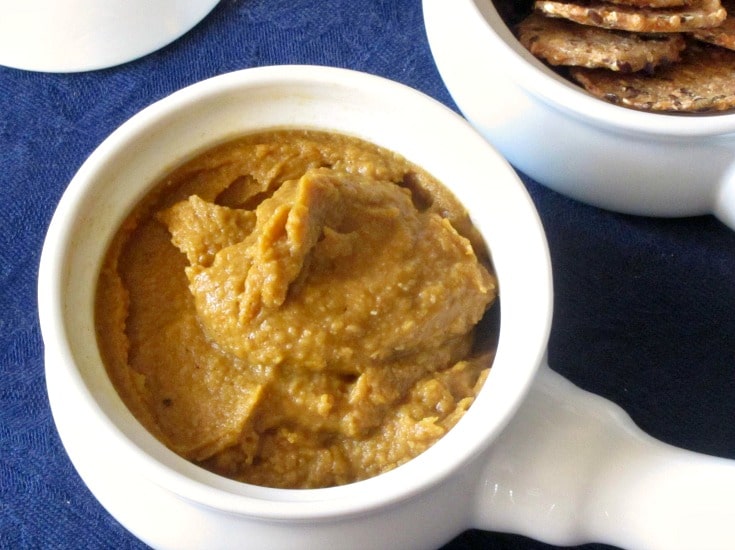 You knew it had to happen, didn't you?
Well, actually, it didn't happen quite the way you may think. I did not start by wondering what I could do to use pumpkin pie spice in yet another recipe… (which was how Pumpkin Pie Chia Pudding was born…)  This started early this summer, with a container of cooked winter squash from my freezer.
See, last November our CSA gave us a ton of winter squash. Another pie pumpkin (I'd already used one for Vegan Stuffed Pumpkin) and a Long Island Cheese Pumpkin (local cultivar – large with dense flesh and delicious flavor) and several butternut, and a bunch of acorn and… much more than we could eat all at once. So I cut a bunch of the larger ones in half and baked them, all in one batch, then pureed all the flesh together and froze it, to use all winter and spring. I made Curried Squash Soup, and put pumpkin in my breakfast shake, and… discovered in early summer that I still had some in the back of the freezer. Well, I had a batch of chickpeas, and planned to make hummus anyway, so I tossed in the squash and was blown away – it was so good! So then I knew I would have to share it with you, preferably at a time of year when most of you could get winter squash. Oh, right – Pumpkin Season! AKA Pumpkin Spice Season! And here we are.
I'm going to start right here with an honest disclaimer. I made and wrote this recipe for you with the canned pumpkin available at this time of year. For many of you, that will be easier to get (and to deal with) than fresh winter squash.  I try to use ingredients that people can get in the same quality, for consistency, so the recipe as written will work for you. And this is good, with a definite pumpkin pie flavor going. I would not post it if it were not.
But it's not quite the flavor that so amazed me last summer… or the brilliant orange color. And I used the full can of pumpkin, here, though I'd expected to use only one cup – but I had a little less pumpkin flavor.  And… I realized that this was the difference between the canned, and the baked squash I had frozen. See, baking drives out moisture and concentrates flavor, while canning – or steaming, or microwaving, or simmering (all common and legitimate ways to prepare winter squash) does not. So when you actually get new season winter squash (I have not, yet) if you happen to feel like baking some (for another recipe, perhaps?) save some and use it here… it is even better.
While we're on ingredients – you can use any pumpkin pie spice you like. Commercial, or make your own – there are recipes all over the internet, so I didn't feel the need to add to them. I made some, this time, because the blends didn't show up in our store in time for me to test this, but this is one I honestly usually just buy. (And then use it in place of the curry in that soup, for variety!) It really is good with any winter squash, and I happily use it all winter.
So the recipe itself is as basic as you get. Three cups of cooked chickpeas – either dried ones you cooked yourself, or two cans. Definitely rinse and drain… even if you don't usually, you need to for these spreads. The cooking liquid that clings to the beans makes the spread gloppy and watery if you leave it.
Put the rinsed and drained beans in a food processor. Add one 15 ounce can of pumpkin. If you have cooked your own pumpkin (or other winter squash – they all work, here) start with one cup. You may want to add more later, but you may feel you don't need it… Add one tablespoon of Pumpkin Pie Spice Blend. And if both beans and pumpkin are canned, you don't need any salt, but if either are homecooked, you probably could use just a pinch…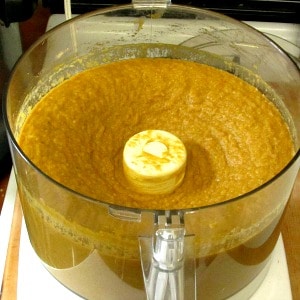 And now, process. Stop the processor once or twice to stir down. Just let it go until it is smooth. As made with canned pumpkin, it is a softer consistency than I often make, closer to a dip than a spread, though it does still spread well. If you use fresh pumpkin, taste and decide if you want to add more, or if you want to add a little water to thin it. Do not add more spice at this point – the flavor develops with time.
Once it is smooth, put it in a container and refrigerate it a few hours. This recipe really does need the time to allow the spice mixture to permeate the food, it can seem a touch bland at first. But that means you can even make it in the morning and pop it right into lunchboxes… by lunchtime it will taste fine.
Dip crackers or vegetables into it. Spread it on rice cakes. Roll it up in a wrap with vegetables. Serve it as an appetizer for Halloween or Thanksgiving.  Enjoy it!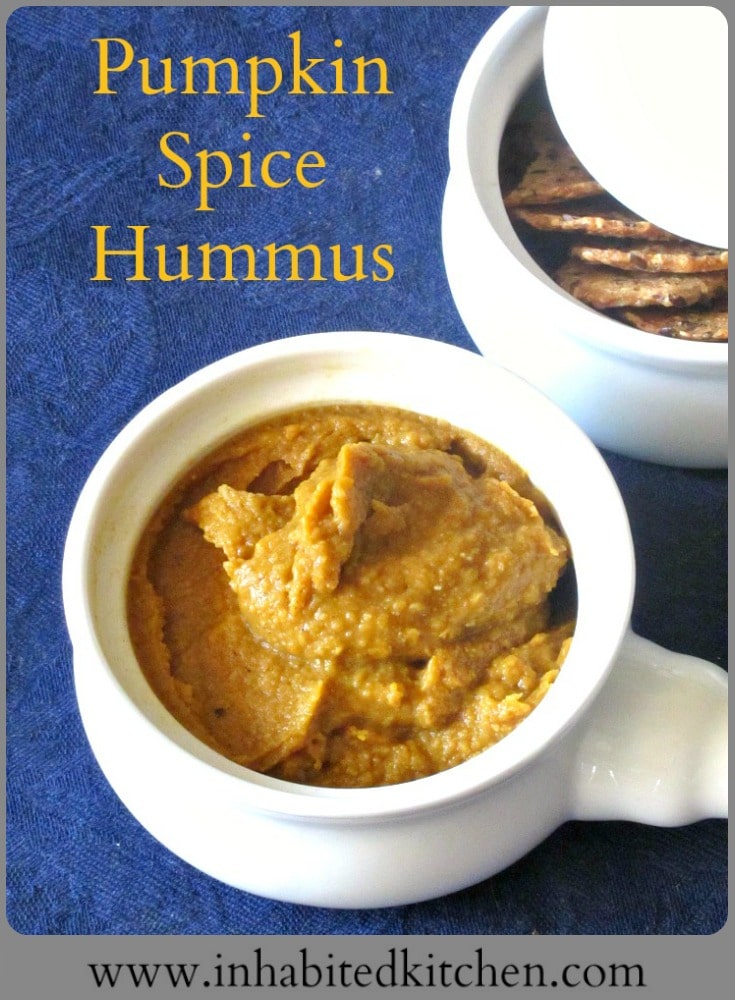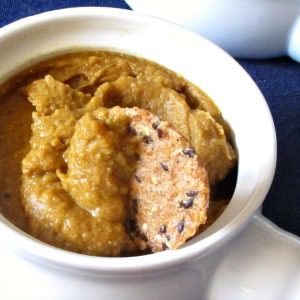 Pumpkin Spice Hummus
Don't limit Pumpkin Spice to pie or coffee - make and enjoy Pumpkin Spice Hummus as a spread of dip! Delicious at lunch, fun for a party!
Ingredients
3

c

cooked chickpeas

rinsed and drained

1 15

oz.

can pumpkin

1

T

pumpkin pie spice blend

pinch

salt

opt.
Instructions
Place all ingredients in food processor.

Process until smooth, stopping periodically to stir down.

Refrigerate and let rest a few hours, to allow the spread to firm up a little and the flavors to meld.
Notes
Let it rest before serving - the spice flavor needs to develop.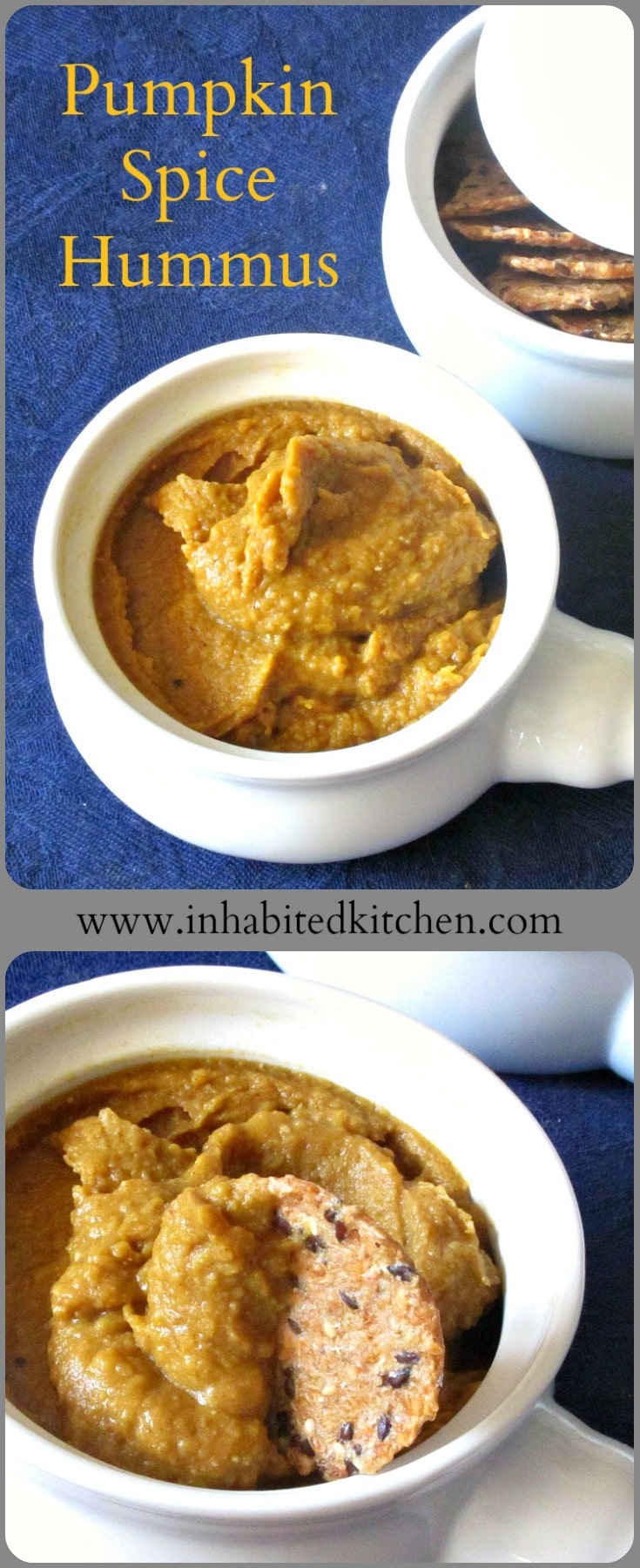 Save
---
---