Dill Whipped Feta
Flavor whipped feta with dill for a wonderfully flavored spread – delicious on crackers, terrific in a lunchbox, great for any lunch or snack.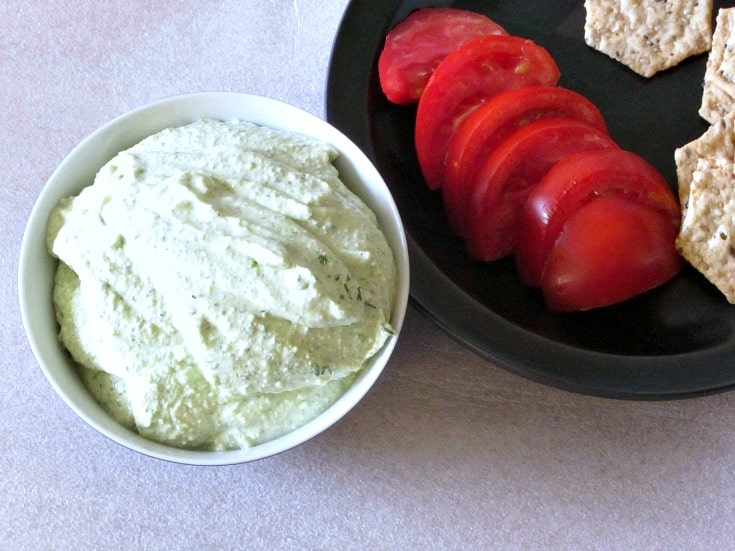 I live on the edge of the Lower East Side and the East Village, here in New York City. I'm half a mile in one direction from the building I grew up in, and half a mile in the other from my grade school, so I've known the area all my life.  It has gone through ups and downs – it could be downright dangerous, when I was a child – but stores and cultural institutions have hung on through all the changes.
This was an immigrant neighborhood for more than a hundred years, and that shows. We have the Italian bakery, the Ukrainian restaurant and butcher,  the Polish market, the Puerto Rican bodega, and more recently, the Mexican bodega and the Indian, Filipino, and Japanese groceries. Now, though, as the neighborhood gentrifies, the stores that made it interesting are being driven out  by high rents – even in the years I've been back, we've lost the Polish butcher, the nearest Jewish deli/restaurant, one of the Italian bakeries and the Italian market, and others. (Now we have Dunkin' Donuts and 7-11… sigh…)
The cheese store didn't close, but it  moved… to a smaller space in a less gentrified block.
East Village Cheese is an amazing store. Sure it has a selection of "gourmet" cheese, but its real claim to fame is cheap gourmet cheese! It's the odd lots of cheese… every time you go in there is a slightly different assortment – and usually at least one major bargain, often a cheese that you may not be familiar with. And you'll buy it every week at a few dollars a pound until they run out, and then you'll never see it again…  unless you like it enough to hunt it down at a more typical cheese store, and pay $20/pound!
But, like odd lots stores, it carries a few staples that keep you coming in. I can always get a reasonably priced  and reliable Pecorino Romano (and tend to use it rather than Parmigiano, since I can get good quality at a better price.) And they always have inexpensive and very good feta cheese, which was a staple of ours for years.
Then they moved. Now, they just moved a few blocks, but it means they are no longer in a regular path. We now need to make a special trip, and it's just a bit far for my regular walks (though within my stretch distance – I'm trying to improve my stamina.) So, without ever deciding against it, I just haven't gotten there much over the last two years. Along the way we've switched to putting what I think of Store Cheese – not bad at all New York generic cheddar – in my salad, and making it our staple cheese.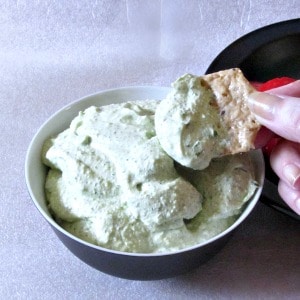 Something reminded me of the whipped feta I used to make – and haven't for ages! The basic idea is very simple – well, you whip feta… adding milk or yogurt to lighten up the texture.  It's a great spread for my ubiquitous rice cakes alongside a salad or soup, or a wonderful dip. (Try it with ripe tomato wedges!) I like adding fresh herbs, also – they add wonderful flavor (and I get so many in the CSA!)
To write up the recipe, I chose to buy my feta at the supermarket, to make sure I had the same product most Americans can get. (Which in this case meant I paid more for domestic cow's milk feta than I usually do for imported sheep's milk feta…  but the moisture content was a bit different so I'm glad I did.) And I chose dill as my herb.
Take roughly half a cup of dillweed. Strip it off the larger stems before putting it in the measuring cup – they get stringy, and you don't want that. And don't pack it – just pile it loosely in. (I mean – you can if you really love dill – this is one of those recipes where the measurement does not need to be at all precise, just to your own taste.)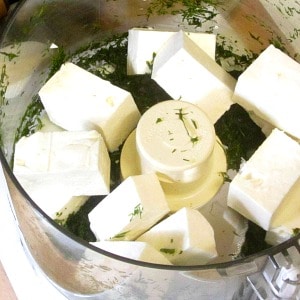 Put the dill in a food processor, and pulse to mince. You want it fairly fine even at this stage, so you'll  need to pulse, and periodically stop and stir down. Then add the feta – to make life easier, cut it in chunks to it doesn't catch the blade – and continue pulsing and stirring down until you get a finely chopped product. It almost looks granulated…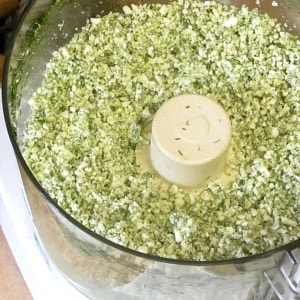 Now in theory you could stop at this point – the stuff sort of mushes together – but one pleasure of whipped feta is the light fluffy texture. So you need to add moisture. You could just use milk (and might want to if you want to mitigate the tangy flavor) but I prefer yogurt, especially the thick, strained Greek whole milk yogurt.
I use about a quarter of a cup, but your amount may vary. The moisture level of the cheese, the moisture level of the yogurt, and the texture you want in the end are all factors. Start by adding two tablespoons, blend a bit, and stir down. Now add one tablespoon at a time, processing it to whip after each addition. You may find that just one more is enough (especially if you use regular yogurt instead of Greek) or you may want three (especially if you want a particularly light and fluffy product.) Let the processor run at least a minute between additions, and then taste test. Also remember that the cheese will firm up slightly when chilled – if you're going to serve it later make it just a bit softer than you want.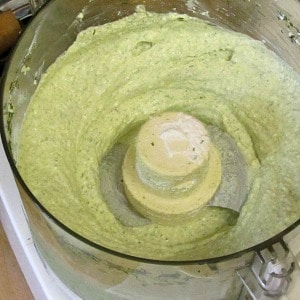 And that's it. You can serve it at once (I took the pictures at once, to give you an idea of texture) or you can cover and refrigerate it for several days. (Well – in theory – it doesn't last that long, here.) Between the salt and the culture in the yogurt it keeps amazingly well – remember that both the cheese and the yogurt were developed in a hot climate as a way to preserve milk – so it's terrific for a lunchbox that will have to sit out in hot weather.  Pack it in a small container and use it on crackers or as a veggie dip. (It's a bit moist to spread on bread ahead of time – it will get mushy.)  Or make your own lunch board – the salad bar idea, but expanded to include spreads and perhaps cheese and cold cuts!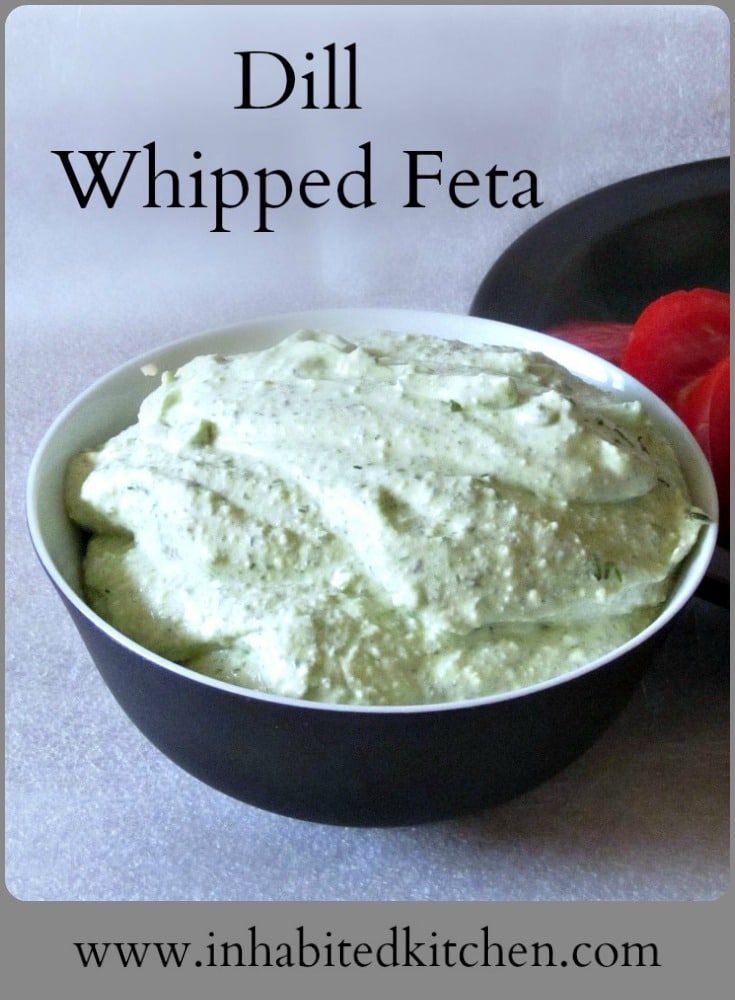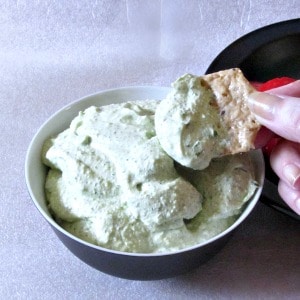 Dill Whipped Feta
Flavor whipped feta with dill for a wonderfully flavored spread - delicious on crackers, terrific in a lunchbox, great for any lunch or snack.
Ingredients
1/2

c

fresh dill

8

oz

feta cheese

1/4

c

Greek yogurt

approximately
Instructions
Strip dill from the larger stems and place in a food processor. Pulse until minced.

Cut feta in chunks, and add to the processor. Process until finely chopped.

Add yogurt, 1-2 T at a time, and process for a minute in between additions. Check the texture - you may need anything from 3 to 5 T altogether, depending on the moisture of your cheese and your preferences. When you think you have the right amount, whip for another minute or so until light and fluffy.

Serve at once, or cover and refrigerate for later.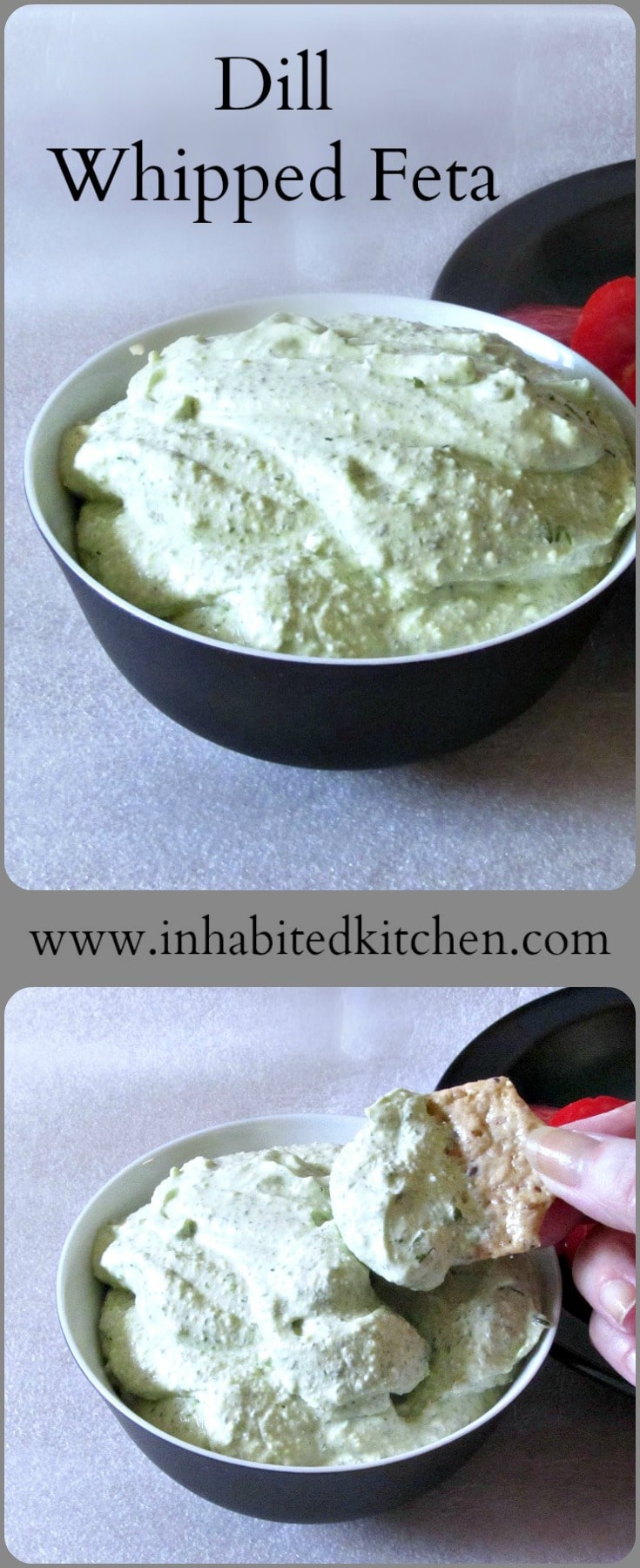 ---
---