Pumpkin Pie Chia Pudding
Because obviously I should jump on all the trends at once…
Well. Pumpkin, or Pumpkin Pie Spiced foods are certainly a current trend – but they are also quite traditional around here at this time of year. For years, every Fall, I've laid in cans of pureed pumpkin to use not just now but the rest of the year – in soup, pudding, souffle… even in protein smoothies! I also just bake winter squash, puree it, and use it in all these same recipes… but the canned is handy.
And Pumpkin Pie Spice – sometimes just called Pumpkin Spice to confuse everyone – is simply a blend of several spices. Recipes for pumpkin pie used to just call for several spices that went very well with the sweet squash – cinnamon and nutmeg, almost always, and some combination of allspice, or ginger, or cloves.  But then people who baked only at Thanksgiving and Christmas didn't want to buy half a dozen spices to make a couple of pies… so the spice companies started selling a blend, just as they sold Chili Powder, and Italian Seasoning, and so on.
Seasoning blends have been sold for centuries – and yes, good cooks will buy them, even if they have most of the ingredients anyway, because it does save time and thought… especially if there is an ingredient they don't use otherwise. They also blend their own, for the convenience.. Look – say I want half a teaspoon of the blend to stir in a smoothie. I don't want to try to measure out four or more spices in the correct proportions to add up to half a teaspoon – before I even have my breakfast! So, seasoning blend it is – and yes, here, I do use a commercial one. (There are many recipes to make your own, and vary it to your own taste, if you want!)
Chia seed, though… that's certainly a trend. It's one that may be here to stay, though, when you look at it… since these seeds seem to do useful things. (Chia pets, now – that was a trend, and a rather odd one… and thank goodness that's over!) But they are kind of expensive, per pound, but you really only use a little at a time, but I thought I really should try it, but… I came across a bulk package on a really good sale, and grabbed it. I now have at least a year's supply and I guess you'll be seeing recipes calling for chia seed! (They seem to be really useful in gluten free baking, because the gel acts as a binder… I'll have to try that.)
All this introduction, when the actual recipe is fast and mindless…  Pumpkin, obviously. Pumpkin pie is traditionally a custard, with milk and eggs. I didn't need eggs if the chia was going to set it – but I did want the flavor of the milk. And maybe a touch of sweetness, and another classic Fall flavor – I get really good, fresh cider at Greenmarket. Then the spice blend, then the chia seed… The standard proportion is 1:4 – one quarter cup of chia to one cup of liquid. I experimented a little with proportions, here, as I wasn't sure if the puree would act as liquid for the purpose, but I found that it did.
The easiest way is to use a measuring cup as your mixing bowl. Take a pint (or larger) measuring pitcher, and pour in milk to the half cup mark. Add cider to the one cup mark. Then spoon in the pumpkin puree until the level reaches one and a half cups. (Sure you can fuss with filling a dry measure and then scooping it out – but why?) Add the spice mix, and stir until smooth – I just used the spoon. Then add the chia, and stir it. Then transfer to a container with a cover… I didn't for the sake of the picture, and just played with cling wrap, but really, for daily life it makes more sense to put it in something that won't spill…
So now, everyone tells you to just leave it overnight or longer, and it's all lovely. Well… I think it's all OK. But if you just leave it, the chia does settle down to the bottom and you get a sort of gummy, chewy layer.  This may be a fine trade-off if you just want to have something you can grab and eat in the morning… But I wanted a nice dessert. So I found my best schedule was to mix it at night before bed, stir in the morning, stir in late afternoon (could be when you get home from work) and serve after dinner. It had all thickened more with the longer set, and was smoother (though there were still some chewy bits.) The stirring is optional,, though, and even with it, this is as fuss-free as any homemade dessert I've ever had that involved more than eating a piece of fruit… I made several versions, and believe me, we didn't object to any of them… (I tried to get a picture of it in the morning, but you can't really see the layers. The picture here is after nearly a day, when I had stirred it a couple of times.)
You can gild the lily with whipped cream, of course. Or – that last time I made it, after the photo shoot, when I served it, Rich went into the kitchen – and came back with pecans. Oh, my… I wouldn't stir them in ahead of time, they'd lose their crunch, but sprinkled on top as a garnish? Perfect! Walnuts would be good, too (and I have them around more often.) Just the right contrast.
It's quick to make, it's easy. You have to make it ahead, so not an impulse dessert, but one that you don't need to fool around with at all when you want to serve it. A nice little treat on a weeknight. And I try to avoid banging the Healthy drum – I've seen more junk food labeled as Healthy because of one "magic" ingredient – but this is a little milk, a little vegetable, a little fruit juice, and some seeds that, while I don't believe in Superfood, are better than highly refined tapioca pearls…
Maybe I don't have a year's worth of chia seed – not if I can make recipes like this!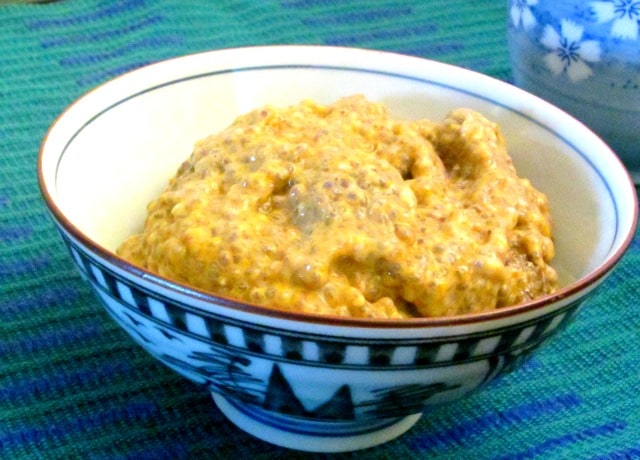 Pumpkin Pie Chia Pudding
Make this Pumpkin Pie Chia Pudding - so much faster and easier to make than pie, but delicious! A wonderful weeknight dessert.
Ingredients
1/2

c

milk

1/2

c

apple cider

1/2

c

pumpkin puree

canned or freshly cooked

1

t

Pumpkin Pie Spice Blend

6

T

chia seed

Optional garnish - pecans

walnuts, whipped cream
Instructions
Combine all ingredients except garnish, and stir well.

Refrigerate at least 8 hours, up to 24. Stir occasionally to distribute chia seed.

Garnish if desired and serve.

Recipe doubles easily.
Notes
Remember to make ahead, to allow time to thicken.
---
---