Cherry Tomato Clafoutis
It started with the tomatoes.
We have slicing tomatoes for salad, and plum tomatoes for cooking, and we have feasted on fresh, ripe tomatoes. I refuse to buy pink plastic blobs hauled across the continent the rest of the year – we just eat canned tomatoes most of the time. So our tomato season is short – and we make the most of it!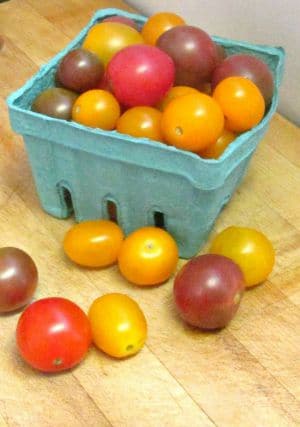 And then we got a pint of beautiful cherry tomatoes. Red and gold, yellow and orange, and sweet… All right, in many  ways the best thing to do with them was to pop one in my mouth whenever I went into the kitchen – and don't think I didn't – but I felt they deserved to be featured in a Recipe. Flipping through notes for an idea, I came across a Cherry Clafoutis recipe I had not gotten around to in cherry season. Well – why not a Cherry Tomato Clafoutis?
I would make it savory, of course, but that little pop of sweet tart tomato flavor in a custardy base should be wonderful! (Looking at the recipe) No sugar, obviously, no vanilla… what shall I…  I have basil frozen in oil, that would substitute for both the vanilla and the melted butter… If I didn't have the basil, I'd use pesto.
Flour. Well, obviously I no longer use wheat flour (though you can if you want to.) I'd prefer to use millet flour – I've found that the best one ingredient gluten free sub for all purpose flour in sauce and other cooking. (For some aspects of baking, too, but not others… it's complicated…) I was out of it, though – and so was the local store. (Rich kindly made a store run for me, to no avail.) So I used brown rice flour – it worked. (This did not have the gritty quality that rice flour sometimes has, which is one of the reasons I prefer millet for this kind of recipe.) I'm sure an AP gluten free flour would also work, if that's what you have on hand. I used 70 grams, which is the half cup equivalent… this recipe does not need to be precise, so measure however you feel most comfortable. (I still do like using the scale and not dirtying another measuring cup…)
Several of the recipes I saw suggested using a cast iron skillet, or some similarly heavy pan that would itself get very hot and help the cooking. I have a couple of these cast iron baking pans, so used the three cup one. (And spent the baking time staring at it and willing it not to overflow…) That certainly contributed to the really cool souffle-like puff that it had – but that did sink after a while, and… next time I may just use a larger pan, for my nerves… (Oh, yes – there will be a next time! No question about that!) This was pretty, though.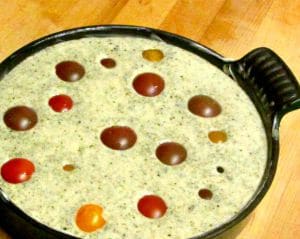 Anyhow, it could not have been easier. I put milk, eggs, basil, salt, and flour all in the blender, and blended. Poured all that into a buttered baking dish, and carefully popped the cherry tomatoes around in it, to look pretty. (All the gold ones were little and almost vanished… too bad… we saw them when we ate it, though!) Put the pan into a preheated 350° oven, and let it cook for 45 minutes while I fixed the rest of dinner.
Now, often I recommend letting a baked dish rest before serving. In this case, the lovely puff did settle, so you might not wish to, but serve it at its prettiest. On the other hand, even after the delay for the photo shoot, the tomatoes were hot, and Rich was muttering things about "little tomato firebombs…" so (especially if you are serving children) you might want to delay serving a bit… Honestly, I'd thought they'd pop in the oven, but they didn't!
So now, writing the post, I ran a search – and of course I'm not the first person to come up with this clever idea. Oh, well. I'm still quite pleased with it. The two of us ate it as a substantial part of our dinner, but I'd love to serve it to four or six as a first course at a dinner party! Pretty, festive, a little unusual – and so easy.
Cherry Tomato Clafoutis
Cherry Tomato Clafoutis, a savory take on a classic recipe. Very easy and very elegant. (Gluten Free version.)
Ingredients
1

c

milk

3

eggs

2

T

pesto

or basil pureed in oil

1/4

t

salt

70

g

millet flour

Or brown rice flour or other GF flour - or whole wheat flour, if not gluten free.

Butter for baking dish

1

c

cherry tomatoes
Instructions
Preheat oven to 350

Put all ingredients other than the tomatoes in a blender, blend until smooth.

Butter a 3-4 c baking dish. Pour batter into it. Scatter tomatoes in the batter.

Bake at 350 for 45 minutes.
Save
Save
---
---