Cucumber Aspic
We have cucumbers. We certainly do have cucumbers…
I've put them in tabbouli, and we've had them sliced, and I plan soup (why is it Soup when I make it with cucumbers, and Smoothie when I make it with peaches?) and it's just the beginning of the season… And I've heard this from others. It seems to be a very good year for cucumbers around here.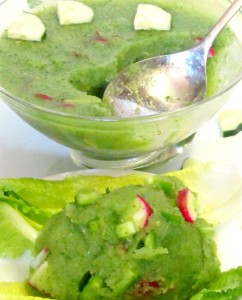 I thought I would share another recipe for cucumbers – something a little different. A cucumber aspic. We don't really eat gelatin salads or aspics often, but they're nice for a change, and they're handy for entertaining. (You can make it the day before, and it doesn't wilt on the sideboard.) And if you grew up with lime Jello salads, and sort of want to move away from the sugar and artificial ingredients, but also sort of miss having something in that spot on the table, this might be your answer.
Why yes – that vivid green is entirely natural!
Take some cucumbers, cut them in chunks, and puree them in  a blender. (It takes several bouts of stopping and starting before they catch and liquify… Turn the blender off for safety and push the pieces down towards the blades, then pulse again. They catch and liquify very abruptly.)  Now, mine very cooperatively gave me a cup of puree per cucumber. I don't guarantee that ever happening again… But I'm going to say roughly three cups of puree – it doesn't have to be precise, but in that area. Do puree it for several minutes – you want it very smooth.
Then drain it through a fine sieve until you get at least half a cup of clear liquid. You don't have to do this – you can just melt the gelatin in the puree, but that will cook it a little, and I don't want that… Don't drain it dry, just get enough for the gelatin into a small saucepan, and reserve the pulp.
Sprinkle two envelopes of unsweetened gelatin over the liquid, let soften, ten minutes, heat, stirring, until it melts completely. (More detailed directions are in my Aspic post from last year.) Let the gelatin mixture cool, then return it and the pulp to the blender, and mix for just a moment, to blend completely. Pour into a work bowl (I used the measuring pitcher) and refrigerate it about half an hour, to start to firm.
Meanwhile, chop vegetables to add. I chopped several radishes, and half a green pepper, and had about three quarters of a cup of vegetables – anything up to a cup will work well. If I'd had tomatoes, I might have used the firm parts – squeeze out the seeds and gel. If you want to use a hard vegetable like carrots (or the radishes) chop them finely. Anything you would put in a salad is fine – even more cucumbers! (It is nice to have some color other than green, just for an accent…)
Now, when you chill jello to add things, they tell you to cool it to the consistency of egg white. The pulp makes this a bit different… but it does become noticeably  firmer. Stir it, as it can start to separate a little, and then stir in the vegetables. Turn it into your serving bowl – or mold, or individual bowls, as you choose. The blending process whips in some air, and in the end, the result is a little foamy… a light, interesting texture on the tongue.
This week, we ate this with lettuce and tabbouli for lunch. A little mayonnaise might be a pleasant accent – some ripe tomatoes would be lovely. Someday I'll make this and tomato aspic – perhaps even layer them! (Though it might look a little Christmasy for August…  On the other hand, readers in the Southern hemisphere might like that! Do you get cucumbers yet, in December? Depends on where you are, I assume…)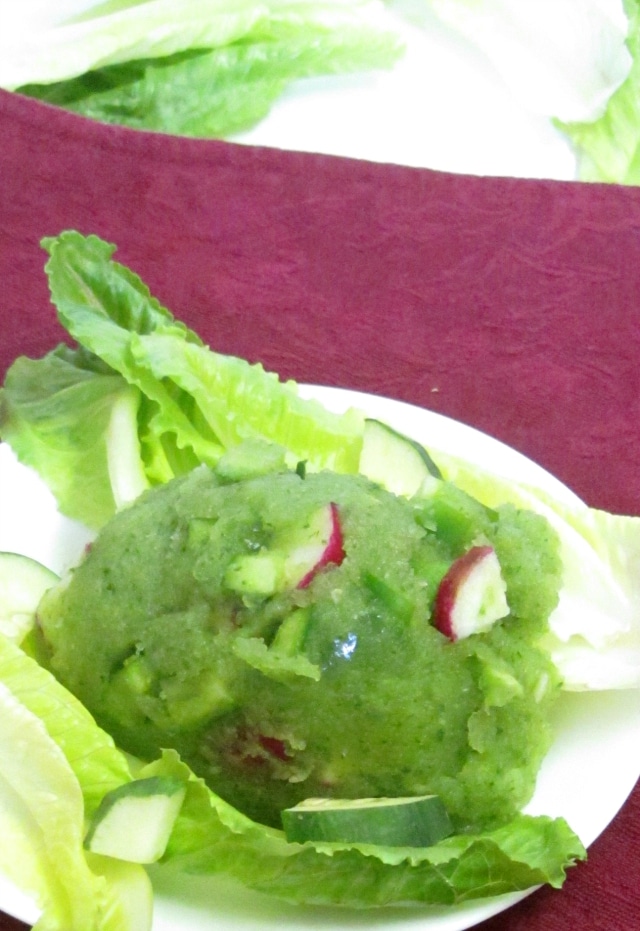 Cucumber Aspic
Cool green cucumber aspic - an unusual molded salad made of fresh vegetables suspended in a cucumber gel.
Ingredients
3

cucumbers

approximately, to make about 3 c puree

2

envelopes unflavored gelatin

3/4 - 1

c

finely chopped salad vegetables

radishes, bell peppers, scallions, etc.
Instructions
Puree cucumbers in a blender.

Drain puree until you have 1/2 - 3/4 c liquid - reserve pulp.

Place liquid in a small saucepan. Sprinkle gelatin lightly over it - allow it to soften for 10 minutes. Heat, over a low heat, stirring, until gelatin melts completely. Set aside to cool 5 minutes.

Return gel mixture and pulp to blender - pulse 2-3 times to mix completely. Pour into a work bowl and chill half an hour to thicken.

Chop salad vegetables finely.

Stir chopped vegetables into cucumber gelatin mixture, stirring well to suspend the vegetables. Turn into serving bowl.

Chill 4 hours or more before serving.
---
---