Summer Squash Saute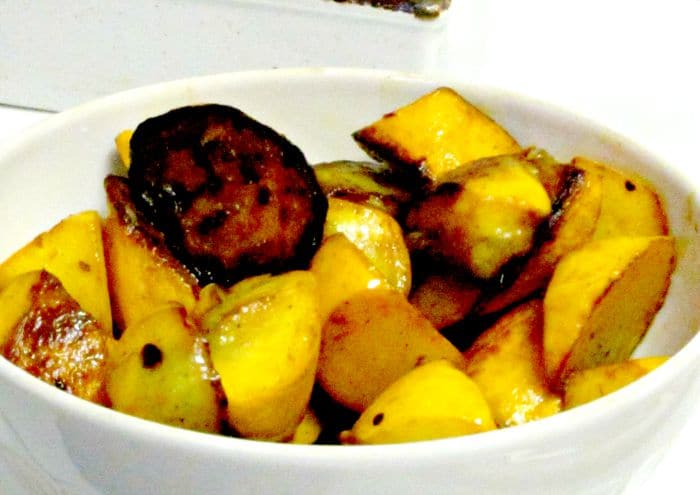 In my New York City childhood, Greenmarket had not yet opened. The Italian greengrocers my mother grew up with had closed, the Korean ones that later sprouted all over the city had yet to appear. Our very small local urban grocery store had a produce department that might have been as long as ten feet – on one side of the aisle – which was mostly iceberg lettuce, a few other salad vegetables, and onions, potatoes, and carrots. Vegetables that reached the city were far from fresh, so people didn't buy them, so there was little turnover, so… self perpetuating problem. We ate frozen vegetables.
In summer, though, when we went to my paternal grandmother's up in farm country in Central New York, my mother became friendly with the woman who ran a farm stand with garden truck. Mom had grown up eating fresh vegetables out of her farming grandmother's garden – she knew what she wanted… So there I shelled and ate absolutely fresh peas, I had my first Swiss chard, we feasted on vegetables.
And that's where I first ate zucchini – which didn't seem like a feast at the time… Mom cooked it less than her mother and grandmother had – "only"  half an hour – and I thought it was awful. (It was the only thing in my life that Mom told me to eat so my little brother would – she didn't usually fight dirty…)
When I started cooking for myself in college, though, I was in another world. The supermarkets in Ohio were enormous. In many departments, oddly, they actually had less choice than my tiny urban store (that seems to no longer be true, I'm happy to say) but the produce department! It was an entire aisle, full of bright green, remarkably fresh glorious vegetables, even in a bitterly cold Cleveland winter. And – since I had almost no freezer space in my dorm, for the frozen vegetables I was used to – I started cooking fresh vegetables. I finally brought myself to try zucchini – cringing slightly… I wasn't sure how long to cook it, though, so I thought I'd check it after five minutes. Well! That was an entirely new vegetable, and I loved it! And zucchini, crookneck, patty pan, and other summer squash have been some of my favorites ever since. These are some lovely golden zucchini – not, technically, yellow squash, though for our purposes they cook the same way. (The difference matters more to the gardener.)
You can always simmer it, of course, but I often like to saute it, since that intensifies and sweetens the flavor, instead of losing it in the cooking liquid. I prefer the Japanese technique called the roll cut for this recipe. It creates plenty of surface area to brown, while letting the interior cook without getting mushy. (You may have noticed that I generally try to avoid "mushy" food…) It's really simple – cut the vegetable on a diagonal, then roll it slightly away, keeping the knife in the same position. I get these great irregular chunks of squash.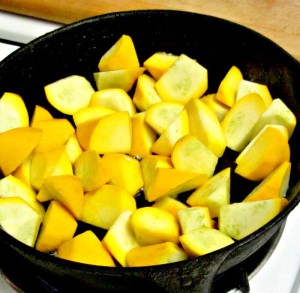 I use a cast iron pan for this, so put it over a low flame to start heating when I start to wash and cut the squash. Cast iron takes a while to heat evenly, but repays you by holding that lovely even heat for a long time. Once the pan is hot and I have cut the squash, I put a tiny drizzle of oil in the pan, and swirl it to spread it out. Then I add just a sliver of butter, which browns better than oil does – optional but tasty and quite pretty. A very small amount of oil and butter will coat the whole heated pan. (And of course, you do not need to use cast iron, though the results will be best if you can use a heavy pan that holds heat evenly.)
Once the pan is well heated and coated with butter and oil, I put the vegetables into it. I stir them around, first, to coat with butter, then arrange them in a single layer, set the flame to low-medium, and let it sit for about five minutes. Then I stir it all again, to bring different surfaces into contact with the pan, to brown very lightly, and turned off the heat. I let that rest another minute or so, then serve.
The summer squash saute is golden brown – in fact, quite brown in some spots, and tender without being mushy. Alone, it is a wonderful side dish. For variety, you can use the same basic method, but add the squash to a pan in which you have already sauteed an onion for flavor, or chicken or tofu to make this a main dish. I make sure I always have summer squash in the house in summer, as I can use it to throw a meal together in 15 minutes… the faster, the better.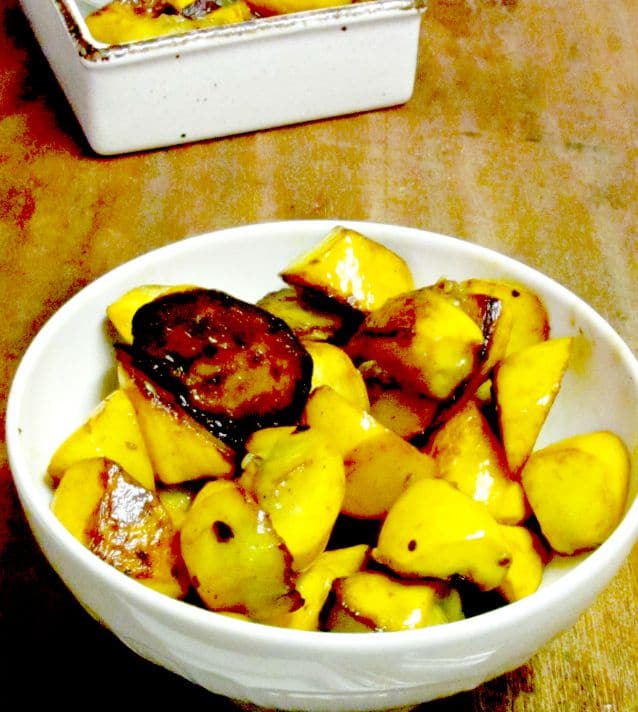 Summer Squash Saute
Summer squash saute, cooked in five minutes, with a touch of butter for a delicate golden brown.
Ingredients
Summer Squash - zucchini

crookneck, or other.

olive oil

butter
Instructions
If using cast iron pan, set to heat over a low flame.

Wash and cut the squash, using a roll cut to create a lot of surface.

Heat oil and butter in pan, swirl to spread thinly.

Place cut squash in pan, stir to coat with butter. Then spread out in a single layer, to maximize the amount of vegetable touching the pan. Cook over low/medium heat for five minutes.

Stir, check for doneness. When done, serve.
---
---