Summer Corn and Tomatoes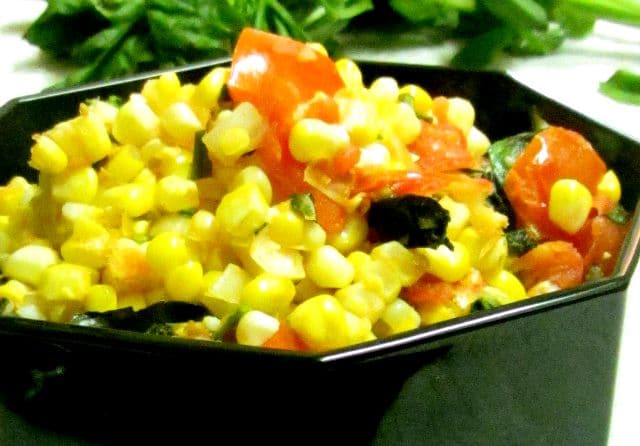 Last week, we received the first corn of the season in our CSA, and this week, the first tomatoes!
I sliced the first perfect, beautiful heirloom tomato to eat alone and savor… But we have several plum tomatoes, and a few ears of corn, and I thought I would share one of my favorite, and simplest, summer recipes for corn and tomatoes with you in time for you to enjoy it!
When I want to cut corn off the cob for use in a recipe like this, I have found it works best if I microwave it just a few minutes to cook it very slightly. When I use a microwave to cook it for eating on the cob, I usually use five minutes for two ears – for this, I cook it just two or three minutes for two ears.(Longer for more – remember microwave time is remarkably imprecise, and varies with the amount of food being cooked.)  Then I let it cool, to make it easier to handle. When I do this, the now softened husk pulls back, the silk slips right off, and I can cut the kernels off the cob without them popping all over the kitchen, as they can when raw. Obviously you can skip this step – but I find it makes handling the corn easier.
Microwave the corn and let it cool (if you so choose.) While it cools, chop a small onion and saute it until soft, and chop the tomatoes. (I don't bother peeling them – if the peel really bothers you, you can blanch and peel them. For me, it isn't worth the fuss.)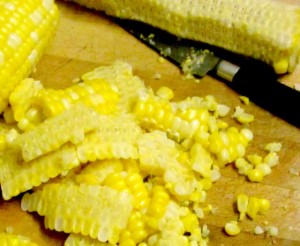 Then shuck the corn, removing all silk as well, and slice the kernels off the cob. I find that the easiest way to do that (especially after parcooking in the microwave) is to cut the stem end flat, place the end on the cutting board, and use a sharp knife to cut from about two thirds of the way up (so I can hold the end.) Then I reverse the cob to cut off the part that is left. I do also have a gadget designed for the purpose – which I have not found as helpful as it might be, but you may. Sorry – no process picture of this one, I couldn't get the camera angle right in my tiny kitchen (aside from running out of hands…)
Anyway, once the onion is soft and starting to brown slightly, add the corn and stir. If you did not microwave it before, cook it a minute or two – if you did, remember it is already partly cooked. Add the tomatoes, stir, and heat. They will soften and start to release liquid.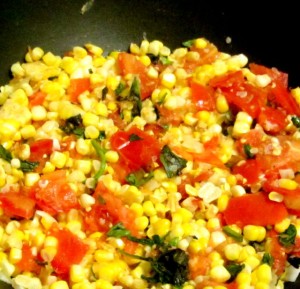 I had fresh basil, which complements these vegetables perfectly – I shredded it while the mixture started to cook, and then added it. If you don't have fresh, you can add dried, though it's not as bright tasting, or stir in a little pesto at the end – or skip it all together.
Cook it just enough, really, to heat everything through. Overcooking will destroy flavor – the corn should still be just slightly crisp, the tomato pieces still individual, not mushy. In winter, I combine the same vegetables, but out of cans – pleasant enough, but the fresh ones should taste radically different. The key to that is using the freshest possible ingredients, and being very careful not to overcook. (That said – this is also a good treatment for corn picked last Tuesday and slightly overripe tomatoes. Still don't overcook!)
We could eat this all summer. As a side dish. Over rice or pasta. With cooked meat added. With other vegetables – peppers (hot or sweet) are perfect, but also summer squash, or anything else that also cooks very quickly.
It tastes like summer…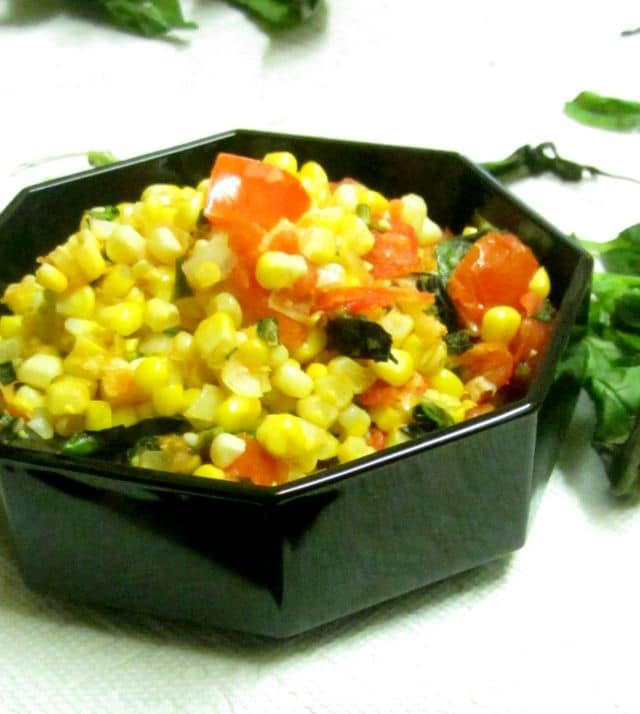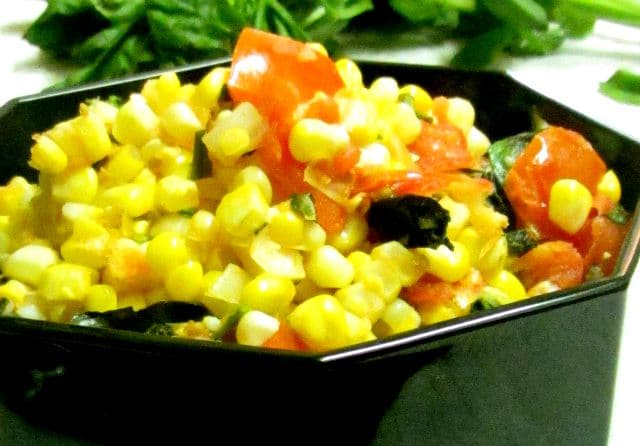 Summer Corn and Tomatoes
Very lightly saute fresh corn and tomatoes for a delicious and easy vegetable recipe that tastes like summer.
Ingredients
2

ears of corn

1

small onion

olive oil for pan

2

ripe tomatoes

Plum tomatoes are best, others work.

Fresh basil
Instructions
Trim the ends of the corn without removing husks. Microwave corn 3 minutes. Let cool. (This step is optional, but makes the corn easier to shuck and cut.)

Chop onion. Heat oil in pan, add onion, saute until softened.

Chop tomatoes. Shred basil.

Being careful of any steam, remove husks and silk from corn. Cut kernels from cobs. Add corn to pan, saute one minute (3 if you did not parcook it in microwave.)

Add tomatoes to pan. Saute until tomatoes just start to soften and release liquid, and both corn and tomatoes are heated through.

Add basil and stir to heat.

Serve.
---
---