Flash Cooked Okra
Quickly cook tender, delicious okra whole so that it isn't slimy!
Like many of us, I first encountered okra in gumbo, where the mucilaginous quality contributes to the recipe. (If you don't use okra, you use gumbo filé to accomplish the same thing, though with a slightly different flavor profile.)  And that was fine, because there were other flavors, and other things happening, and I didn't mind it at all. I next tasted it, though, in boiled pods that were falling apart – olive green, fibery, slimy and entirely unappealing. So then I "knew" that I didn't like okra, and could only tolerate it in gumbo because of all the good flavors running interference…
Then – someplace – I came across this technique. A day or two ago I would have told you exactly which cookbook it was in – until I found that it wasn't… Nor was it in any similar book, or another I got around the same time, or… I suspect I got the idea somewhere, but changed it over the years to my own taste. But anyway – I think it works well.
A key factor is having really fresh, delicate young pods. I keep larger or older ones aside to slice for gumbo, or soup… But I can cook the small ones whole. And cooking them whole is the real secret, here! I don't want water to get in and react with the gel holding the seeds, as that causes the slimy texture.
So take tender young pods – which ideally should still be a bit fuzzy (that doesn't really show in the pictures, does it?) Wash them, and rub them lightly with a towel just in case any of the fuzz is starting to get spiky. Then take a sharp knife and cut off just the caps (as they are often too fibrous to eat.) Ideally, you get a closed flat end. (Don't worry if you get a few just showing the seeds – just be careful with the next one.)
Then take a frying pan large enough to hold all your okra laid out flat, and put about half an inch of water in it. Bring that to a boil, and add the okra. Return it to a rolling boil, periodically stirring the okra so that all sides cook evenly (as it is not covered by the water!) Keep it boiling for about five minutes, still stirring, until the okra turns a bright emerald green, and is tender to the tip of a sharp knife. Then drain, and serve at once. (Much of the water will boil off, but it shouldn't be completely dry before the end – if it gets too low, add a splash more.)
The color will dull slightly after it is cooked, but that bright green is a good indicator that the okra is done. A variation is to season the water, but do remember that if you do so, it may affect the color – in that case, keep a sharp eye on it to be sure you don't overcook it. I've added a little soy sauce, or used a bit of broth… but more often I season it after it is cooked.
And there you are. Fast, easy, delicious – and tender, not mushy, stringy or slimy. Who knew okra tastes that good, all by itself?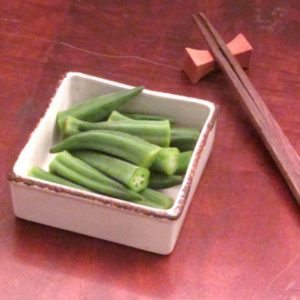 Flash Cooked Okra
Quickly cook tender, delicious okra whole so that it isn't slimy!
Ingredients
Okra - Tender young fresh pods
Instructions
Wash okra, and rub with towel in case any pods are getting bristly.

Carefully trim off caps, leaving the pod sealed if possible.

Bring 1/2 inch of water to boil in a fry pan large enough to hold all the okra in a single layer. Add the okra to the boiling water, return it to a boil, and boil, turning the okra periodically so that all side cook evenly, for about 5 minutes.

When done, the okra should be a bright emerald green, and should be tender to the tip of a sharp knife. Drain at once, and serve immediately. (It will lose color if it stands.)
Save
---
---