Meatballs in Tomato Sauce – Pressure Cooker Freezer Meal
Freezer meals for the pressure cooker! Toss frozen Meatballs in Tomato Sauce into the pressure cooker, set and forget for an easy dinner.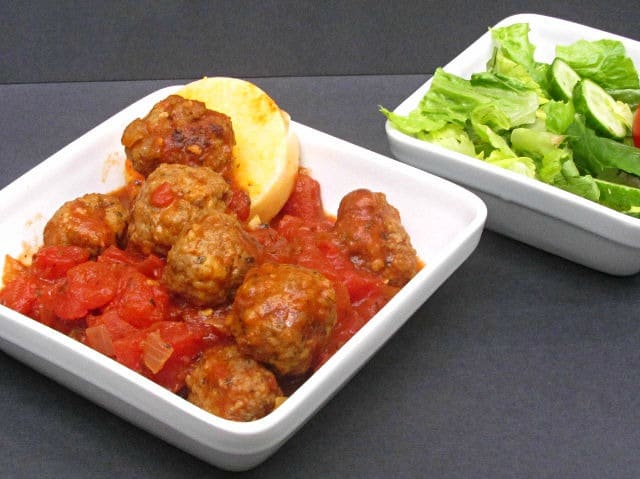 For years I have looked at the pictures and posts about once a month cooking, and making big batches of freezer meals for slow cookers, and other forms of bulk cooking. And they're always interesting and appealing,but… well, that's it. I always seem to end by saying "But…"
Spending a whole day (or weekend!) cooking intensively never appealed – and it's just not a great idea with my migraines. (Can you imagine being halfway through making a month's worth of meals and starting a severe migraine?) I don't have the freezer space anyhow… even now, with twice as much (but twice as many people.) Opening a can to pour the contents into a bag to freeze, as many recipes ask you to,  always seemed silly to me (especially with limited freezer space…) And it just didn't work for me.
Besides, my greater need was different. The problem wasn't starting a meal in five minutes in the morning, as planned…  Instead, I'd have a perfectly good planned meal that I could easily fix in the time I expected to have – and then I would hit a delay coming home. Or I would have one of those migraines (and Rich would heat chili – again…)  So I stocked cooked components – cooked meat, frozen vegetables, polenta or cooked rice…  I could throw them into a pan (perhaps with sauce) and serve in ten minutes – or tell Rich which ingredients to pull out and heat.
Now that we live with the parents, that continues to be the problem. They expect dinner to be served at dinner time – logical enough, when you think about it… And they have come to expect my good cooking, not a can of chili. And a salad. (There must be a salad.) And… It's not that they expect me to do all the work – Don is quite willing to come in and help if I'm delayed or under the weather – but… then we're bumping into each other in the kitchen, and it takes more time to explain what needs to be done than to do it myself, and…
I needed options. Days with migraines, days the errands took longer than expected, days I couldn't leave when I planned to because I was here with the therapist or the HVAC repairman… But my old technique doesn't work as well, because the meal is more complex. Ten minutes before I serve, I'm tossing salad (with three kinds of greens and three to four other vegetables) and placing serving bowls, Rich needs to pour ice water and wine now, so he can help his mother to the table in a few minutes, and everything is much more hectic.
I started to wonder about freezer meals for pressure cookers.
I already pre-brown meat to drop into a slow cooker or pressure cooker without the initial step of browning. I already made Once in a While Meatballs. (OK – that recipe predates my knowledge that I need to avoid gluten. If you don't, use as is – if you do, use commercial GF breadcrumbs.  And boy, does that recipe need new pictures…) So far I think these meals work best with food frozen in separate pieces, not a block, and of course unfrozen liquid to start the cooking.
Sure I can cook something ahead and microwave it to reheat – and I certainly do.  But we don't always want food that's reheated. Sure I can just open a bag of commercial meatballs and a jar of sauce – but this gives me (and therefore you) more control over ingredients and flavor.  You want to use Nonna's meatball recipe, instead of mine? Please do! You want to skip (or double!) the garlic? Go for it! You have a bag of commercial frozen meatballs already? Sure, use them! (And set the pressure cooker for five minutes, not ten, if they are already fully cooked.) I'd suggest trying this recipe first, but then use the technique to make it your own. (Or just keep using this…)
Directions
A week or so before, I made a double batch of Once in a While Meatballs (adapted to be gluten free, of course.) We ate some that day, and I divided the rest into quart freezer bags – so roughly one pound of meatballs per bag – enough for one hearty dinner for the four of us. I reserved one for another use (meatballs in soup? Meatballs in other recipes?) and used two – the equivalent of one of my meatball recipes – for this recipe.
So you are setting up two pounds worth of meatballs – roughly eight average servings. I divide them in two bags, since there are four of us – you can divide them in four, to serve two each. I would not make less than that in one batch- it won't work as well in the pressure cooker. (This does reheat well, though – you can always finish leftovers later.)
For the freezer
Chop an onion, and mince two cloves of garlic. Heat a little olive oil in a pan, and saute until soft, but not fully cooked – they will finish cooking later. Let sit a few minutes to cool.
Add one teaspoon of crushed red pepper, two teaspoons of dried basil, and two of oregano. Stir all of this well into the onion mixture in the pan.
Take your frozen meatballs – my recipe, your recipe, commercially frozen ones – whatever works best for you. To serve four at a time, place roughly a pound in each of two quart bags. Now divide the onion mixture in two, and spoon half of it into each bag with the frozen meatballs. Seal the bags, and place in the freezer, for  later use.
To serve
Get one of the bags out of the freezer, and one 28 ounce can of diced tomatoes. Open the tomatoes and pour them into your pressure cooker, then pour the contents of the freezer bag in on top of them.
Close the pressure valve, seal the cooker, and set it for ten minutes at High temperature. Once the time is done, let the pressure come down naturally – after ten minutes you can release any remaining pressure, open the cooker,  and serve.
This does take about half an hour all together in the pressure cooker, but that's not your time. Once the pressure is set, you don't have to even look at the cooker until it is ready to eat. So you can walk in the kitchen door, throw the tomatoes and meatballs into the cooker and set it – maybe five minutes? – and then fix whatever else you want to serve. Or even leave the room. Change your clothes,  talk to your spouse, check the mail… Or just sit down, because you are tired. Dinner will cook itself.
I just serve it over microwaved polenta – homemade if I have it, or the commercial kind out of a tube. Add a salad if you want (there always needs to be a good salad, in this house, but that's up to you) maybe microwave some vegetables – and you're ready to eat. The diced tomatoes break down into a chunky sauce, and pick up the flavor from the meatballs and seasoned onions, and you have a good simple sauce.
Notes
If you want to serve only one or two people, divide the meatballs into four bags, then use a 15 ounce can of tomatoes instead of the 28 ounce. You can't really go smaller than that, because of the liquid the pressure cooker needs to work, but this will reheat well.
This becomes a good recipe to make for someone else who has and can use a pressure cooker, but may not be able to spend time in the kitchen chopping and sauteing, or even watching a saucepan. An elderly parent who is comfortable with the gadget but can't stand long, of course – but a friend who hurt his foot, a neighbor with a new baby or a sick child…  There are any number of  people who could throw something into the pressure cooker, but not stand over a stove.  or even stay in the kitchen any length of time. Set this up, leave for half an hour or so,  come back and your main course is ready to serve.
Special Diets
Well, a major point of this recipe is that you can adapt it to your needs…
I have adapted it, of course, for a gluten free diet. These meatballs are quite soft, you can make them smaller if you need to, so they are easy to chew, and the sauce keeps them moist for easy swallowing.  You can use chicken or turkey in this meatball recipe, or use your own, to lower the fat. I did not add salt, because there is usually enough in canned tomatoes – you can use low sodium tomatoes if you need to go lower. There are vegetarian "meatballs" if you want a vegetarian version.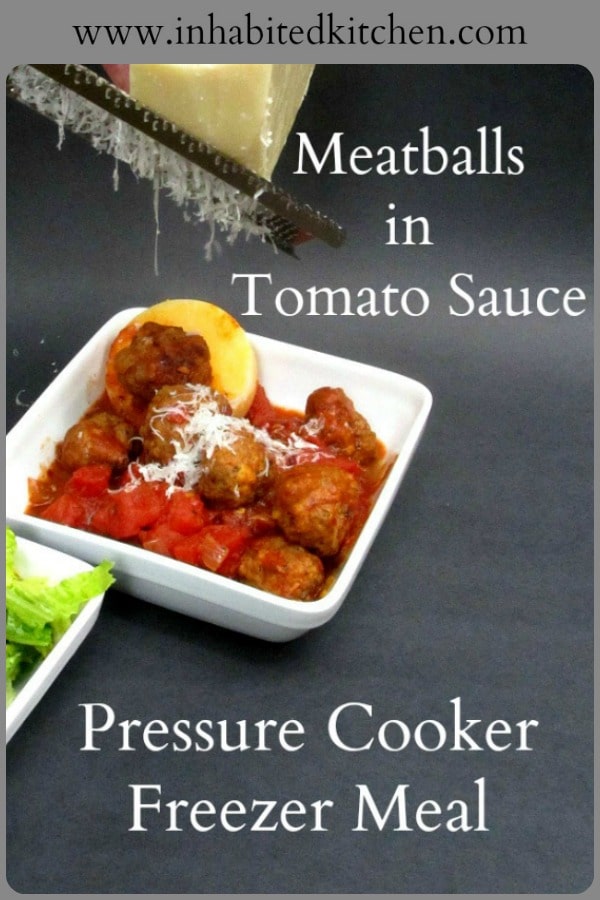 Meatballs in Tomato Sauce – Pressure Cooker Freezer Meal
Freezer meals for the pressure cooker! Toss frozen Meatballs in Tomato Sauce into the pressure cooker, set and forget for an easy dinner.
Ingredients
For the Freezer
one large onion

2

cloves

garlic

olive oil for pan

1

t

crushed red pepper

2

t

dried basil

2

t

dried oregano

2

pounds

frozen meatballs

or any you prefer
to prepare, for each one pound bag
1 28

oz

can diced tomatoes

per meal - 2 cans altogether
Instructions
For the freezer
Chop onion and mince garlic. Heat oil in pan, saute onion and garlic until soft and golden. Do not cook completely. Turn off heat, and let cool.

Add seasoning to pan, and mix well.

Place one pound of still frozen meatballs into each of two quart freezer bags. Divide onion mixture in half, and place half in each bag. Return bags to freezer.
To serve
Open a 28 ounce can of diced tomatoes, and pour it into a pressure cooker. Take one bag of the prepared meatballs, and empty it into the pressure cooker, on top of the tomato sauce.

Close pressure cooker and seal valve. Set for 10 minutes on High. Turn on and let cook.

When it finishes cooking, allow a natural pressure release for at least 10 minutes.If it takes longer, you can release manually.

Serve
Notes
Serve with microwaved polenta, to keep things fast and easy.
I list all the time in the pressure cooker under Cooking Time - it only takes 10 minutes of actual cooking under pressure. The rest is coming up to and down from pressure.
Directions for 4 meals of 2 servings each are in the body of the post.
---
---