Pork with Bacon and Mushrooms
Bacon and mushrooms go wonderfully together, and pork makes a perfect third. Add baby greens and you have most of a meal! Pork with Bacon and Mushrooms – a simple skillet meal that looks so elegant and tastes so good!
Gradually, over time, I am learning what foods the parents enjoy the most, what they eat most easily, and what my best choices are for dinner. This is somewhat complicated by a personal and cultural reluctance to either give overt praise or to criticize – I have had to learn the fine line between "Not bad at all (I really like this!)" and "I think this is fine, it will do for me (I'd be just as glad to never see this again, but I know you worked hard and I would never say something bad about that.)" My best indication is how much they eat of something – but their appetites also vary.
Mushrooms, though – I can guarantee they will enjoy anything with mushrooms!
I also find that it's best to cut everything into bite sized pieces. It just makes the meal easier for them to serve themselves the amount they want, easier to try a little (and then come back if they like it,) and, particularly, easier to eat. But all-in-one meals, like casseroles or skillet dinners, don't work – if there isn't something identified as a side dish, they feel that something is missing. And they always like sauce on the side – I am so glad I brought my favorite sauceboat!
So, you're not going to see very many roasts or chops, or One Dish meals. I'm working on a fine collection of sauces that make meals (I'm so glad I have roux cubes – they're getting a workout, for gluten free sauce!) and most recipes will be easy to eat with a fork.
And you'll see more recipes with mushrooms…
I had a package of bacon – not the "bacon ends" I often get for cooking but nice thick-cut rashers. And I had some mushrooms… well, you can't go wrong with that combination, can you? (As long as you eat pork, that is – and we all do.) Some nice boneless pork loin chops would go well with that, and some baby greens rounded it all out. Red potatoes on the side completed our meal – use what works for you.
Directions
Take two strips of bacon, and cook them. I started them over very low heat, because I wanted to render out the fat to cook everything else, and then raised the heat to crisp them. Remove the bacon to the side, on a paper towel to drain, and let them cool. Strictly speaking, the bacon is optional – you can skip the whole thing, or use oil to cook and just crumble cooked bacon over the top – but it's a major part of the flavor profile. (And if you do choose to skip it, you probably will need a touch of salt.)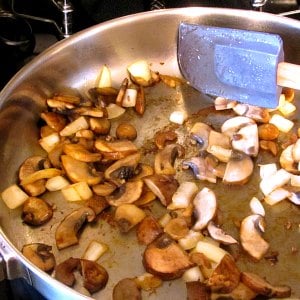 While the bacon is cooking, prepare the rest of your food. Chop a small onion, and trim and slice four ounces of mushrooms. I used the so called Baby Bellas, or crimini, but plain white mushrooms would be good also, if that's what you have. Then cut a pound of pork loin (which might be roughly four boneless chops, depending on how your store packages its meat) into bite sized pieces.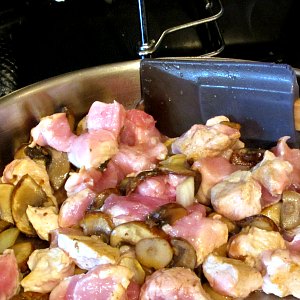 Saute the onion and mushrooms in the bacon fat, until they soften. Then add the pork, and stir. Cook that for a while, stirring periodically, until the meat is mostly cooked. Time will vary by the size of your pieces – "bite sized" in my kitchen is currently smaller than it was for just the two of us, when we often really took two bites of a piece of meat or broccoli.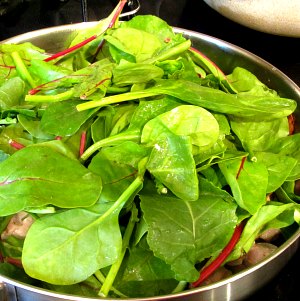 While the meat cooks, wash baby greens. I found a bagged mixture of baby spinach, kale, and chard which I have used either as cooked greens or salad greens, and that was perfect here – I'd keep to a fairly tender green that will cook quickly. You could use mature spinach, as long as you removed thick stems and tear the leaves. So I had a good quart of baby greens. Once the meat was mostly cooked, I added them on top of the pork mixture. (If it doesn't all fit in your pan add about half at first.) Cover the pan, and let it all steam – moisture from the washed leaves will help it cook, and the greens will wilt enough that you can add the rest, if necessary, after a minute or two,
Once the greens are cooked, check the meat to make sure it is cooked through. Stir the greens through the mixture (I find they tend to clump together.) Then place it all in a serving bowl, and crumble the reserved strips of bacon over them. (You didn't think I'd forgotten them, did you?) The crisp bacon adds just the right contrast of texture. Serve at once.
I didn't have to wonder – the whole family likes this! (And the potatoes set the pork off perfectly.) Another checkmark on my list of dinners – this is a definite success!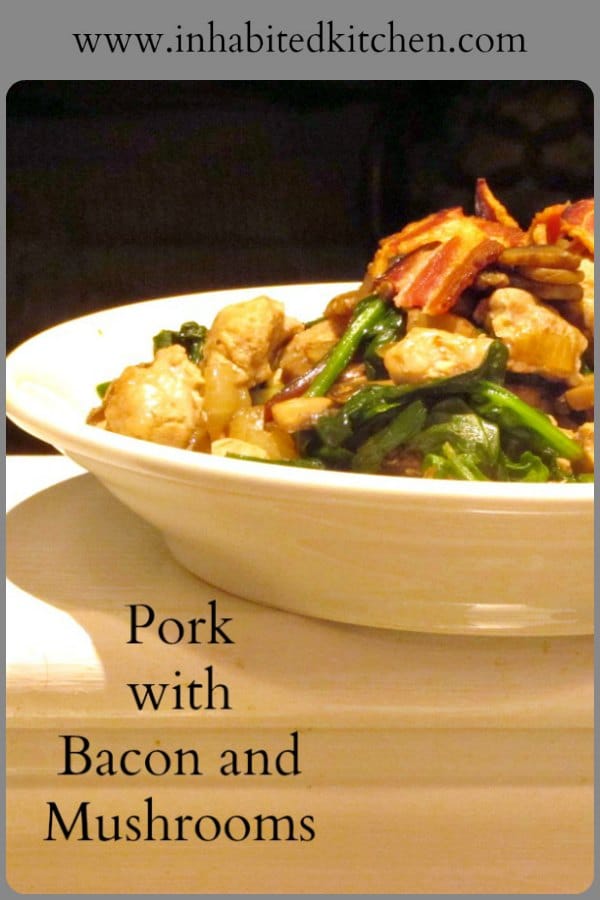 Pork with Bacon and Mushrooms
Bacon and mushrooms go wonderfully together, and pork makes a perfect third. Add baby greens and you have most of a meal! Pork with Bacon and Mushrooms - a simple skillet meal that looks so elegant and tastes so good!
Ingredients
2

strips bacon

1

small onion

4

oz

crimini mushrooms

1

lb.

boneless pork loin

1

quart

baby greens

washed
Instructions
Cook bacon in a large skillet.

While that cooks, chop onion, wash, trim and slice mushrooms, and cut pork into bite sized pieces.

Remove bacon from pan, place on paper towel to drain and cool. Reserve.

Using the bacon fat in the pan, saute onion and mushrooms. When they soften, add pork and stir. Saute until mostly done.

Add washed greens, and cover pan. Let steam until greens wilt. Then stir them into the pork mixture to complete cooking.

Place mixture in serving bowl. Crumble reserved bacon over the top. Serve at once.
---
---