Tilapia with Gluten Free Pecan Topping
Gluten free pecan topping adds flavor and crunch to tilapia (or any other white fish!) Easy to prepare, delicious whether you need to avoid gluten or not!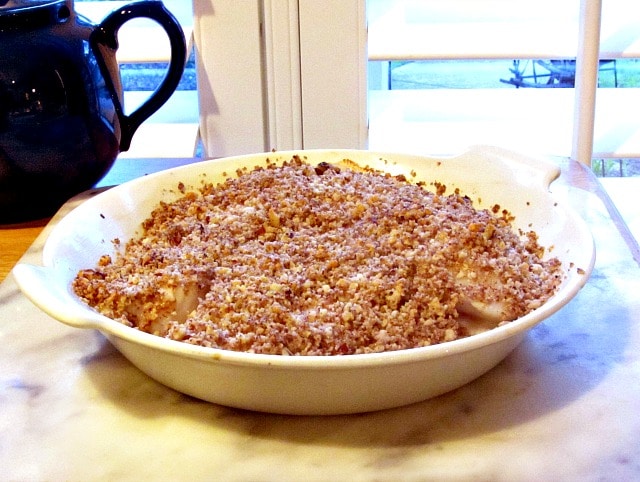 You could say I've come full circle with this one…
It all started eight or nine years ago, before I wrote the blog and long before I went gluten free. A close friend of Rich's visited family in the South and came home with pounds of pecans from the trees in their yard! And she was generous enough to share them with us.
Pecans are relatively expensive in New York – not major luxury but noticeably more than, say, walnuts or almonds… and we had a tight budget, so this was a real treat for us. And they were so fresh! So we put them in our cereal and I baked with them, and…  somewhere I saw a suggestion to use them for breading, instead of crumbs. I don't remember what I used them for that time, but it worked so well that I remembered it – everything that breadcrumbs do but with the flavor of the nuts!
So when I did have to go gluten free, I remembered that… (I'm all about changes that are improvements, not sacrifices.) I used them for Pecan Crusted Baked Pork Chops, and they're amazing.  (And you could use them for Nutty Baked Carrots, though I used almond meal there.) I found that, if anything, freshly ground pecans were not only better tasting but also easier, because the oil in the nuts made them stick to the food – I didn't need egg or oil or… any fuss.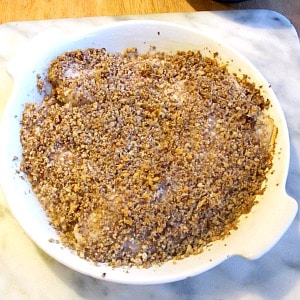 Then last month I was deciding how to cook tilapia for the family. I'd seen a recipe for baking fish fillets with seasoned breadcrumbs, which looked easy as well as tasty, but of course I didn't have seasoned breadcrumbs… but there were some pecans hiding in the back of the fridge – and the end of a wedge of parmigiano drying out in the cheese drawer. Threw them in the processor, sprinkled them over the top – and everyone liked the gluten free pecan topping so much I knew I had to serve it again – and write it up for you!
And then, we finally got to the farmer's market – and found bags of pecans sitting in among the onions and cabbages. Ah, right – they're readily available here! (You may see some more variations on this idea…)
The tilapia fillets I often get have two sides, one much thicker than the other, and the whole piece is generally about half a pound. The first means that it can be tricky to cook it evenly, and the second means that three fillets are plenty for the four of us…  When I cooked it in a pan for just the Rich and me I usually cut the two sides apart, but it's a nuisance and then serving can be tricky.
I've found that placing them in a round baking dish with the thick sides to the outside and the thin ones layered over each other in the center seems to work. If I were going to use four fillets – either to increase the recipe or because I has smaller pieces – I would place them in a rectangular dish with the thin sides overlapping. And if your fillets have already been divided – I've seen "tilapia loins" that are – just place them next to each other and cut five minutes from the baking time.
Directions
Preheat the oven to 425°
Take your fish fillets and lay them in a buttered baking dish.  (See above for a discussion of layering uneven pieces.)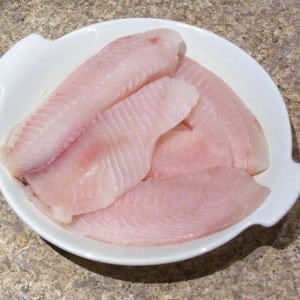 Now – a note about the fish. See the delicate pink color? That's a sign of freshness in white fish! Years ago I did weekly demos and sampling in the seafood department of an upscale New York grocery store, and learned a lot from the fish man…  He taught me to look for that pink – showed me when a new delivery came in that the freshest fish was pink, the last of the previous day's shipment was white. And complained that many customers would insist on the whitest fish! I mean, he acknowledged that it was good for rotation, that the fish was still certainly good, and it meant he didn't have to worry about it sitting around – though they had a whole system in place to keep it moving in good order – but he had pride in his work and wanted people to recognize and buy the best!
Grind half a cup of pecans in a food processor. (I use a little mini chop that is part of a set with my immersion blender which is very convenient for this sort of thing.)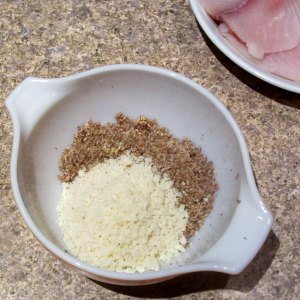 I originally made this recipe with Parmigiano Reggiano, but as it happened, I had Pecorino Romano in the house this time, so I used it. So I can tell you that either works… (And of course you can use the American versions – Parmesan and Romano – if they make more sense for you, though they have less intense flavor.)  Take half a cup of the grated cheese.

Mix your ground nuts and grated cheese, and grind in some black pepper – again, the amount is not exact, I just gave the peppermill half a dozen or so twists… If you use preground, it does lose flavor, so you may need half a teaspoon. You do not need salt – the cheese is salty enough. Then sprinkle that evenly over the fish. Pop the baking dish in the oven, and bake for 15-20 minutes, until the center is done.  Let it rest just a couple of minutes and then serve.
It is delicious as it is. If you want, you could toss in some herbs, like seasoned bread crumbs, but I really don't think it needs anything else… And you certainly don't have to be gluten free to enjoy it!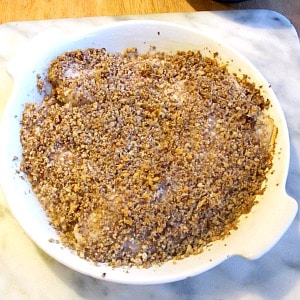 Tilapia with Gluten Free Pecan Topping
Gluten free pecan topping adds flavor and crunch to tilapia (or any other white fish!) Easy to prepare, delicious whether you need to avoid gluten or not!
Ingredients
Butter or oil for baking dish

1 1/3 - 1 1/2

lb

tilapia or other white fish fillets

1/2

c

pecans

1/2

c

grated Pecorino Romano cheese

Fresh ground pepper
Instructions
Preaheat oven to 425.

Grease your baking dish and arrange fish in it evenly.

Grind pecans in a food processor. Mix with grated pecorino romano cheese and black pepper. Sprinkle evenly over the top of the fish.

Bake at 425 for 15-20 minutes, until fish in the center is fully cooked.

Let rest a few minutes, then serve.
Notes
Substitute parmigiano (or other aged grating cheese) for the romano if you wish - either is good!
---
---