Ratatouille with Italian Sausage
Add Italian Sausage to Ratatouille for a different skillet meal starring the glorious vegetables available in high summer!
When we first knew that we would move from New York City to Raleigh, we of course wondered about the changes that would bring to our lives. Mostly, of course, from living with Rich's parents and everything that entails, but also about leaving the city we had both grown up in, and lived in (or near) almost all our lives.  We knew that many of the differences most obvious to others would not affect us on a day to day level – because I'd had chronic migraine for more than ten years we just didn't get out to, for instance,  theatre and museums much at all. And Raleigh does have a thriving arts community (though again – I have not yet been able to take advantage of it.)
Greenmarket, though… In Manhattan we lived in walking distance of Union Square, and several smaller markets – some seasonal, some year round, all just one day a week – were even closer. In the last few years more farmers offered winter crops as well, but now, in high summer, the stands overflow with vegetables. Corn and tomatoes are finally in,  tables and tables of berries and peaches, half a dozen kinds of greens… Surely I would miss that!  (They also have meat and fish, dairy and baked goods – but we didn't buy them as often as we did produce.)
So I researched, and discovered the State Farmer's Market here in Raleigh, and indeed a local friend showed it to me as a Local Highlight. It's open seven days a week, year round (and because it is under a roof, rain doesn't stop us from going!) It is not, of course, within walking distance (which doesn't seem to be a concept, here) but the drive is reasonable, once a week.
Though I have just discovered, oddly, that we are in the same agricultural zone here as we were in Manhattan, Zone 7b,  that is only a measure of winter hardiness. (We saw this year how cold it can get!) In general, the weather is warmer, spring comes earlier, and produce comes in a month sooner than I am used to. At the same time, the market has less variety of produce – but again, I think that is largely a matter of climate. As I have pointed out before, while New York is in Zone 7, farmers routinely drive in from Zones 6 and even 5! Here, we're pretty much looking at 7… though I understand we will get apples from the mountains.
We've eaten eggplant and summer squash since June! I've made them cornerstones of our summer diet – we all like them, they're both easy to cook and quite versatile, they stay fresh for a while…  But I suddenly realized I actually had not made ratatouille! That was one of the first dishes I ate that Barbara had cooked, back in New York when I first knew the family (when she still cooked regularly) and I know they enjoy it so I had to get on it. But I also had to make dinner… and I planned to use Italian sausage I had in the fridge, and… an idea was born.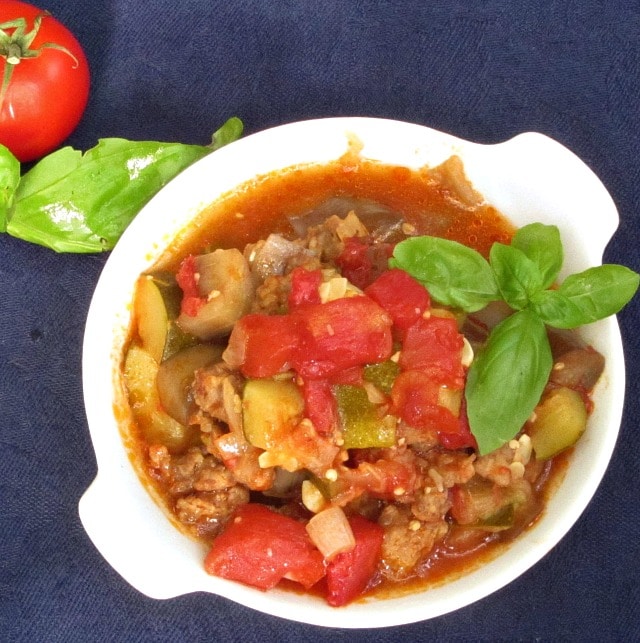 Ratatouille is, of course, French, rather than Italian, but it's Provençal – from the land of olive oil and tomatoes. The flavors in fact blend quite well. I did use sweet sausage, rather than hot, with less pepper and more fennel, and simply used it as the seasoning rather than adding much basil. And everyone enjoyed it!
Directions
Take a large skillet or saute pan and place on the stove over heat. Take one  pound of sweet Italian sausage. I had bulk sausage so didn't have to fuss with the casing – otherwise you can either remove it from the casing or slice, whichever works better for you. Crumble the sausage into the hot pan (or drop in slices) and stir to brown.  Once it begins to brown, lower the heat to let the fat render out of the meat.
Chop a large onion, and add that to the pan, stirring to coat with the fat from the sausage. (If by chance there isn't enough – you used chicken sausage, for instance! – add a touch of olive oil first. Typically, though, that would make the dish seem greasy…) While the onion softens, chop the zucchini and eggplant, stopping periodically to give the sausage and onion a stir. Once the onion has softened and started to become golden, add the chopped zucchini and eggplant. (Note: traditionally ratatouille includes green pepper. I never used it, because my mother was allergic to it and I still lived with her when I learned to make the dish – and as it happens, Barbara also cannot eat it. Add some if you want it… but this is a variation anyway, rather than the traditional recipe.) Stir well, and saute briefly.
Now, if you have fresh tomatoes and want to use them, go for it… I have not seen plum tomatoes here, yet, and have only bought big beefsteaks to put on sandwiches for the parents, so I used a can of diced tomatoes.  So either open your can or dice your fresh tomatoes, and stir them in. Now, this is optional – I've discussed the fact that they like sauce… and for various reasons it works better if instead of merely serving a saucy dish I actually give them sauce in a sauce boat to ladle over their food. So I added a quarter of  a cup of water – which also did help everything come to a simmer more quickly. Do so if you like.
Simmer for at least twenty minutes, though you can go half an hour if the timing works for you, until all the vegetables are tender and the flavor has melded. Then serve at once. If you want, remove the solids with a slotted spoon to a serving bowl, and pour the liquid into a sauceboat – and use that sauce over polenta or pasta, as a side dish.
I chose to garnish it with fresh basil, and then actually sliced it as a chiffonade to serve, but otherwise just used the seasoning in the sausage, which was in fact enough. The flavor is slightly different than a traditional ratatouille, but close enough to recognize – and the family enjoyed it.  I made polenta and a salad while it simmered, you might enjoy pasta. All together a good weekday meal that tasted more complicated than it really was.
Special Diets *
Check your sausage to make sure it is gluten free. In my experience most Italian sausage is (though there could be cross contact, so read labels.)
The recipe is quite moist and even juicy – and even more so with the extra liquid added. If chewing or swallowing are issues, do crumble the sausage into the pan in little bits, rather than slicing it – slices can be harder to manage.
*Disclaimer – I am not a medical or nutritional professional, and this blog does not give medical or nutritional advice.  I merely share my own experience.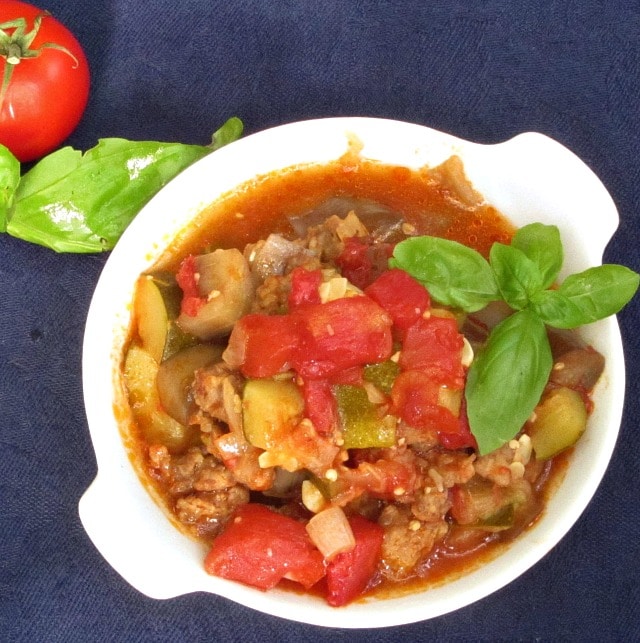 Ratatouille with Italian Sausage
Add Italian Sausage to Ratatouille for a different skillet meal starring the glorious vegetables available in high summer!
Ingredients
1

lb.

sweet Italian Sausage

1

large onion

1

medium zucchini

roughly 14 oz.

2

small or i medium eggplant

roughly 12 oz.

1 28

oz

can diced tomatoes
Instructions
Place a large skillet over heat. Crumble Italian sausage into pan, stir to start to brown. Lower heat to render out fat and let meat brown.

Dice onion, add to pan. Stir to coat with fat, then saute until onion softens and starts to turn color.

Cut zucchini and eggplant into bite sized pieces. Add to pan and stir. Add can of tomatoes.

Optional:add 1/4 c water, if you want a sauce.

Simmer 20-30 minutes until vegetables are soft and flavor melds.

Serve at once. If you choose, spoon any liquid into a sauceboat to pass separately.
---
---