WIAW 165 – Salad!
Well, first, of course salad greens have been available all year long at the local supermarket. But aside from my reluctance to routinely buy greens that have been shipped across the entire continent, I'm pretty unimpressed by the produce section in said supermarket…
And some vendors at Union Square Greenmarket have had greens for a couple of weeks. We have the advantage, here, that we're right at the edge of several agricultural zones, from the seaside to the mountains, so we get a range of seasons.  That said, I haven't traveled to Union Square lately (it's a bit of a hike, for me) and the farmers I did have convenient access to are all North of the city.  And the weather has been so weird… they hesitated to take advantage of the warm weather because of the risk of frost.
But now! Spinach! Arugula! Broccoli rabe! Rhubarb! Asparagus!
And I think – hope? – we've reached the stage where Cool Weather is 60°, rather than 40°. After all, the beaches open Friday – it's officially Summer in New York! (Well – usually it is warm enough to swim!)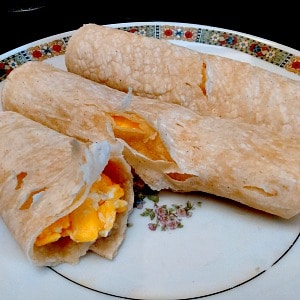 I'm also moving out of my own personal Hot Cereal Season. I loved the grits all winter, but now… muffins, and tacos are more appealing. So on Sunday I made some quick Cheesy Eggs, wrapped them in corn tortillas, and remembered how convenient and quick that meal is! It's definitely back in the regular repertoire.
But then – the salad for lunch. I enter the season when I stop kicking around wondering what's for lunch. I will set up my Salad Bar of little containers of chopped vegetables and meat, marinated beans, baked tofu… Then just wash my salad greens and put together a slightly different combination each day. I never tire of it because of the variety!
So, I don't actually have lettuce yet. But baby spinach and arugula are terrific salad greens, and the flavors complement each other beautifully. So I've been all salad all the time this week… from my post Monday (Wilted Spinach Salad with Mushrooms is really a side salad, not a meal – and amazing itself.) I have some ham, and some cheddar… and radishes. Not much else by way of salad vegetables around, yet – I need to make a batch of Tender Crisp Carrots to add a little variety.  And I hadn't made any of my own salad dressing yet, but had a bottle of commercial ranch dressing on the shelf, so I opened that. (I could have just used plain oil and vinegar, of course, but I like a little more added seasoning for these early season salads, since they don't have as much going on in them.)  Obviously now it is time for me to start putting my salad bar together!
And – ahh – asparagus. Yes, I know you've all been eating asparagus for months, but what I get in the supermarket here is terribly woody. When I buy it from the farmer, though? I get to eat all of it! (Yes, I can make Cream of Asparagus Soup from the woody ends, but sometimes I just want to eat the vegetable!) So I cut up some pork loin, and sauteed that with the cut asparagus (the spears were so thin and tender!) and a couple of mushrooms… Added a little ham broth I had on hand, simmered a minute or two, then put it all over brown rice. It all took about ten minutes (since I had the rice already) and was such a treat.
So Jenn's What I Ate Wednesday party is over at Sprint 2 the Table – where poor Laura is not sprinting anywhere…  But we can still share some fabulous food!
---
---