Stars and Stripes Fruit Parfait
A sugarfree chia fruit parfait makes a perfect dessert for the Fourth of July or other holidays! Simple, delicious, and attractive.
If you're in the US, or an American abroad, you've probably started planning Independence Day celebrations.
In much of the country, that seems to mean backyard barbecues, possibly a local parade, and fireworks, either in those same backyards or presented by the town (possibly – often – sponsored by some local business.) Here in Manhattan, we don't have a lot of backyards, and for some reason this is one of the few holidays for which we don't have a parade… but boy we have fireworks! So people's plans often revolve around them. Are you going down to the river a few hours early, standing in the heat, to see them live? Are you (or a friend!) one of the fortunate few who can see them from a window? (We're perfectly located to just barely not see them…) Or will you – like most of us – gather with family and friends in the afternoon, possibly in a park, but possibly in a living room, and watch them on TV with the rest of the country?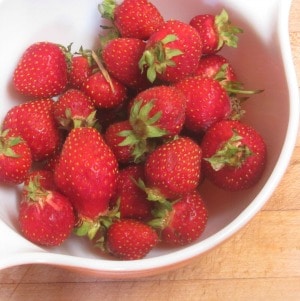 We're in the latter group – picnic in the park is still possible, but dinner at home is more likely. And, of course, we'll watch 1776 – the annual reminder of what, exactly, we celebrate. (The Hamilton album may join that tradition…)
One of the wonderful things about living in New York City is our large immigrant community. We mostly notice it in terms of diversity of culture, the fact that a dozen different ethnic food stores  (Ukrainian, Italian, Japanese, Indian…) are within a mile radius of my home on the Lower East Side. But there's nothing like the Fourth of July in a heavily immigrant neighborhood! Where I am now is very diverse, and most of us now are American born, so it's not as obvious, but I used to live on the edge of a Dominican neighborhood – with flags and bunting all over! I was lucky enough to be born here, and take my citizenship for granted (though I try not to take the country for granted…) but I know people who have made serious sacrifices to come. (And others who fled horrors, or whose parents did…)
But this is a blog about food… Sometimes I use the Fourth to celebrate our immigrant heritage – serving food from a different nationality with each course. This year, though, I will celebrate the bounty of our land – even as I watch climate change wreak havoc… The weather has been insane this spring, bouncing from unseasonable highs to unseasonable lows, but local berries have started to come in, and I want to enjoy them! And New York is a dairy state – so much of our farmland is in hill country or on the edge of mountain ranges, but land that's a little too steep to plant fields makes good pasture.  Fruit and cream combine as well as anything you can find! And I don't add any sugar, as it doesn't agree with me and really ripe fruit is sweet enough (and yes, this is one reason I obsess about the ripeness of fruit – but really, that's the only way to get the full flavor!)
The idea started with chia pudding. I was going to do layers – strawberry chia, whipped cream, blueberry chia… Then Rich, well, I'll be honest, snarked a bit about someone's Red, White and – Purple? creation… (Delicious – but purple.) Now, that person didn't use blueberries, but of course, once I came to think of it, pureed blueberries certainly aren't blue, either… but then I got another idea.
The whole thing is easy enough, and the only real time commitment is time to allow the strawberries to set. I puree the chia with the berries, having learned that ground chia both sets up faster and gives a consistency I prefer. So the first step – and you probably want to do this in the morning – is simply to wash and trim a pint of strawberries. Then pop them into a blender, add two tablespoons of chia seed, and a little vanilla extract, and blend. You probably need to pulse, to begin with, and stop and stir down a few times until the blades catch everything. Then run it all for a minute or two – which is longer than you would to just puree – to grind the chia seed. Pour all that into a work bowl and refrigerate for a few hours, until it reaches a soft set, spoonable consistency.
Then I whip my own cream. Partly, of course, the stuff in a can has sugar – but also it just isn't as rich and silky… and I can't flavor it. I use an old fashioned egg beater, which I find easier than a whisk, for this, and again, I add a touch of vanilla. This is also a way to handle guests who might not be on board with the unsweetened thing… I whip some as is and set it aside for myself, and then sweeten some more cream for them. (Or I can get lazy and use the can, but really – my guests deserve better… That did, though, give me options once when I needed a non-dairy version to take to someone's house – I brought a commercial non-dairy whipped topping. It's always good to know you have options.)
Now, when you're not being really fancy, or celebrating a holiday, you could just pour the strawberry chia into bowls, add the whipped cream (skip the blueberries) and it's perfectly nice. But for the Fourth of July, I had the idea of parfaits, with red and white stripes, and then blueberries mixed with a layer of white cream to evoke the field of stars. And you know what? It tastes wonderful! The strawberry is incredibly intense, the cream balances that and in the layers, it's easier to get some of each in every spoonful.  Then the little pops of tart sweet blueberries just make it perfect.
So. This will make three to four parfait glasses – depending on the size of your glass. (I got three servings out of it – these glasses are a bit larger than some. I only had two that matched, though, so that's all you're seeing…) And of course you can use anything that will let people see the layers. Start by dropping a spoonful of strawberry chia in the bottom of each glass – and remember that it is OK for parfaits to be a bit messy! This isn't a layer cake or a jello mold that needs perfectly flat layers – I am evoking, not replicating, the flag or bunting! So divide half the strawberry mixtures between the glasses, then add some whipped cream, using half at most.  (You may not need all the cream – play it by ear.) Add another layer of strawberry.
Now, reserve a few blueberries to use as topping, and mix some whipped cream into the rest. Divide that among the glasses as your top layer, then pop the last few berries on top of it.
And there you have it. A lovely fruit dessert with no added sugar, festive enough for a holiday!
Stars and Stripes Fruit Parfait
A sugarfree chia fruit parfait makes a perfect dessert for the Fourth of July or other holidays! Simple, delicious, and attractive.
Ingredients
1

pint

strawberries

2

T

chia seed

3/4

t

vanilla extract

divided

1

c

heavy

whipping cream

1

c

blueberries
Instructions
The morning of the day you want to serve, wash and hull the strawberries.Put them, the chia, and 1/2 t vanilla into a blender, and puree. Once pureed, run on high another full minute to grind the chia seed. Pour into a work bowl, refrigerate. Give it at least 3-4 hours to let set.

Shortly before serving, mix the cream and the other 1/4 t of vanilla, and whip until you have stiff peaks. Wash the blueberries.

Take your parfait glasses, and put a layer of strawberry chia in each, followed by a layer of whipped cream, and then another layer of strawberry.

Reserve some blueberries for garnish, then mix part of the whipped cream into the rest of the berries - enough to hold them together. Divide the blueberry mixture between the glasses.

If any whipped cream is left, you may add a dollop if you want, then garnish with the remaining blueberries. Serve at once.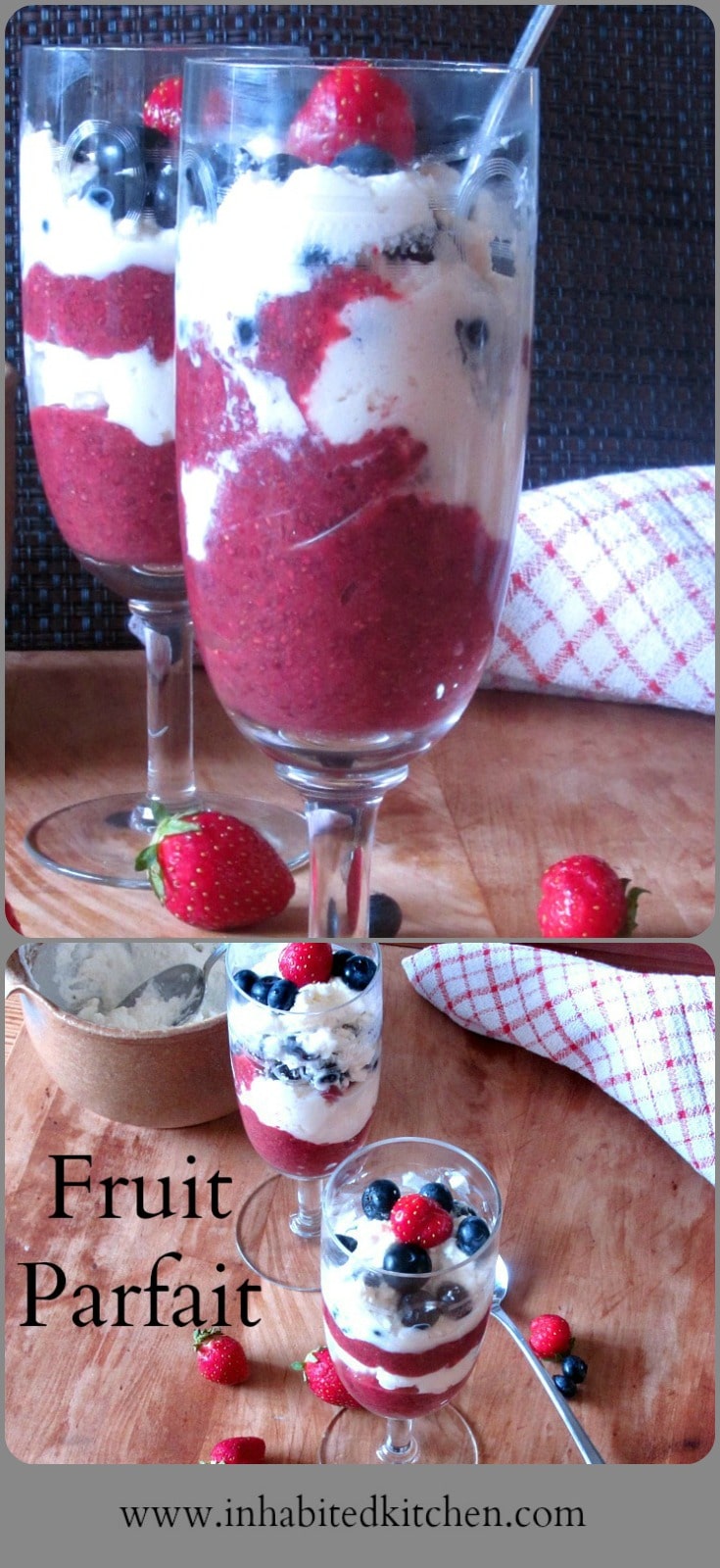 ---
---