Coconut Blueberry Popsicles
Dairy free but creamy, sugar free but sweet, these coconut blueberry sugarfree popsicles make a delightfully icy treat on a hot day.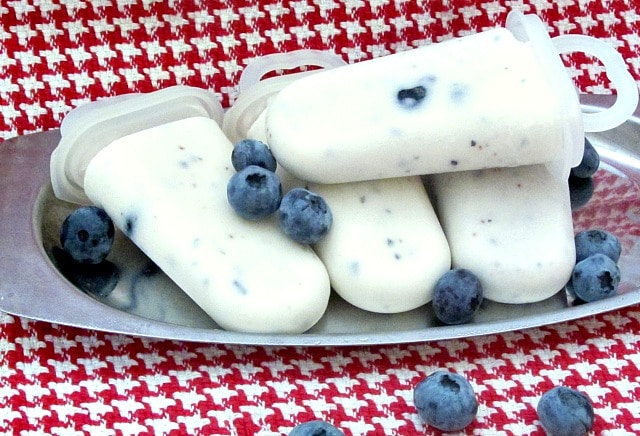 When I was a child, my mom used a popsicle mold to make us sugarfree popsicles. Just poured in orange juice, and froze them.
When I was a child, this was unusual, to say the least… Everyone else went across the street to Sam the Good Humor Man (a lovely man and a neighborhood institution!) to buy their pops. Well – we did that, too, sometimes, for ice cream, but that was not an everyday treat. The OJ pops were. Mom pushed back against the vast amount of sugar most children ate, and preferred to have some control over the ingredients in our food. (These days she'd be called crunchy. In the sixties she was just – unusual…)
Anyhow… I always liked the simple orange popsicles, and when I set up housekeeping, bought a set of molds for myself (when I could find some!)  I learned, though, that I could add a little variety… Mix juice with yogurt, for instance. Blend other fruit with yogurt. I still didn't vary them much, and didn't make them as often as I might have…  (Freezer space has always been an issue.) By then, some people made them for their children, but rarely for themselves… they just ate commercial ice cream. Every summer, though, I pull the molds out, and make at least a few batches.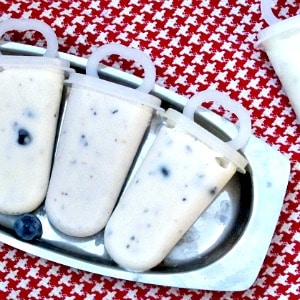 But for some reason people have now Discovered! the idea, and popsicles flood Pinterest and recipe sites. And with good reason – they're easy to make, and a delicious cold, icy, sugar free treat. (Well – it's easy to make junk food versions, too, of course… but we can do better than that.)
I thought about writing it up last year, but honestly, most of the time I still just blend juice with – now – full fat Greek yogurt. (Much better taste and texture than the regular low fat I used for years!)
Every so often, though, I like a Real Treat. Something a little special. And between one thing and another I can't just go to the local bakery or Ice Creamery (yeah, I live in that kind of neighborhood) to pick up a fancy cookie or ice cream when I want an indulgence. I try to have a few recipes up my sleeve that fit the bill, so I started to play with sugarfree popsicle ideas.
I have experimented a little recently with coconut milk and coconut cream. I chose to make these with coconut cream for both richness and flavor. (And, unlike dairy cream, I can keep a can on the shelf, ready whenever I want it! I don't routinely have cream in the house.) One note – I understand that some coconut cream may have sugar – do read the label…  I wanted to use some blueberries, both pureed and mixed in, but also whole for a fun addition. And I've learned that if I want to make something sweeter, still within my All Fruit guidelines, a banana does the trick… the riper the better for this purpose.
The whole thing was really easy. Put everything in a blender! Well – I had a 14 ounce can of coconut cream. (I have seen them in different sizes) and a banana. Then I used half a cup of blueberries, and reserved about half for the add ins. You could as much as double the blueberries, I'd say, still reserving just a quarter of a cup, and blending the rest.
Then – just as an extra – I added a few drops of almond flavoring. Just a few drops – the first time through, I used a quarter teaspoon, and while it was good, the almond overwhelmed the other flavors. (When I first learned to cook, I had a measuring spoon set with a handy dandy eighth of a teaspoon measure – really useful when everything I cooked needed to be divided to serve one! That spoon is long gone, and I miss it…) Just a few drops of almond brings out all the other flavors. You could use vanilla instead, if that's what you have, or skip it all together, but I liked the depth of flavor here.
So blend everything and pour it into your mold. And…  I'm not sure there is a standard measurement for these things? I do know, though, that my old ones are smaller than the current average – only a quarter cup each. Most that I've seen look more like half a cup, many have six in a set, some have four – and if you don't have molds you can always use ice cube trays or little paper cups… Don't let not having Stuff stop you! This made well more than my small tray full – I did it in two batches, and made nine popsicles (and a bit…) (So – if you want to use a full cup of berries, and have a mold that makes six half cup pops, you'll be in business!)
Fill the molds most of the way to the top, then drop in the remaining berries, distributing them evenly between the popsicles. The mixture is thick enough that they do not sink to the bottom. Then top off the molds, cover, and freeze.
Now – you can just put all the berries in with the rest and blend it together. I rather liked the little pop of frozen fruit – a bit harder than the surrounding cream, I let them soften in my mouth and then get more flavor… You also could, if you really wanted, puree the berries separately and make layers – all kinds of pretty pictures of popsicles made like that. Too much fuss for me… though I could see doing it for fancy fancy. A child's birthday party, maybe… but certainly not for every day use.
And that's what this is – it's a treat, but something simple and casual enough that I just make it because it's a hot day and I feel like it. Everyday treats.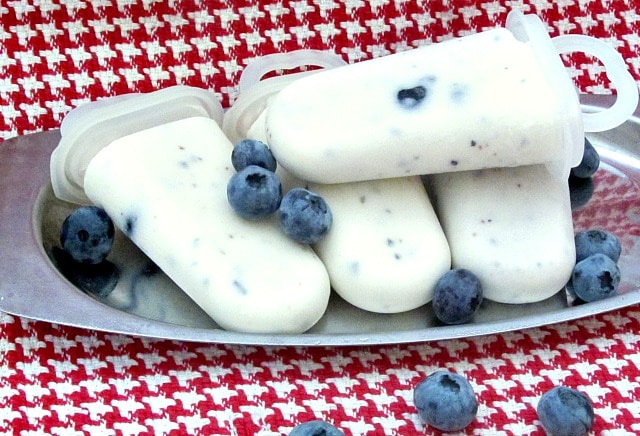 Coconut Blueberry Popsicles
Dairy free but creamy, sugar free but sweet, these coconut blueberry sugarfree popsicles make a delightfully icy treat on a hot day.
Ingredients
1/2 - 1

cup

blueberries

separated

1 14

oz.

can coconut cream

1

banana

few drops almond extract

opt.
Instructions
Set aside 1/4 c blueberries.

Blend the rest of the berries with the rest of the ingredients in a blender until smooth.

Pour the mixture into popsicle molds. Distribute the reserved berries between the popsicles.

Freeze, at least a few hours.
Save
Save
Save
Save
---
---