Tropical Chia Pudding
I guess there were several inspirations for this – which all conflict, but there we are.
Quite a few of my Facebook Friends take vacation in March, and go someplace warm – often with family. (Which seems to be a factor in the timing, whether it's the youngest sister in college who is on Spring Break, or the children, or the grandchildren.) So my feed has been filling up with pictures of Aruba and Hawaii and the Dominican Republic and Cyprus… Palm trees and brilliant sunlight and beaches.
At the same time, I've been rejoicing in our early Spring – daffodils and tulips. (Though now we've taken a jog back to February… freezing rain and high wind, snow in the suburbs. Crazy! April…)
And there was this banana. I'm not fond of bananas, though Rich likes them, but they're nice occasionally in protein shakes, and they are very useful as a touch of sweetness in desserts with no added sugar. So they tend to sit around, because I do want them overripe for that purpose – and then I keep forgetting to use them…
So Rich reminded me again that we had this banana that Really Needed Using. Normally I'd have made chocolate pudding, but I've been making and eating these waffles, and while they are delicious, I was in the mood for something that wasn't chocolate. And then – perhaps it was yet another picture of a fancy drink under the palm trees on a beach – the whole concept sprang into my mind, complete.
I had the banana, and a can of coconut milk. I had chia seed, and orange juice. (Pineapple or Orange Pineapple would have been good, too…) And basically, I just put them all in a blender…
OK, in the past I've mostly just stirred chia seed into juice or some other concoction, and let it rest overnight to gel. I've read, though, that blending it both speeds up the process and gives you a slightly smoother texture (though there is still some grit from the seeds.) I tried it, and it works pretty well. I still don't always bother – the other is so easy! – but if I need to blend the banana anyhow…
I've seen cans of coconut milk in several sizes, depending on brand. And telling you to use a certain measure of it – and leaving you stranded with an ounce of coconut milk and no use in mind – well, I just don't operate that way. It's not practical. So I'm going to tell you that you need two cups of liquid altogether. Pour your coconut milk into a measuring cup, then add enough juice to bring it up to two cups. In this case, I had one and two thirds cups of coconut milk, so used just a third of a cup of OJ – you may find yourself using a splash more. It's not usually a huge variation…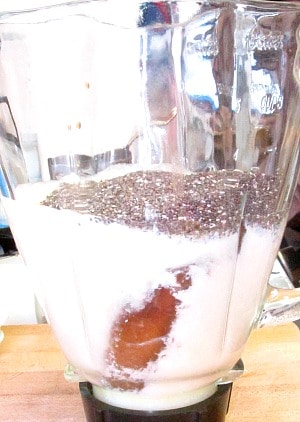 So now, put the peeled banana into the blender, with the coconut and juice mixture, half a cup of chia seed, and half a teaspoon of vanilla extract. And blend… Let it run for a while, on high, because you do want to break up the chia seed (though it won't be as fine as if you had ground it separately.)
Then pour it into a container, cover, and refrigerate. Serve a few hours later. That's it.
OK, so you can garnish it if you like – I have unsweetened coconut on hand, so I sprinkled it on. Some chopped nuts might be nice. Whipped cream never hurt pudding… but I didn't have any.
I'm sorry about the color – I admit, it is not the most appetizing looking dessert I've ever made. I put it in glass bowls so you'd get a good look, but you might want to hide it in something opaque… But the taste! Rich was funny – he's still a bit hesitant about the texture of the chia, but kept taking a spoonful, looking thoughtful, and saying "This is good! It's… refreshing! It tastes light and cool!" We established that this was one I'd make again for us both, not just so I'd have something when he ate sugary sweets…  (For the record – you don't see any dessert he doesn't also like.) No single flavor was dominant, but… it would totally be right for that beach picture with toes in sand and a pretty bowl in your hand.
And that's what I wanted.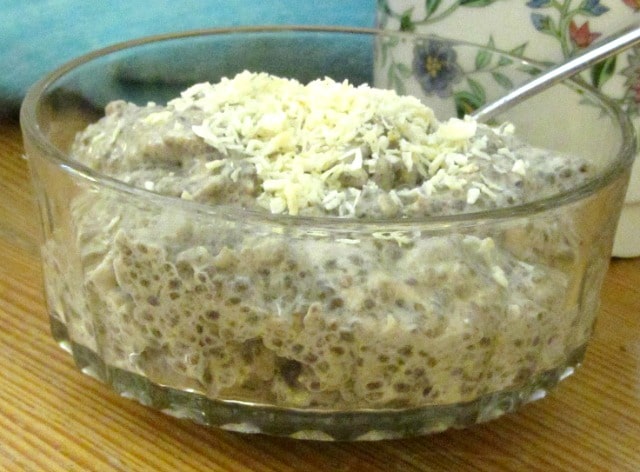 Tropical Chia Pudding
Tropical chia pudding - refreshing and light. Perfect for enjoying while sitting under a palm tree - or wishing you were!
Ingredients
1

can coconut milk

orange juice as needed

1

very ripe banana

1/2

t

vanilla

1/2

c

chia seeds
Instructions
Measure coconut milk. Add enough orange juice to bring the liquid measure up to 2 cups.

Put all ingredients in blender container. Blend on high for several minutes. Stop once to stir down any chia seeds that are stuck to the container. Blend again until liquified.

Pour into bowl, cover, and refrigerate 4 hours or longer.

Serve cold.
Notes
Garnish, if desired, with coconut, chopped nuts, or fruit.
Save
---
---