WIAW 163 – Good Hearty Meals.
Well, the weather is settling down, and life is settling down, and we managed to clear the dining table again (from the flea market and post-flea-market sorting) and…
I'm concentrating on getting good, solid meals on a regular schedule, that being the best means of self care for me.
We're also prepping for Rich to go visit his parents next week. This involves everything from me pulling together some really easy things for him to cook for them, to him getting any pantry supplies I might possibly need down from the top shelves. (I have a long reach for a woman, and have trouble reaching almost all of our cabinet shelves. Whoever designed our kitchen forgot that people were going to have to cook in it… and most of those people would not be tall men. At the same time, the current kitchen stepladders don't let you climb as high as the ones when the place was built…)
Breakfast. We've had some hot days, so I'm moving away from the hot grits/porridge breakfasts to protein shakes and muffins. I also started making kefir again, and these breakfasts are a good use of it (though it's having some trouble adjusting to the wild temperature fluctuations of the last few weeks. See, it's not just me!) Who knows, maybe I'll slide back to my tacos soon, too…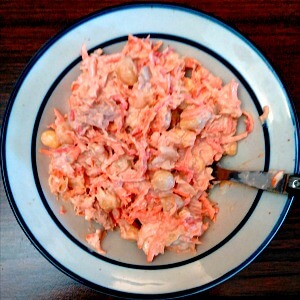 Now, Rich rarely asks for any specific food – he's very happy to eat whatever I put in front of him. (A combination of liking my cooking, and having cooked for himself long enough that he's glad to skip the work of meal planning…) So when he asks specifically for the Tuna Chickpea Salad, I know I have a hit – and I'm delighted to oblige. Except that I'm out of capers… So, OK, first, I clearly need to get some capers – and second… I made this one with the shredded ginger I've been using in Carrot Salad, and that was also a hit. I can see a series this summer – Alternate Seasoning for Tuna Chickpea Salad! (Hmmm… pickles? giardiniera? Except he doesn't normally care for them… Have to think about this.)

And I played with a pressure cooker version of Swiss Steak. Not right yet – I added too much liquid – but… I'll poke at it some more. Served it with the sauce over rice, and sauteed zucchini on the side. On the whole, quite simple, but hearty and delicious.
We're partying by ourselves again this week…  The original What I Ate Wednesday party has been gradually drifting away as people's lives have interfered. I like doing this, though, and will continue – come dance with me! I'm not going to make a formal link party (I do not want to take anything from the people who've done all the work) but I'd love to hear what people eat, even for just one meal!
---
---