All Corn (No Wheat) Corn Muffins (And WIAW 23…)
I've finished the workshop, and I worked some busy days, and a major weather front came through and knocked me out…  so this isn't really a normal WIAW post. But I am finally posting about the corn muffins I've been showing you for a while, so that seemed fair enough.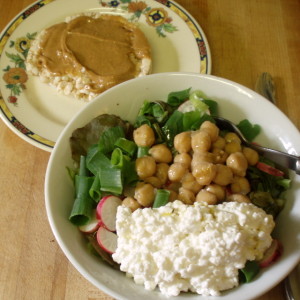 For food – we're finally getting an assortment of fresh vegetables in at Greenmarket. Several kinds of cooking greens, and scallions, radishes, arugula and lettuce for salads. So I've now switched over to my salad lunches – which I eat for months on end without tiring, as I have different assortments of vegetables and accompaniments each day.
Dinner, though, the last few days has been "Point Rich at the kitchen while I go to bed with my meds" – so no pictures… Previously cooked beans, rice, chicken, vegetables… it's dinner. I'm grateful.
I'm happy now with the muffins, though, so I'll share them.
OK, what started this was that I read in a blog that the writer had used masa harina in cornbread to make a wheat free version that wasn't as crumbly as the usual all-corn ones were. And I didn't write it down, and now I can't find it, and I'm kicking myself – if anyone knows where I saw that, please please tell me so I can give proper credit! I didn't really think anything of it at the time, but it hummed around in my mind…
You see, most corn muffins have wheat in them for the texture. Yes, it helps the rise, but it also helps the "tooth" – gives a nice tender crumb. But I know a number of people who either are gluten free, or specifically avoid wheat. I'd made cornbread for poultry stuffing a number of years ago, without using wheat because of a guest, and found it very crumbly – no problem for stuffing, but not so good if I wanted to eat the bread or muffin. And I started wondering…
Masa Harina is meal made from corn (maize) that has been treated with an alkaline solution, a process called nixtamalization. (Southern hominy is made the same way.) This does several things… It softens the very hard grain, making it easier to grind, which may be the reason it was done in the first place. It makes niacin available to the body, preventing pellagra, which can otherwise be a serious problem in cultures dependent on corn. And it allows the meal to hold together and form a dough, which can then be used to make tortillas and tamales.
And wheat free corn muffins?? The more I thought about it, the more I wanted to try this… I can get masa harina easily, here.
I played with variations. I tried different ratios of corn meal to masa harina, and settled on a ratio of 4 parts cornmeal to 1 part masa harina. I made some with buttermilk (because I had it) and baking soda, which I liked – but I decided that since I, at least, had often avoided a recipe because it needed buttermilk, when I didn't have it, I needed to give you something else, as a basic. And, in general, I stripped this down to be easy – I was making these for breakfast, so I needed mindless and fast. (I may work further with that concept… ) There's nothing like hot muffins half an hour after I reach the kitchen!
I also made the recipe for just 6 muffins. I was single a long time, and frustrated by recipes that made a dozen, more than I wanted, but didn't divide easily. And I wanted to make them in the toaster oven – no fuss, doesn't heat the kitchen, preheats in the time I take to make the batter… If you want a dozen (or 2 dozen) the recipe increases easily – I made 2 dozen for a potluck with no trouble. (And people seemed to like them, though it was a version I eventually didn't go with.)
For the pictures, I did this in a deep, pretty bowl, but really, I suggest a quart pitcher – it's easier to pour out of, and you can hold the handle…
First, preheat the oven to 425°. Then grease your muffin tin. Do this first, so you don't stop and fuss around after the batter is mixed. I've recently returned to buttering tins – I find it works better than using oil. I used to use the non-stick sprays, but now that I sell cookware I've learned about the residue they leave, and prefer to avoid them.
Beat an egg in your bowl. I use a table fork to beat it, for this.  Then add milk, salt, and oil. You can use melted butter – it will taste better – but I'm not melting butter before breakfast. I sometimes even measure the milk first right in the pitcher, then add the egg and beat it, to save dishes – the egg doesn't beat as well, but I still have decent results. And though the salt is usually added to the other dry ingredients, I add it to the liquid, as I think it distributes better as it dissolves.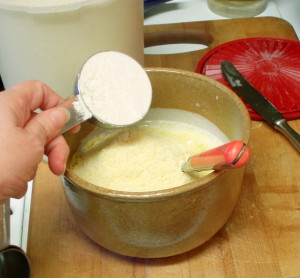 Properly, you should then mix all the dry ingredients in a separate bowl, then add them to the wet. But – before breakfast…  Working quickly – I assemble everything first, that makes a difference – I dump the cornmeal, and masa harina on top of the liquid, and the baking powder on top of it. Now, the baking powder will start to react as soon as it gets wet, so I use my fork to spread it around in the cornmeal so it doesn't clump. Then I quickly mix the whole thing together.
Usually, you are told not to overmix batter because you don't want to waken the gluten. That's not an issue here… but you want to mix it very quickly, and get it into the oven quickly, so the baking powder reaction is happening in the oven. Pour the batter into your greased muffin tin as quickly as you can. This doesn't rise much, so you can pretty much fill your pan – with wheat muffins, they tell you to fill only 2/3 full. Then bake, at 425, for 20 minutes. (While I make the tea, and cook the eggs, and wake Rich…) Do remember to set the timer…  I didn't, and these are just slightly overbaked. Good anyway…
Notes: these are good homemade muffins – which are different from the ones you get at the coffee shop. These are best hot – I toast leftovers, the next morning – and I like them buttered. (People at the potluck seemed to like them just fine, cold and without butter, though… Still only a few hours out of the oven.) The ones you pick up on your way to work won't be eaten that way, so they're generally made with a lot of added fat or sugar or both, so they'll taste good anyway. These are simpler, and moister – and much fresher – and I like them much better…
I have not called these Gluten Free Corn Muffins for a reason. Neither the meal I used nor the masa harina are guaranteed gluten free – that is, with no possibility of cross contamination. I've poked around the gluten free sites, and most people appear to have no trouble with them, but if you are cooking for someone with celiac disease, ask them before you make these – let them make the decision about the risks. (This may change, as more companies learn that, if they have no possible gluten contact, it's worth saying so…  but right now, I couldn't find anything one way or the other.)
I wrote the recipe to be made Correctly – that is, beating the egg and mixing the dry ingredients separately. I did want to show the shortcut, though be aware that it is a shortcut…  but if the extra bowls stand between you and muffins in the morning, go for the shortcut! Eat imperfect (but pretty darn good) muffins.
Partying with Peas and Crayons (where people have been looking at these muffins…)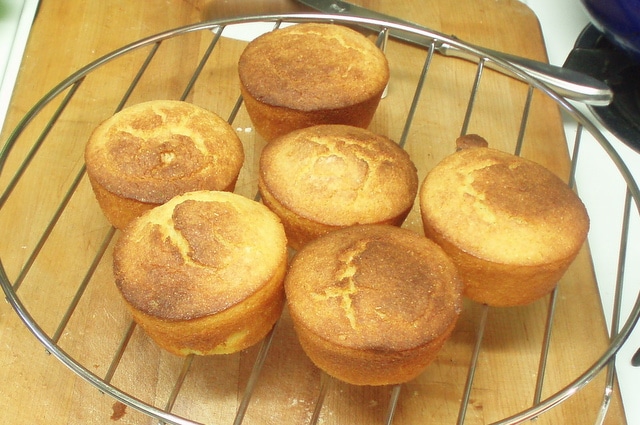 All Corn (No Wheat) Corn Muffins
Ingredients
1

egg

1

c

milk

1/2

t

salt

2

T

oil

or melted butter

1

c

cornmeal

1/4

c

masa harina

1

t

baking powder

butter or oil for muffin tins
Instructions
Preheat oven to 425

Beat the egg. Beat in milk, salt, and oil or butter.

Mix cornmeal, masa harina, and baking powder. Stir quickly into liquid ingredients.

Divide between 6 buttered muffin cups.

Bake at 425 for 20 minutes.
---
---