Corny Cheesy Cornbread
Add corn and cheese to cornbread to make Corny Cheesy Cornbread – a terrific side dish that's interesting in itself, without overwhelming your main dish!
Anyone who has read this blog for a while knows that Rich and I have eaten quite a lot of brown rice over the years. That has been my default Complex Carb (I hate talking in that reductionist way, but there you are – for me, a meal has to have Protein, Vegetable, and Complex Carbohydrate…) We do eat other things, but especially when I talk about putting a whole meal together, I tend to blithely tell you that I served it with brown rice. It's easy to just have a routine.
The thing is – the parents aren't wild about rice…
I mean – they'll eat it and all… but they see rice as sort of boring, rather than as a staple. (Years ago they ate bread at every meal, which I thought was boring and they saw as a staple. It's all what you are used to…) So they sort of poke at it, and it colors the way they see the rest of the meal. And my goal here is to give them good, nutritious and tasty food – I want them to get plenty of good nutrition, sure, but I think they have to enjoy their meals.
Anyhow, what this means for the blog is that I will pay more attention to side dishes. (My own health has improved quite a bit over the last year or so, which fortunately means that I can do that without it being too challenging – when I started writing it would have been difficult.)
Starting with rice, I use basmati, and have made pilaf. They do like quinoa, so I cook it more often than I did. We eat sweet potatoes much more than we did in New York – they're better quality and cost less, and we all like them. (And nutritionally they're terrific!)  We eat white potatoes occasionally, but they are not ideal for several of us, so that's an exception. I will poke around for other options (preferably gluten free, as I also need to eat! Though they have had the occasional commercial pizza…)
And then there is corn… We are, after all, in the land of cornbread – and the last problem I expected to have here was difficulty finding gluten free cornmeal! But most of the cornmeal in the store says "May contain Wheat" so… It took a while, but I found some (not in the stores we most often shop in, that would be too easy, but I did.) I have Quick Grits (which I understand are an abomination to any proper Southern Cook – but work well for me for breakfast) but am also learning to make the good stuff. Right now I more often make polenta (which is not the same thing, no matter what your package tells you.)
And I made my Corn Muffin Mix. I haven't been making muffins for breakfast – still trying to work out the timing of that, and may just end up making them the night before and accepting that I don't get fresh muffins in the morning. But I have made muffins and cornbread for dinner – and everyone is quite happy indeed about that! Especially when I fancy it up a bit, and they have a real treat.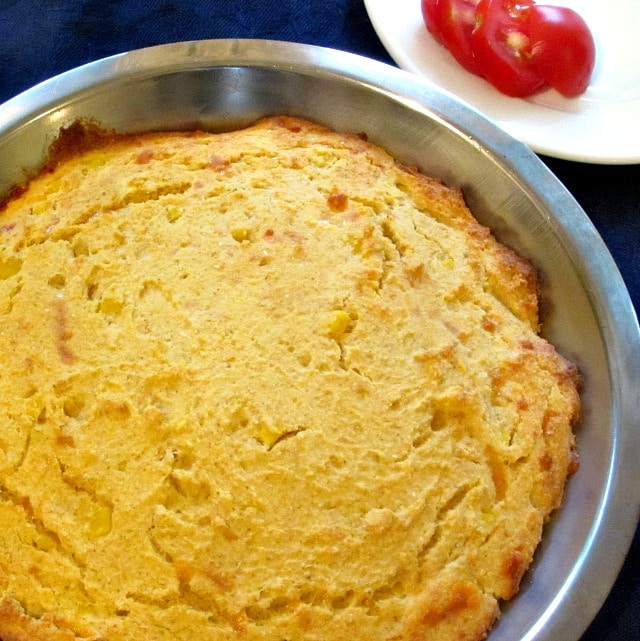 Favorite versions include corn and/or cheese – so we have both, here. And I use buttermilk instead of plain milk for the liquid. All together this gives a moister bread that doesn't really need butter (though that is still certainly an option.) Hot, I do not specifically taste the cheese, though I am aware of an added complexity and richness – but as it cools (or if I eat cold leftovers later) it is more distinct. (And this is good cold!)
And I use just a touch of spice here, which is all we want if I serve it with a spicy dish and want the bread to balance. If you serve it with unseasoned meat or fish and want the bread to add interest to the meal, by all means increase the spice, especially the chili pepper…  But, for instance, the night I actually made the bread in the pictures I served it with a recipe using country sausage and didn't want the bread to clash with or overwhelm that. Use your own discretion.
Directions
Preheat your oven to 425°.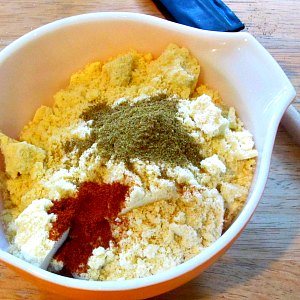 Mix together the dry ingredients. I use 225 grams of my Corn Muffin Mix which I highly recommend, especially if you are gluten free – but it's good even if you aren't… If you want my recipe but don't want to make the whole mix, the original recipe is here. That's enough mix for one recipe for six muffins… so if you have a recipe you prefer you can use that – but make sure you're just making six muffins worth, or double it (and be sure to also use the correct amount of egg and buttermilk.) You can even use the ubiquitous blue boxes which I cheerfully admit were a staple in my kitchen before I learned that I needed to avoid gluten – one of the only mixes I ever used. But really – the mix recipe makes enough for six batches of six muffins, so it's really not an overwhelming amount… make this tonight and a dozen muffins on Saturday, and you're already used half of it.
So put your mix in a smaller bowl, and blend well with one teaspoon of ground cumin and half a teaspoon of New Mexico Chili Powder. Or whatever pure chili powder you have on hand – chipotle or even hot Spanish Paprika would also work well, and give a slightly more complex flavor. And as always, you may want to change the amount of the spice – but I suggest making it as written first so you see the levels.
Then, in a larger bowl, beat an egg, and add a cup and a quarter of buttermilk.  Now stir in your dry mixture and blend it well – then add half a cup of corn (I use good quality canned) and two ounces of grated cheddar cheese. (Honestly, I take the stick of eight ounces and eyeball a quarter, then grate that – it does not have to be super precise, though you don't want to be badly off.) Stir it all well, then pour it into a greased baking dish. (I'm using a deep dish pie tin because that's what I have… an eight inch cake pan – or cast iron skillet! – would work fine.)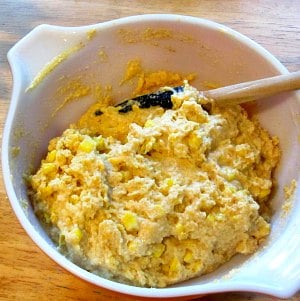 Then bake at 425° for twenty five to thirty minutes, until a knife in the middle comes out clean. I did the shorter time in my pie plate, as the batter is spread out thin – you probably will need the full time in a smaller pan (but you'll get a prettier rise.)
Now – if you choose to use your own recipe for cornbread – mix the dry ingredients with the spices  first, then make sure you remember your oil in the second stage! I don't need to add it here, as it is already in the mix… And you might want to start with one cup of buttermilk, then add more as needed – slightly different amounts of slightly different flours will affect that measurement.  And obviously I have not tested any such variation – but I know some of you will want to do that, so… go for it, here are my suggestions,  but I make no promises!
Corny Cheesy Cornbread complements chili particularly well, of course, but it also goes well with other bean dishes, or even a simple unseasoned pork chop or fish. And the parents don't think it is boring at all!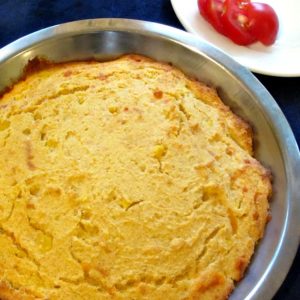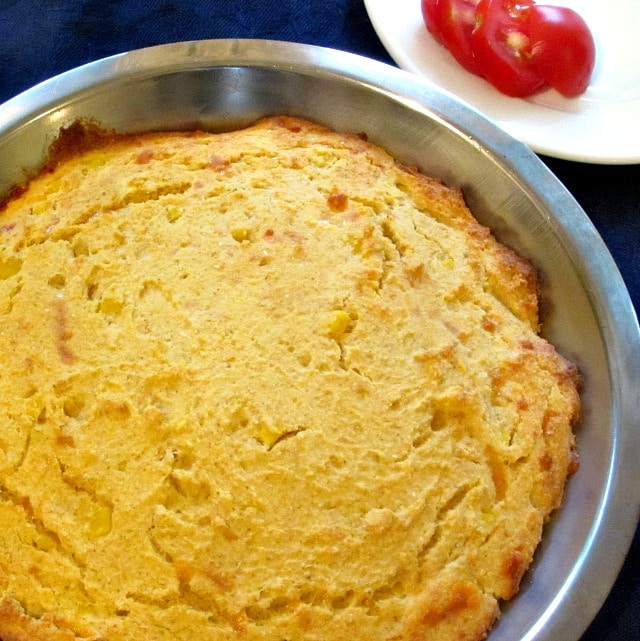 Corny Cheesy Cornbread
Add corn and cheese to cornbread to make Corny Cheesy Cornbread – a terrific side dish that's interesting in itself, without overwhelming your main dish!
Ingredients
225

g

corn muffin mix

1

t

ground cumin

1/2

t

New Mexico Chili Powder

1

egg

1 1/4

c

buttermilk

2

oz

cheddar cheese

grated

1/2

c

corn
Instructions
Preheat the oven to 425

In a larger mixing bowl, beat the egg, then add they buttermilk and blend it well. Mix in the seasoned cornbread mix to make a batter. Then fold in grated cheese and corn. Mix well.

Pour the batter into a baking pan, and bake at 425 for 25-30 minutes, until a knife inserted in the center comes out clean.

Let rest five minutes, then serve.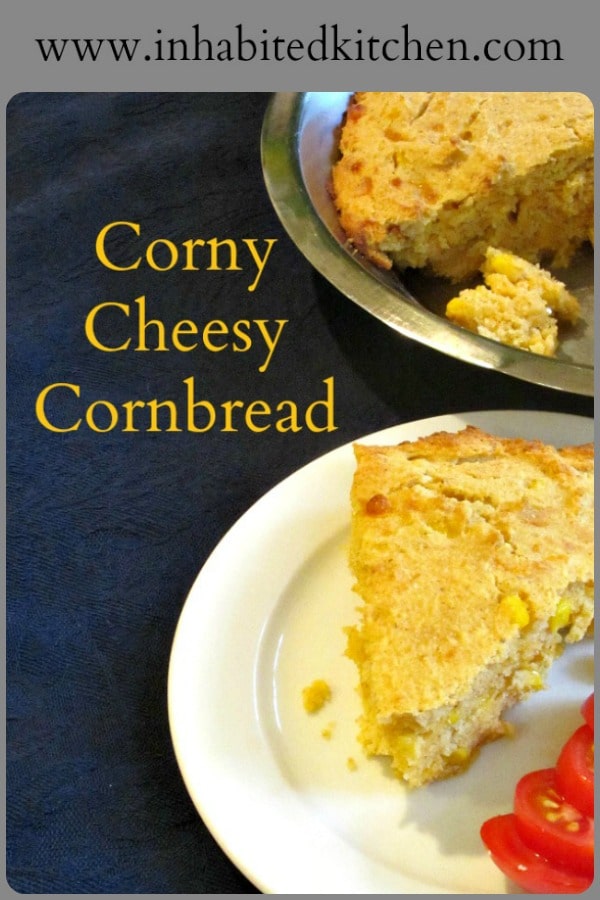 ---
---