Potato Vegetable Salad
Potato Vegetable Salad? Vegetable Potato Salad? And I didn't even mention the eggs…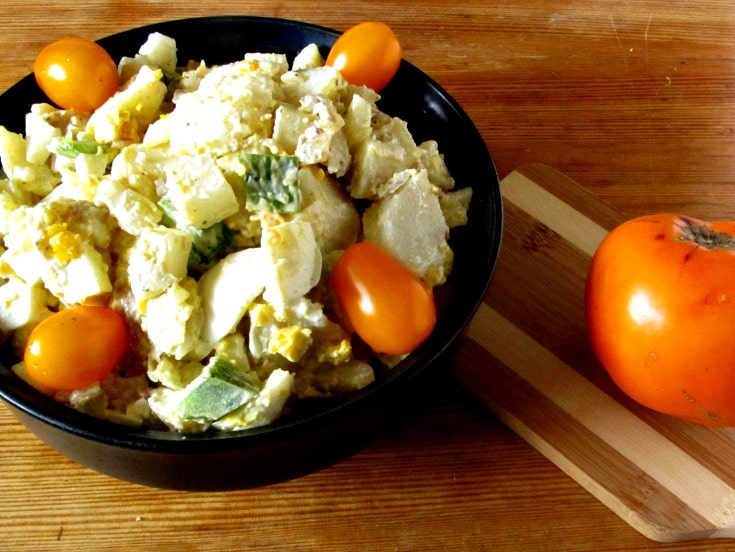 Years ago some variation of this was my go-to dish for pot lucks and picnics. "Anne will bring potato salad, of course. Anne, that salad with the unpeeled potatoes? With the egg/onion/veggies? You will bring your potato salad, right? "  I was never quite sure how this recipe became The Potato Salad for our circle of friends, but… I had to assume that it must taste pretty good!
It was always a work in progress… not what I grew up with at all. I started by trying to make Standard American Potato Salad with Mayo, but (I can never leave well enough alone…) it changed in my hands. First I read the vinegar trick in some cookbook eons ago and have done that with every potato salad ever since – it adds a subtle zing. A boyfriend suggested the eggs pretty early.  I added a little celery and some onion, and when people commented on them, kept adding more, and then other vegetables. (At one point I used quite a lot of onion – I no longer like raw onion, so just use a bit. Even a tiny bit adds a lot to the whole, though.)
And this version? Well – with the CSA I try to use what I have, instead of going out and buying vegetables and neglecting my full crisper. No celery? Well, what do I have… green pepper, of course, I've used bell peppers for years, but also… kohlrabi? Well – the celery is there as much for crunch as flavor, and kohlrabi has lots of crunch! And flavor… in future, I'll plan to use it!
Finally, the key is the contrast between the creamy potatoes and eggs, and the crunchy vegetables. The vegetables also add plenty of flavor, as does the mayonnaise and seasoning.  Not a boring old potato salad at all…
You want about a pound and a half of generic white potatoes for this. The kind that come in a five pound bag marked Potatoes as if there were no other variety. I mean, sure you can use fancy varieties, but I think the flavor gets lost a bit… Not russets, though, the skin is too assertive – and do leave the peel on, that's part of the texture. Start with about a pound and a half, and cook them whole. (Again, cooking them in the peel adds to the creamy texture. These potatoes have fairly thin peels.)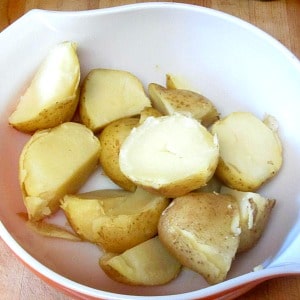 When they are cooked, while they're still hot, cut them in halves or quarters (depending on size) and sprinkle apple cider vinegar over the cut sides. It sinks in, you don't get an obvious sharp taste but it adds a little zip. (You can skip that step, but it's easy enough, why would you?) Then let them cool. And if your eggs aren't already cooked, do them now and let them cool, as well.
While the potatoes cool, assemble and chop your vegetables. You want about two cups all together. I started this with a kohlrabi – make sure you peel it deeply enough to get all the fibrous part in and under the skin. Then I just added half a large green pepper. Red bell pepper would be lovely, the original celery is classic, some radish if the people eating it would enjoy that, anything with both crunch and flavor.
And some sweet onion. As I said, my tastes have somehow changed (or I get onions with more flavor these days – that is entirely possible!) I used about a quarter of a red onion, this time, chopped fine (not quite minced, but close…)  You can certainly use more if you like, I used to and most people did seem to enjoy it! And yes, I included that in my two cups.
It's all right for the potatoes to still be a little warm when you add everything else – the mayo actually soaks in better that way. They shouldn't be actually hot, though – you don't want them to wilt the veggies or stay warm enough to risk the mayonnaise going off… So when they're maybe a little warmer than room temperature, but you can handle them easily, coarsely chop the potatoes. I like this gadget, which gives me variation in size – some big chunks and lots of small bits. You can certainly just use a regular knife, though. Once the potatoes are reduced a bit, add the peeled eggs and chop them in as well. (And if you forget that step, as I did when I took the pictures, you can actually add them at any stage of the recipe… )
Then stir in the chopped vegetables and toss well. Add the mayonnaise and seasoning – I find the seasoning blends better if added to the mayonnaise – and stir that in well.  Seasoning… There are a variety of seasoned salts and salt free seasoning blends. I usually use either Spike or Mrs. Dash, use whatever combination you tend to have on hand. (If you don't keep a general seasoning blend on hand, you may want to – it can be just what you need to add a little interest to scrambled eggs or plain meat! Yes, I lovingly season foods with just the right herbs and spices – but sometimes I don't want to put that much thought into it! And sometimes, this is just the right flavor.)
Once you have mixed everything well, cover and refrigerate for a few hours. It tastes better cold, and the flavors meld and sink into the potatoes. And then, because of the crunchy vegetables, it keeps nicely for two or three days – a great choice to make when you have a little time to serve later in the week!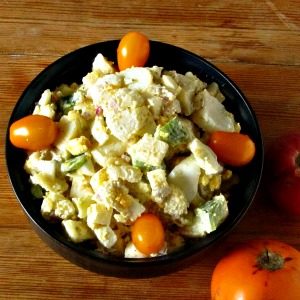 Potato Vegetable Salad
Potato Vegetable Salad? Vegetable Potato Salad? And I didn't even mention the eggs... Creamy potatoes and eggs, crunchy vegetables, and lots of flavor.
Ingredients
1 1/2

lb.

white potatoes

2

T

apple cider vinegar

4

hard cooked eggs

2

c

chopped crunchy vegetables

kohlrabi, celery, bell pepper, radish, sweet onion, whatever you have and like

1/2

c

mayonnaise

1

t

seasoning blend
Instructions
Cook the potatoes whole in their skins. When they are cooked, cut them roughly in large chunks, sprinkle with the vinegar, and let cool.

Once the are cool, chop them into bite sized pieces. Add the peeled eggs, and chop them as well.

Add the chopped vegetables, and toss well. Stir in the mayonnaise and seasoning until thoroughly mixed.

Cover and refrigerate a few hours before serving.
Save
Save
---
---