WIAW 194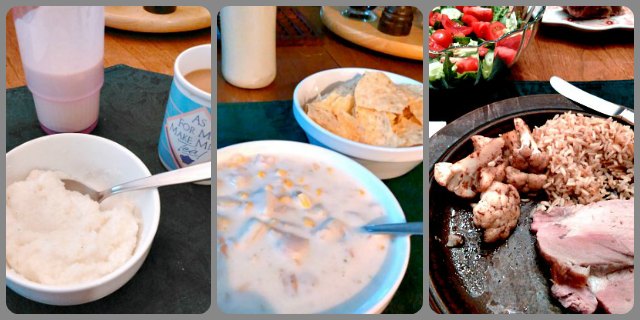 This weekend was a little exciting – in all the wrong ways… I managed somehow to hurt my arm. Well, actually, the consensus is that I've been hurting it very gradually most of my life, and somewhere in the last month reached the straw(s) that broke the camel's – arm? Passing heavy bowls of food all the way across the table, at full arm extension? Pushing myself up awkwardly from chairs without arms when my knee acts up? Who knows…  (All you young people out there – pay attention to ergonomics. You don't want to do this to yourselves, and have it catch up with you down the road. Because OUCH.)
So this week I'm cooking as little as possible, and typing as little as possible, to favor it. No recipe post this week. (I should be OK for next week – though it will be simple. My arm has been a bit better every day.) I did realize, though, that I took my pictures last Saturday so I could still pull this together.
What I Ate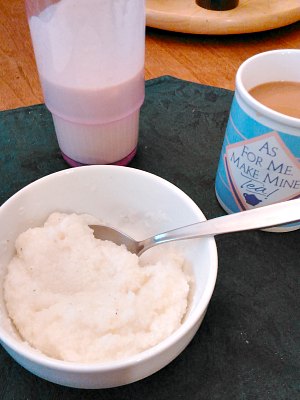 Breakfast was the usual – quick grits, kefir protein shake, and coffee.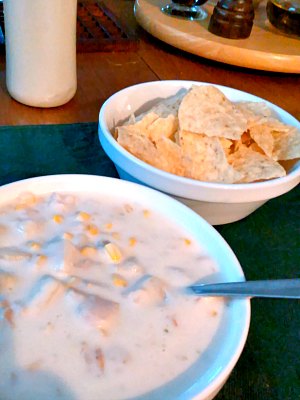 Lunch – it was raining, and apparently I was already feeling a bit off – New England Clam Chowder is my comfort food. I add canned clams, Rich likes to add corn, which all makes it a pretty hearty meal. And then I had tortilla chips…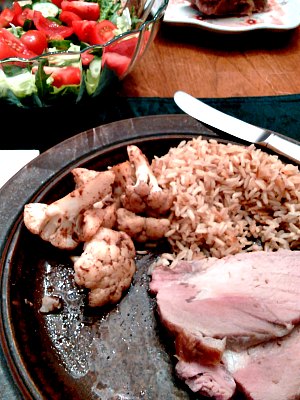 I was highly amused at dinner to realize I'd planned three different recipes I had written up for the blog – and was opening them all to check timing and measurements! (My cookbooks are not yet unpacked. Good thing I have the blog to look things up on!) It was basically pretty simple – a small piece of pork loin that I roasted, so I decided to make the vegetables the centerpiece instead of the meat. Now I know the parents do indeed like Masala Cauliflower as much as we do… and I cooked basmati rice as a pilau, since there wasn't any gravy or sauce to go with it. (Left out most of the spices, since I had the garam masala in the cauliflower – just browning in butter adds a lot of flavor!)
Laura has Jenn's WIAW party, so let's head over there (carefully…) and enjoy her flowers!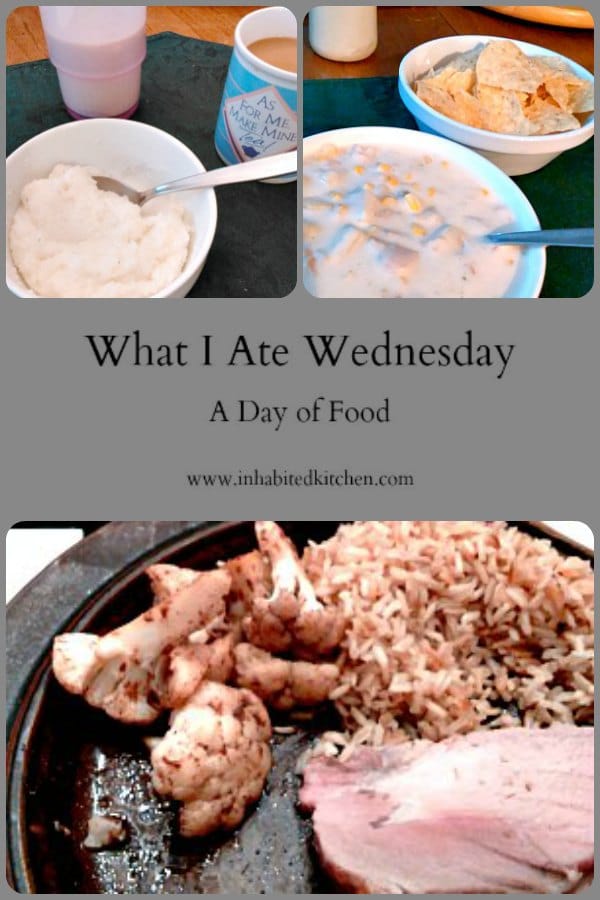 ---
---