WIAW 196 – Birthday Edition
Wow. We just had a couple of weeks of total chaos…  first medical appointments for half the family (from routine checkups to minor elective surgery for one of the cats – she's fine, thank you.) And then a series of minor not-quite-crises from a totally blocked sink through a "s/he's fine and we're lucky" mishap. I'm starting to collect my brain, again, and breathe freely, and all that.
A note about privacy. It's all very well for me to blather on happily about myself, and Rich did sign on when I started the blog. But his parents deserve their privacy. I have their permission to mention them, and discuss things like food preferences – but I will not discuss their personal lives or medical issues here. Beyond, that is, to say that they are in their nineties, we are here because they need some help, and they do (unsurprisingly) have health issues, mostly related to age. All of which does affect what we eat, what I need to do, and our lives in general.  This is always one of those tricky lines to draw in a blog, and right now I'm erring on the side of their privacy.  (But if you really want to hear the Sink and Three Hardware Stores saga…  oh, well, maybe not.)
But before all of that came down, we celebrated Rich's birthday! In fact, we celebrated it twice. He and I went out for an evening alone – a Date Night, if you will – on the day itself, and then we, the parents, and his brother and sister in law all came together for the family celebration.  And I had chosen the birthday itself to take my pictures to share.
What I Ate
A string of unseasonably warm days was just starting – and in Raleigh, an unseasonably warm April is quite lovely. (I'm not particularly looking forward to an unseasonably warm May…  and strongly hope that we don't get that in summer. But April?)  I'm starting a pattern of taking my breakfast out onto the patio – in summer I'll be able to enjoy the coolest time of the day that way, and still get some fresh air.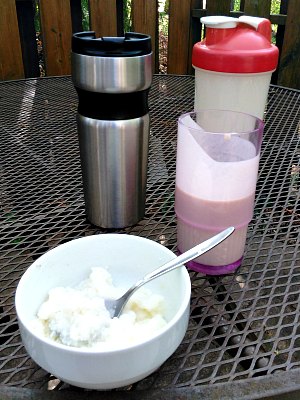 So I put my coffee in a thermal cup (mostly because it's easier to carry) and took it and my protein shake out, and then brought my grits… And sat back and listened to the bird song… Ahh… Lovely way to start the morning!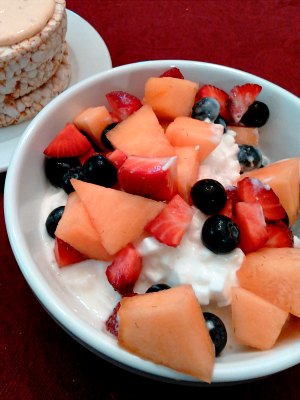 And we had a beautifully ripe cantaloupe! With the last of the strawberries from the farmer's market and some blueberries it made a delicious fruit salad, which I ate with cottage cheese. Rice cakes on the side (I really need to get baking more muffins and the like) completed the meal,
Dinner was wonderful. It seems that Rich's idea of a wonderful meal is one that I can eat without worry, and that we can share… For his own birthday, he researched dedicated gluten free restaurants in Raleigh! A place called Fresh Levant turns out to be fairly near us, and have an interesting menu – so we went there. And we shared everything! (Well, until dessert…)
We chose a first course of stewed cannelini beans, served with gluten free pita bread. The bread was fluffy – a little too fluffy for me, as I preferred whole wheat pita since I'd eaten it in an Egyptian neighborhood, but that's a matter of taste, most people would like this. I loved the beans, though, and it was so nice to have the bread to eat them and sop up broth…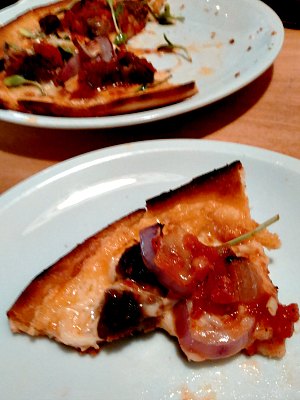 For a second course we shared a flatbread with merguez sausage. Delicious! The bread was firm enough to hold the toppings, everything tasted good – and really, it was fun to share after avoiding it for so long!
And then salmon, with roasted vegetables and cauliflower rice.  The fish was seasoned beautifully, the roasted vegetables were tender and tasty. And I tried cauliflower rice for the first time. Well – I like cauliflower, but I don't think it's a substitute for rice – but  in this meal that was all right, since we'd already eaten the bread. It did taste good with salmon.
They had an assortment of gluten free beers, and Rich ordered one – which turned out to be gluten removed, which is not exactly the same thing… (and the menu didn't say so.) Presumably many of their customers would know the brands if that was an issue for them (it generally is, for celiacs) or would think to ask, and of course it didn't really matter for him – other than some concern over cross contact… I don't drink beer, so it wasn't an issue for me, That was the only disappointment, though (and fortunately a minor one for us.)
We had discussed going elsewhere for his cake, but we sat near the pastry case and admired its contents throughout the meal…  He went over to it and chose a flourless chocolate creation which he enjoyed immensely. Rich, dense, and chocolaty…  And we each had a cappuccino.
Then we wandered out into a beautiful warm night. The restaurant is in a shopping center that has a green, and benches, and little courtyards… so we sat for a while in chairs at a table and just enjoyed the breeze and talked… It is so important to just have Couple Time sometimes! (And I'm certainly glad we did before the craziness of the following week or so!)
Hopefully everything has calmed down here – we do have some routine follow up appointments but do expect them to stay routine. And I hope your upcoming week is good – and that you also get in some lovely moments, whether is it breakfast on the patio or dinner for two!
And come and see Laura's lovely visit while we party with Jenn.
---
---