WIAW 190 – Spice and Flavor
I'm still exploring the Food Stores of Raleigh. (I will start exploring the city itself, honest… but right now, between the parents and the blog, and my own food issues, finding sources of food is the first priority!)
Yesterday was a spice shop. An issue that many people have as they get older is that they lose some ability to taste, and food starts to seem bland – this is one reason many oversalt food. Now, the parents always liked spicy food – living in New York they had the world's cuisines available to them! And I have found that they enjoy meals with a stronger flavor – bland just does not cut it.
So last night I made curried chicken. Not a Real Authentic Indian recipe – I will not, at this point at least, buy the full collection of spices I had in New York.  (I'm still finding a good place to put them – Barbara was no longer cooking seriously when they moved here, so a good spice rack was not a priority.) But this curry powder was both hotter and more interesting than the one I'd bought at a supermarket, and everyone just inhaled it! We're going to have more spicy food, here…
But anyway – yesterday was not the day I picked for What I Ate – that was Friday…
What I Ate
Started the day with my shake and grits. I use kefir for the shake, and add ice. I have for several years made protein shakes inspired by Indian Salt Lassi – which aren't actually salty, just not sweet. Most people in the US are only familiar with mango lassi, but a salt lassi uses spices – cumin or mint seem most common, and I usually use cumin. (And of course Indians use yogurt and dilute it, not kefir.) But I have decided to play, and use cinnamon… and that is good! Not quite the flavor I'm used to – funny how different the spice tastes with the slightly sour cultured milk – but delicious. And it goes surprisingly well with my grits, with butter, salt and pepper…
I'm sure I ate lunch… but there are no pictures to prove it. In fact, I ate a whipped feta experiment that is not going on the blog because it didn't work… and added some other cheese, on a rice cake. (We had some nice aged Gouda… ) Such is the life of a food blogger – after all my years of cooking I have a pretty high rate of success with new ideas, but sometimes it just doesn't click. I mean – we were all perfectly willing to eat it, it was not bad at all, but I'm trying to give you something rather better than that…
Dinner was not supposed to be an experiment at all – it was a recipe I have made for years. Crustless Quiche  was my go-to for potlucks and the like for quite a while.  I did use frozen spinach instead of cooking chard ahead of time… and then, for various reasons I started it a titch late. Since I was cooking it in a countertop convection oven, I used the fan setting without lowering the temperature to speed it up a little – and I have to assume that was the change…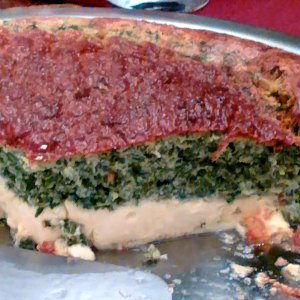 First, the top was such a beautiful brown! I've always had a lovely delicate brown, quite pretty, but this was gorgeous. But then – the quiche itself separated into layers! There was a layer of delicately flavored egg custard on the bottom, and one of a sort of spinach souffle on top (hmm… maybe I blended too long in the food processor, and whipped it? Another possibility.) I mean, it all tasted wonderful, and the parents loved it, but Rich and I spent the entire dinner staring at it saying "It never did that before!"
I had also made Ginger Carrot Salad, and let me recommend that as a pair for a meal – they set each other off beautifully.  And of course we then had the tossed green salad we always do as a second course – they don't feel it was dinner unless we have that…
Well, we're partying ourselves today, I guess…  Given how long I dropped off the map when I moved, I think it's entirely reasonable for Laura to take some time to find her feet! Why don't you tell me here what you ate one day – I'd love to hear from you all!
---
---