WIAW 189 – Sunlight and Flowers
Well, I told you last week it was warm…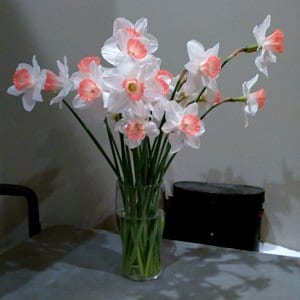 Aren't they beautiful? Those are not florist flowers – my sister in law picked them from her own yard and came by with them. I understand this is early even by North Carolina standards, and of course, in New York I would be lucky to see full blown daffodils like that at the end of March!
I'm starting to establish a rhythm for our days, here, around what the parents already did.  Which days what happens, when we shop, when we visit with family…  and when I write posts and work on recipes! (Because that timing had to change… ) A rhythm for each day, as well. I get up and fix everyone's breakfast, and go on from there…
I finally found corn meal that doesn't say "May contain wheat" so I made corn muffin mix, and can make my muffins. I'll probably eat muffins less often than I did,  but they're a nice change.  And the protein shake just works, here… It's fast, it's easy (and I don't have to explain why I don't think one egg is enough for my breakfast.) And of course I had my coffee.
Days tend to be either warm and rainy, or cool and sunny, but I did get one lunch outside! That still feels such a treat. I used to housesit for friends, and I always loved to be able to take a meal out and sit on a deck or porch. I really look forward to doing that in the spring and fall – maybe even breakfast in summer, though we'll see!
We typically eat a different lunch than the parents do – but  one they enjoy is cheese and bread with fruit, which I also like. I didn't want to eat up all their cheese, so I also had some peanut butter, and of course I ate my rice cakes instead of the bread.  (Bit more PB next time, I think…)  As usual, I drank water with it.
Well, that was a migraine day. I have fewer, which is good, but they still happen. And even without migraines, there are days when boneless chicken thighs cooked in a can of Rotel are what you need. (I was familiar with Rotel – canned tomatoes with chilies, for those who are not – in New York, but few stores carried it, so I rarely used it.) The parents liked it – Don made a point of telling me how good it was! – so that's an emergency meal I have up my sleeve…  That, cooked brown rice, and steamed broccoli and cauliflower, and we had dinner.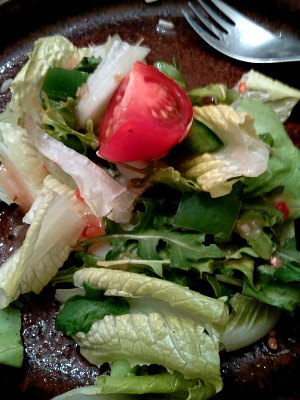 And I finally took a picture of our salad! They really pretty much like the same salad every day – a couple of kinds of lettuce with arugula, carrots, celery, tomatoes, green pepper… I'm varying the add-ins a little – I think some variety is good. No one else likes salad dressing, but I do. Right now I'm just using  bottled dressing, but I'll start making my own eventually.
Pop over and keep Laura and friends company at Jenn's WIAW party!
---
---