Ginger Carrot Salad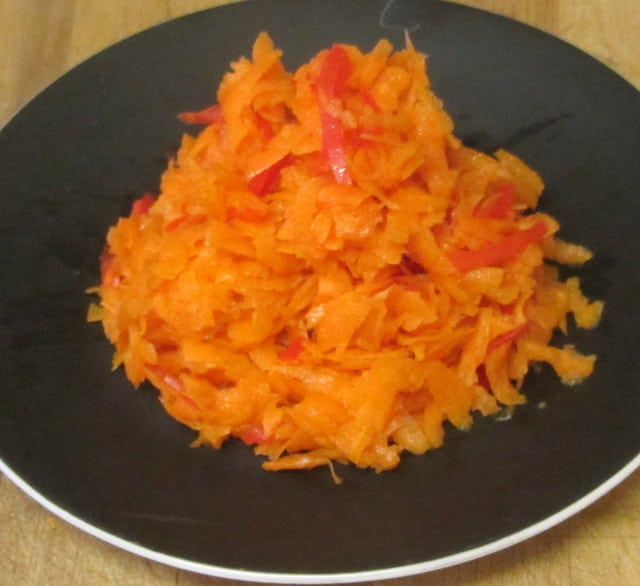 As I said a couple of weeks ago, one sign that I, at least, think Spring is approaching is that I'm starting to want salads. But it is March in New York – and it has been a cold one, with lots of snow… (Warming up today, though!) There are certainly no local greens available yet – and that's not really what I want anyway… that would be too light. But coleslaw, and kohlrabi remoulade, and carrot salad  – they are just right.
I started thinking about the carrot salad… I'd made it plain, with oil and vinegar, and I'd blended carrots with kohlrabi, and with turnips, but I wanted something different. Ginger goes so well with carrots…  but the last time I'd looked in my local store they didn't have any fresh ginger. I have a jar of ginger paste, and tried that, but was unimpressed… maybe it had been open too long, but it had lost a lot of flavor. (That is classically an issue with dried ginger – it loses flavor even faster than other ground spices. After six months there's a bit of heat but not much else… Seriously – buy a fresh package for holiday baking every November, and you'll be amazed by how much better your gingerbread is!)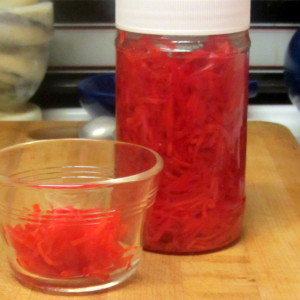 But then – I was poking around in the back of the fridge and came across my Japanese pickled ginger – and thought how much it looked like carrot shreds! Now – most pickled ginger is in thin slices, not these shreds… I'd gotten this at a local Japanese store, and I think they had made their own pickles… or gotten them from a small local supplier (I don't remember, precisely.) I know I'd grabbed it because it had either much less than usual or even no sugar… which I preferred. Young ginger turns pink naturally in the pickling process – and since that has come to be expected, manufacturers sometimes use shiso leaves – or, often, artificial color – to get the red color. I don't remember which this was, and the jar doesn't have a label any more. (I've had it for a while… the pickling does preserve flavor.)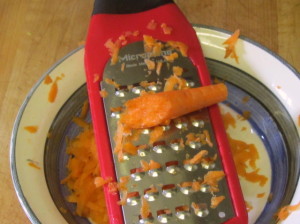 I thought that might perk up a carrot slaw quite nicely… and be a bit different. If you have the more typical slices (those are the pink bits served with sushi, if you don't recognize these) I can't see why the slices wouldn't work as is – or you can be finicky and shred them, as well.
I've made this ginger carrot salad a couple of times, now. I used the food processor for the carrots the first time, and made a big batch – but it's easy to toss together in small amounts, and I just used a hand grater when I wanted enough for only one meal. (OK – when I only had two carrots in the house. It keeps nicely, so is well worth making a big batch…)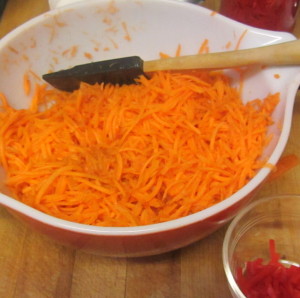 I used about five carrots, and filled a small bowl with shredded carrots. Then, instead of my usual white wine vinegar, I used rice vinegar, which is milder. I use plain – the "seasoned" rice vinegar just has salt and sugar added – nothing more interesting. I prefer to add my own salt, if needed, and skip the sugar… Then, I made the salad one time with canola oil, and once with olive oil (because that's what I had…)  If you use rice bran oil, or light sesame oil (not dark!) they would be great, but I didn't have any around. Do use a mild flavored oil – you don't want it to dominate the ginger. With the bowl full of shredded carrots, I added two tablespoons each of oil and vinegar, and tossed them well. Then I added another two tablespoons of the shredded pickled ginger, and blended it in as well.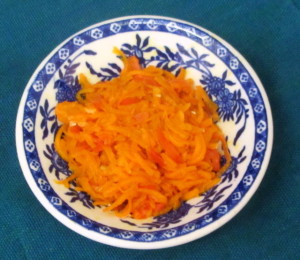 Then I let it rest, in the fridge. I wanted the flavors to meld a little. (And I wanted to be sure the ginger didn't make it uncomfortably hot the next day.)  We had some that night for dinner, and the rest the next day at lunch, and found a very slight development of flavor. I like this proportion as a basic one, which won't clash with other foods in the meal – I could see adding more ginger if it would bring out the flavors in other dishes.
We liked the ginger carrot salad. I especially liked it with cottage cheese, which gives me more lunch options! As I said, the salad keeps well for several days. It also packs very well – good for a lunch bag (especially if you don't have access to a refrigerator) or to carry to a potluck. Come summer, it's going to be very nice to have another salad option that doesn't have mayonnaise, and will not wilt.  I do want to try it with fresh ginger, but I know that will be a little different – the pickling itself adds a layer of flavor. If you try that, let me know what it is like, please!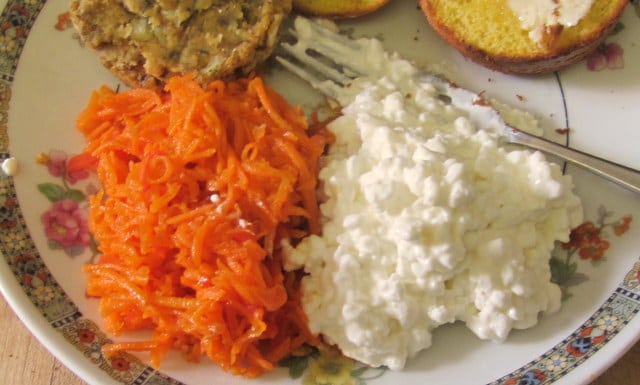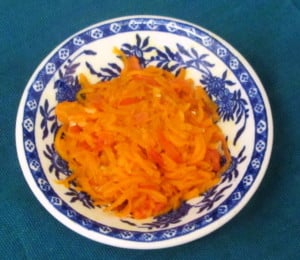 Ginger Carrot Salad
Use pickled ginger (sometimes called "sushi ginger") to make ginger carrot salad - a bright, fresh tasting vegetable to liven up winter meals.
Ingredients
5-6

carrots

2

T

rice vinegar

2

T

mild oil

2

T

pickled ginger

or more, to taste
Instructions
Scrub and trim the carrots, then grate them.

Mix the remaining ingredients into the carrots. Let rest a few hours to meld flavors.

This keeps well in the refrigerator, and travels well.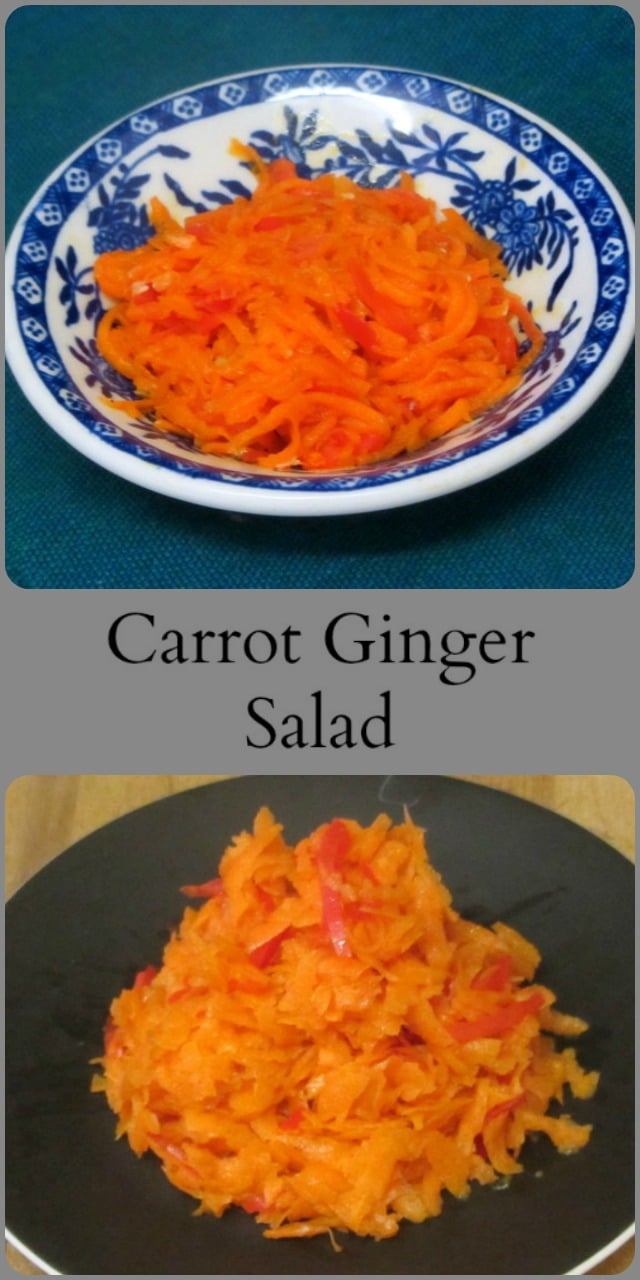 Save
Save
Save
---
---