Vegetables in Miso Sauce

Well… more carrots… and frozen vegetables. Green beans, in fact. Trader Joe's down the street sells French beans – long and thin, and uncut – and they are much better quality and a better price than the frozen beans available in the local grocery store. Honestly, since I so often mix vegetables into things, I sort of prefer regular American thicker beans cut in pieces… they're more versatile. These need to be a side dish in their own right… But there we are. And as a side dish, they are lovely.
I have served green beans with miso sauce for years. I got the idea from a Japanese cookbook, but have varied it over time. (Simplified it, mostly… there were originally other ingredients.) It's a very nice combination, and quite easy… It occurred to me that carrots would be a great addition. The color of course is beautiful, the vegetables have a slightly different texture at the tender crisp stage, and they just complement each other very well. (Better than peas and carrots, I think, which tend to be cooked mushy.)
Miso, if you are not familiar with it, is a Japanese fermented soybean paste, made with grain and salt. It is available in Asian stores, natural foods stores, and more supermarkets all the time. Most of it is used for the ubiquitous miso soup, but it also makes its way into other recipes. There are many, many varieties… It's a great way to add a boost of flavor and some salt to many different foods – you use just a spoonful and stir it in at the end of cooking. If you are gluten free, you need to read labels carefully – many varieties are made with barley or wheat. Rice is even more common, though, and they are starting to label Gluten Free. This was so labeled. (No more mugi or hatcho miso for me… but I didn't use them all that much anyway.)
Even just the rice ones have many flavors, depending on the way they were made. Most Americans are more familiar now with shiromiso – white miso, sometimes called sweet. It is less salty than most of the other kinds, and has a milder flavor – probably the best to try if you are not used to it. I usually have both it and the more complex red miso in the house – I used white miso here.
So first, scrub your carrots, peel if you need to, and cut them in pieces similar to the green beans that you have. I had the French beans, so I cut them long and thin, and if you have French Cut beans, you would cut them even thinner. If you have the more typical short pieces of basic Blue Lake (or whatever cultivar they are using these days) cut your carrots to match them. Then simmer them in half a cup of water, until just tender (5 minutes, more or less – it will obviously vary with the cut.) I used a small fry pan, because it would be easier to work in the wide flat pan.
Then add frozen green beans. I didn't actually measure anything – but I used roughly the same amount of beans as I had carrots, by eye. You can vary the exact proportions, but I wouldn't go more than 2:1 in either direction. I stirred them in, and covered the pan to steam them until cooked (which for me, with frozen vegetables, basically means just until heated through – cook to your own taste.)
When the beans are just barely cooked,  stir in the miso. Classically, you paste it into water in a small bowl – I understand that people sometimes put it through a small strainer. The key is to fully dissolve it and stir out all the lumps. In a recipe like this, I may put some in a small bowl, pour some of the cooking liquid over it, stir it until smooth, and return to the pot – that's the Right Way – or I may just push the food aside, drop a spoonful into the cooking liquid, and mush it down with a silicone spatula. (If I just have a spoon I use the small bowl option – it's harder to paste it smooth.) Your choice also may depend on your source of miso – there are some artisan varieties that are not smooth to begin with and they do really need the bowl or strainer approach.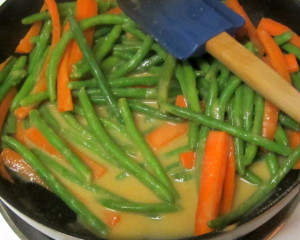 However you do it, just stir it well into the liquid, stir that into the vegetables, and just heat and serve – don't boil once the miso is added.
Well, that certainly looks brighter and more tempting than a plain pile of frozen beans or carrot coins! Tasted better and more interesting, too… And it is very simple…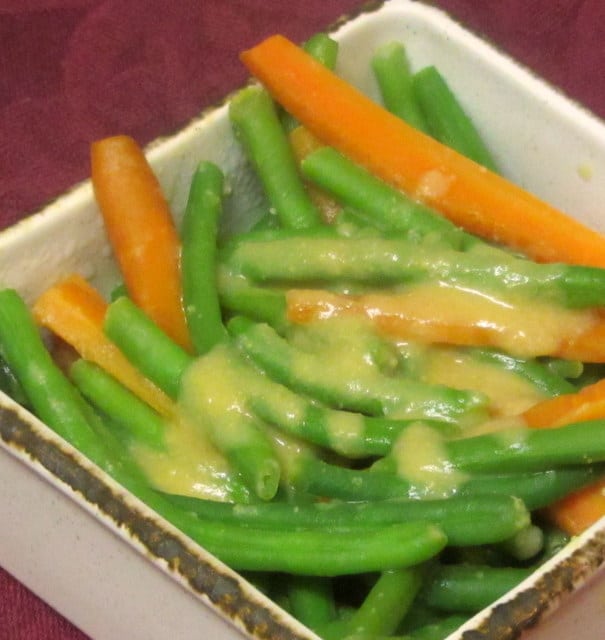 Vegetables in Miso Sauce
A super fast and easy way to add umami - and interest - to plain vegetables.
Ingredients
Per Serving...

1

carrot

1/2

c

frozen green beans

1 1/2

t

white miso
Instructions
Cut carrots to roughly and same size and shape as the green beans. Simmer them in just enough water to cover 5-10 minutes, until done to your taste. (Time will vary, depending on size and shape.)

Add green beans, return to a boil and cook until done.

Stir miso into the cooking liquid until smooth. Stir the resulting sauce all through the vegetables, and serve.
Notes
If you are using fresh green beans, simply add them to the carrots a minute or two after the water has come to a simmer.
---
---