Sauteed Shredded Beets
Yes, it's May, and we're still eating root vegetables…
Beets (called beetroot in most English speaking nations other than the US and Canada) are a wonderful vegetable – warm and earthy flavor, sweet, and very nutritious. But they don't play well with others… The flavor is assertive, but more than that – the color! They bleed all over everything, so your Roast Beets, Turnips and Parsnips are all red, your Chicken, Beets and Rice are red, your cutting board is red, your hands are red… So, since I tend to combine vegetables, I don't use beets as often as I otherwise might. (Yes, there are Golden beets. I even had some last summer. They are not the default Beet.)
The easiest way to cook them, the most common, is to scrub them, boil them, then slip off their peels (easiest under running water.) But sometimes you want something else.
I had a couple of beets, of wildly different sizes (so different cooking times) and, well, wanted something different. I've used the Shred and Saute method with several root vegetables with success. You don't lose flavor into cooking water, and you keep a good firm texture, with a little bite to it, though the cooking does soften them to some degree. And they do reheat well, if that's an issue for you – cooked vegetables that will still be good the next day in a lunchbox are valuable.
I used a swivel peeler to peel the beets – which was much easier than I had, for some reason, anticipated… Then I put them through the grater blade of my mini food processor. You could also, of course, use a hand grater or mandoline, but beets are harder than many other root vegetables, and hand grating them gets… annoying… pretty quickly. It's worth hauling out the processor, if you have one.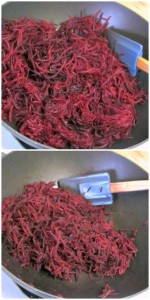 I melted a little butter in a pan and added them to it. Yes, butter, for flavor… You certainly can use oil if you prefer, but I think beets and butter are a good combination. Then I stirred them periodically as they cooked. I can't really give you time – it will depend on your beets and how moist they are, how heavy your pan is, and so on. I cooked these about 10 minutes – and you can see that they did cook down quite a bit, as they softened.
Now, you can just serve them as is, at this point, but I decided to add a little orange juice to brighten the flavor a bit. (These had been sitting in storage for a good six months – they were a little dull. I'd be less likely to do this when they were freshly harvested.) I stirred in half a cup, until the beets had absorbed all the juice.  Then I served.
The sauteed shredded beets were a nice change from plain boiled beets. The texture was still just a bit chewy, without being annoying, (we weren't chasing slithery beet slices around the plate,) it stayed hot, I should do this more often…
Though I'm really hoping to see some spinach soon!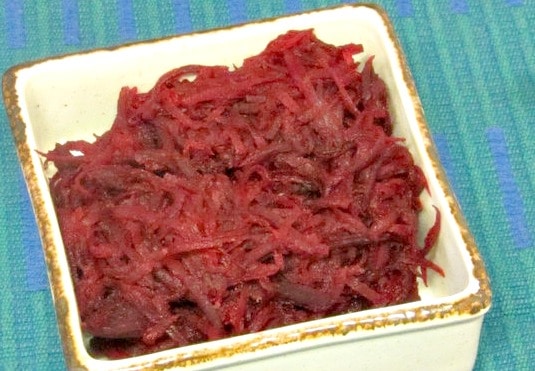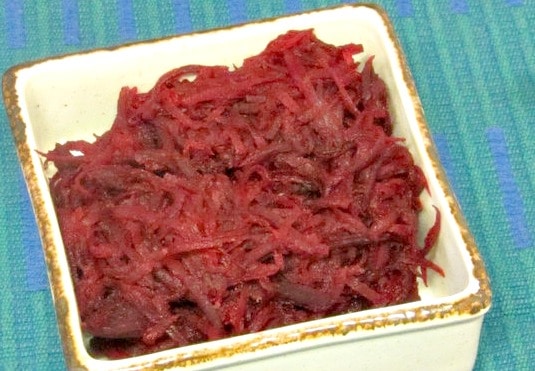 Sauteed Shredded Beets
Shred beets and saute them in butter - with a little orange juice to brighten them - for a lighter feeling vegetable.
Ingredients
4

beets

2-3

t

butter

1/2

c

orange juice
Instructions
Peel beets. Use a food processor to grate them (or a box grater, but the processor is easier.)

Melt the putter in a large saute pan. Add the beets, and stir well. Cook them over medium heat, stirring periodically, for about 10 minutes, until softened. T(hey will cook down by nearly half.)

Add orange juice, and stir in, Continue stirring until the beets absorb all the juice, and it is well distributed.

Serve.
Save
---
---