Root Vegetables in a Slow Cooker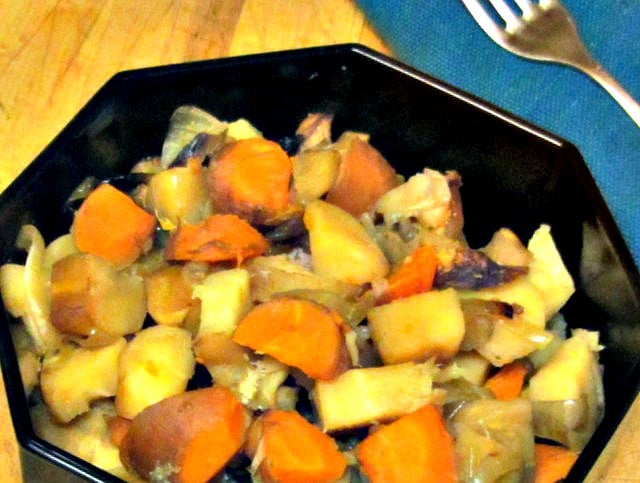 A Hot Thing in the last few years has been Roast Vegetables. Put all sorts of root vegetables – and sometimes sturdy green vegetables, too – in a pan and  put it in the oven…  The cooking concentrates the flavor, and you taste the natural sweetness of the vegetables. It's also easy to make a large quantity at once, and then use them in other meals – either just reheat, or use them for soup. I wrote about it last year… 
But sometimes you don't want to put something in the oven for an hour…  You don't want to put  it on in your overheated apartment (I've been there!) or it's already full of something else, or – probably the most common – you just want something that will be ready to eat soon after you get home. So then – cook your root vegetables in a slow cooker!
The results won't be exactly the same – this is a moist, not a dry heat – but they are similar enough that you can use them in the same ways. And sometimes it is nice to not have to fuss with stirring, and watching to be sure something doesn't burn, and so on…  And I do not recommend green vegetables such as broccoli or Brussels sprouts  in here – they just cook to a bitter mush in a slow cooker…
The basic recipe here is for one and a half pounds of mixed root vegetables, with one large (or two medium) onions, mostly because that's what I happened to have on hand…  and I just used carrots and parsnips because (sing it with me) that's what I had… But measurements are far from precise, you could easily double it in my five quart slow cooker, or triple it in a larger one, and it would be well worth it, because it reheats beautifully.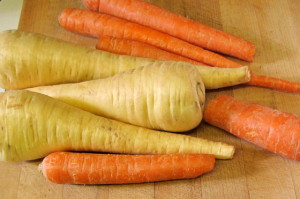 And use whatever firm root vegetables you have. For this method you do pretty much need the onion – but other than that – carrots and parsnips, obviously – but turnips, rutabaga, kohlrabi, daikon are all good. And this time I chose to avoid any sort of potato, but either regular or sweet potatoes are great in this. This variation makes it the sort of thing that tastes a bit different every time you make it – carrots and parsnips are sweet, rutabaga is peppery, daikon or black radish are sharp (I wouldn't use more than, say, a quarter of them, myself…)
Peel the onion…  and slice it fairly thin. Then strew half the onion on the bottom of the slow cooker… as it cooks, it will give up moisture, and that will help start the cooking.
Anyhow – scrub the roots and if necessary peel them. Obviously you'll peel rutabaga…  I usually don't peel carrots, but they need serious scrubbing, and I will peel if they are too gnarly and hard to clean, or if the skin looks tough. And so on, depending on the vegetable. Cut the vegetables into small chunks. Put that in the slow cooker on top of the onion. Then add the rest of the onion over the roots. Sprinkle a pinch of salt over all.
I added several peeled cloves of garlic – just dropped them into the mixture. They cook to a delicate, soft and sweet flavor, and add a note to the rest. Use as much or as little as you like.
I did not add any liquid. You might want to add a splash of water if the onions are older and dry. That would also be another way to vary the flavor – a tablespoon or two of balsamic vinegar, or broth, or soy sauce… Don't use more than two tablespoons, though – this is not a braise, and the vegetables themselves have enough moisture to cook.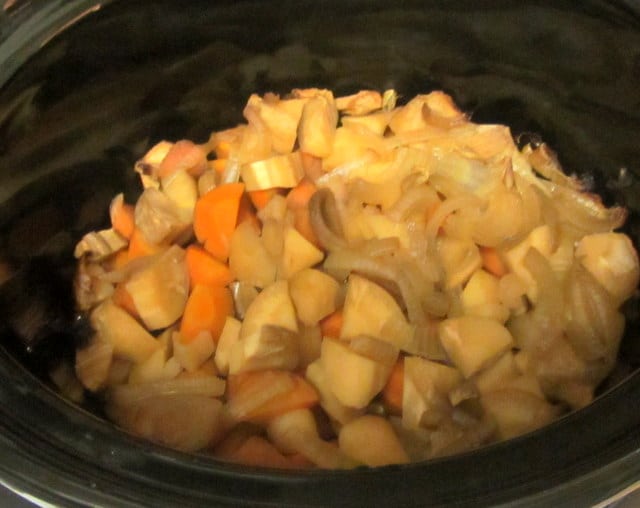 I cooked these on high for five hours. Low for seven or eight would be fine as well…  Longer would also work, though the vegetables would soften even more.
This amount gave us enough for several meals. We ate it plain that night. I mixed it with broth and some cooked chicken to make a delicious and very easy soup for lunch the next day. The rest is in the refrigerator…  and will probably just be reheated.
Root Vegetables in a Slow Cooker
"Bake" root vegetables in a slow cooker - set it up in the morning, and make enough for several meals. An easy and delicious winter vegetable recipe.
Ingredients
1

large onion

1 1/2

pounds

mixed root vegetables

carrots, parsnips, turnips, rutabaga, daikon, potatoes, etc.

3

cloves

garlic

peeled

pinch

salt
Instructions
Peel the onion, quarter it, and slice it fairly thin. Strew half of it in the bottom of a slow cooker.

Prepare other vegetables - scrub, peel if needed, and chop in bite sized pieces. Add them to the slow cooker.

Distribute the rest of the onion over the top. Add the peeled garlic. Sprinkle salt lightly over the vegetables.

Cook on High heat for five hours.
Save
---
---