Chard Crustless Quiche
Semantics – without a crust it is not truly a quiche.  I know this, you know this, but Crustless Quiche is still a useful phrase that conveys what I mean… so I'll go with it. (I spend too much time around classically trained chefs…) And I use Swiss chard – or rainbow chard, or beet greens, or whatever I have handy. I will call it a Chard Quiche anyway.
When I wrote about freezing greens, I noticed that, despite eating them several times a week all year round, I have posted very few actual recipes for cooked greens. Partly this is because we often eat them plain as a side dish – but we don't always. There are many, many recipes from all over the world based on leafy greens, and the more variations you have, the more interesting it will be. And this recipe is a great way to use the leftover greens you froze earlier!
I developed this one for our own use several years ago. I first made it with sheep's milk cheese curds that were (briefly) available in a local store – but adapted it for cottage cheese when the curds were no longer available. I usually just cooked a bunch of greens and used them all, but decided I should give you an actual measurement… And I developed it to bake in a pan I no longer have – which was deeper than this one.
I used here a deep dish pie pan, which holds four cups up to the brim – and the recipe does come up to the brim… If you don't have a deep dish pie pan, you could cook it in a casserole, or two regular pie pans (or halve the recipe for one pie pan. It divides easily.) I put the pan on a baking tray in the oven, just in case of leaks, but in fact it was fine. (I'll still do that, just to be safe…) When cooking, it puffs up remarkably, but then settles within a minute of coming out of the oven – I could not get a picture fast enough. If you use a countertop oven, as I do, make sure you allow head space!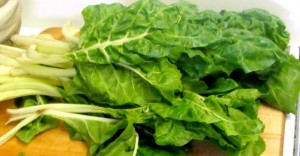 The basic recipe couldn't be easier. I did use a food processor this time, but you don't need one. I cooked my chard fresh, but I cooked two bunches (because – see previous post – I'm still inundated with greens) so I just measured out two cups. You can really use anything from one and a half to two, as is convenient – you can even just use one, but that will change the nature of the quiche. I drained them carefully, and pressed out all water, because the custard won't firm up if it is too wet.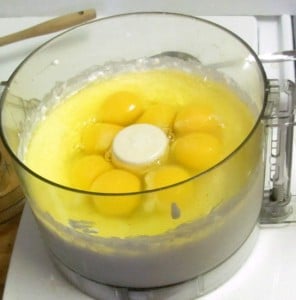 Put a pound of cottage cheese in the food processor, and whirr it a bit to smooth it out. I used large curd just because that's what I usually eat, but if you buy it specifically for this, get the small curd. And if you can, get "natural" cottage cheese – with no thickeners or emulsifiers added – as they hold liquid and, again, can make the end result loose. Once the cheese is smooth, add eight eggs, and just pulse briefly until they are blended in thoroughly. Then add the cooked chard, and pulse a few times, very briefly, to chop them. I prefer the definite texture of the greens. You could puree it, I suppose… (though if you use beet greens, as I sometimes do, that might do weird things to the color…)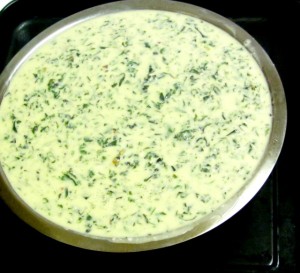 Then I just poured it into the pie pan, and popped it into a 350° oven. Check it after 45 minutes. This was done then – a knife came clean out of the center – but I have known it to take as long as an hour, if the greens were cold, or it was a bit wetter, or… make sure it is fully cooked. Then let it rest for at least 5 minutes before slicing, to firm up.
If you don't have (or want to use) a food processor, that's fine. Use the small curd cheese, beat it with a whisk to be reasonably smooth, and beat in the eggs. Then chop the cooked greens finely by hand, and stir them in. That's how I have usually done it.
I have brought this to potlucks, we eat it for dinner, we eat leftovers for lunch – it's good hot or cold. Sometimes we make a meal of it, but a slice of this is great as a side dish with a bean recipe. This is the most basic recipe – I sometimes add an onion when I cook the greens, you could add herbs or spices. I vary the greens, too – I prefer chard in this, but use beet greens (which are closely related) almost as often – and you can certainly use any other cooked greens you want, even mixing a few.
I don't think I've ever cooked this in muffin tins – can't imagine how I've missed that! That would be useful for packed lunches, and would be popular with most children.
Chard Crustless Quiche
Use cooked Swiss chard - or other greens - to make a chard crustless quiche. Serve hot or cold, lunch or dinner!
Ingredients
1 1/2 - 2

c

cooked chard

or other greens

1

lb.

cottage cheese

8

eggs
Instructions
Preheat oven to 350.

Drain the greens well.

Use either food processor or whisk to beat cottage cheese until smooth. Add eggs, and beat in thoroughly.

Add greens - pulse briefly to chop in food processor. (If adding manually, chop them finely before adding.)

Pour into deep dish pie pan, or other casserole that easily holds four cups.

Bake at 350 for 45-55 minutes. Test center with a knife to be sure it is done.

Let rest five minutes before slicing. Serve hot or cold.
Save
---
---