Garlicky Greens and Eggs
The greens are flowing in, now. This week we got more sorrel, kale, and lettuce, and a big head of escarole, along with several herbs. Mostly, now, we're just enjoying the variety of flavors, after a winter of curly kale and cabbage – but I'm also looking at different ways to cook greens, and use what I have already cooked. Usually I just cook a whole bunch at once, and then use the leftovers later – I may keep them in the fridge for use within a day or two, or I may freeze them in small containers – we often use muffin tins – for "green muffins."
A friend asked me about greens and eggs. Well, that's a wonderful combination which can be cooked in many ways. Often,  I chop up a small amount of leftover greens to put in my egg muffins, or in an omelet. But I can also make a meal of greens and poached eggs – cooked either separately or together.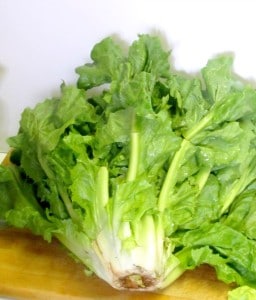 I have this nice big head of escarole. This Italian green is quite versatile – the most tender leaves can be used in a salad, tougher ones are wonderful shredded and cooked in soup. (Try it in lentil soup!) The heads are large and quite dense – I don't cook a whole head of escarole at once, I'd never fit it in the pan! I decided this time to make a lunch of the very slightly bitter escarole and eggs, with broth.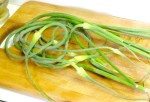 And garlic. It was funny – planning this, I thought "Oh, it's too bad I don't have any garlic, it is such a good combination with escarole!" and then remembered – the same CSA pickup included garlic scapes. We won't see full heads of garlic for a while, but the plant starts growing by sending up these shoots, which have to be cut off so it will head. They have a wonderful mild garlic flavor, and can be either substituted for garlic or, even better, featured in many recipes. And this was a perfect use of them.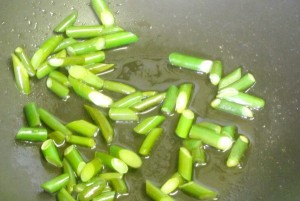 So. I broke off the outer  leaves of the escarole, chopped and washed them, until I had roughly a quart of the chopped, washed leaves. Then, while they drained, I took two scapes and washed and chopped them. (Cut off the blossom, and the tough fibery ends… sometimes they are not woody at all, but sometimes… ) I put a good glug of olive oil in a heated pan, as I wanted some flavor from it in the greens, and sauteed the scapes until they softened.
Then I added the greens, and used tongs to toss them in the oil, so that all the greens were covered in the good garlic flavored olive oil. To that, I added half a cup of chicken broth (and of course, you can use vegetable broth, or even just water – but I had chicken broth and it's a good flavor combination,) lowered the heat, and stirred the greens for a minute or two, while they cooked down.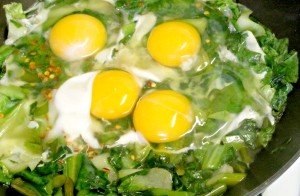 Once the escarole had softened, but before it was fully cooked, I added a sprinkle of red pepper flakes and stirred them in.  I pushed the escarole flat into the broth, and broke four eggs over it. Then I covered the pan, and cooked over low heat until the eggs were cooked. I prefer them cooked quite firm, with solid yolks, and got that in about 5 minutes (or, well, maybe another minute or so, when you count the time it took me to take the picture…) – if you prefer your eggs with soft yolks, you may want to start checking at 3-4 minutes.
Then I simply served it in soup plates. Rich had his with bread, to sop up the delicious liquid – I ate the broth with my spoon. I served hummus on the side, with crackers for me and more bread for him – and it was a lovely lunch.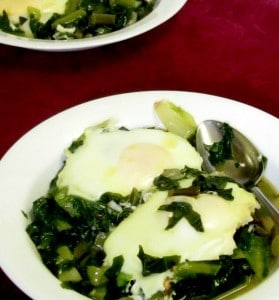 Now of course, one advantage is that you don't have to cook the greens fresh (though that was very good indeed…) For a quick lunch, for just myself, I would take leftover greens from the evening before, saute the scapes (now) or a little fresh garlic and hot pepper (later in the year,) add broth, and continue from there. Lunch in ten minutes! Or a quick dinner, a night you get home late… And this would be good with any greens – be sure to use the "pot likker" if you use simmered greens like collards…  You could also serve it over rice, or add some white beans, or some sausage, to make a heartier meal – but really, this alone was very good.
Garlicky Greens and Eggs
Simmer greens in broth and cook your eggs nestled right in them for a quick and easy meal of greens and eggs.
5 minPrep Time
15 minCook Time
20 minTotal Time
Ingredients
1 quart of chopped, washed greens (or 1 pint, cooked) - escarole, kale, chard, collards, or whatever you prefer
2 scapes (or 1 clove garlic)
2 t olive oil
1/2 c broth
1/4 - 1/2 t red pepper flakes
4 eggs
Instructions
Prepare the greens. Wash and chop the scapes. (Or peel and mince garlic.)
Heat oil in a large pan. Add scapes (or garlic) and saute until soft.
Add the greens. Use tongs to toss them in the oil, covering the vegetables with the flavored oil.
Add broth, and simmer until they start to soften and shrink. Add pepper flakes and stir them in.
Carefully break the eggs into the pan on top of the greens. Lower the heat, and cover the pan. Simmer until the eggs are cooked to your taste. (3-5 minutes.)
7.8.1.2
84
https://www.inhabitedkitchen.com/garlicky-greens-and-eggs/
---
---