WIAW 143 – December!

I have been writing What I Ate Wednesday posts for three years, now!
From that first post:
 I thought it might be a good way to illustrate the way I cook and eat. Soups and leftovers for lunch all winter, salads all summer. Food I've cooked turning up in different ways – yes, that's last week's pot roast – or, this week, turkey – shredded into the beans… And for me, it will be fun to look back and say "Oh, right, that's what I did that time – I liked it!" (Or I didn't like it… you'll probably see a few of the "Well, it wasn't bad…" meals I might not normally write about…)
And that is, indeed, the way it has worked.
For me, it has been a way to show you more or less typical meals, to see what I eat (and how that has or has not changed – sometimes I look back and wonder why I stopped this or if I really eat that as often as it seems.) Occasionally it's a way to show you something I'm working on.
For you – well, enough of you do read it that it must be interesting! Yes, this is how to use those burger crumbles, oh, maybe that would be a nice combination for dinner, maybe you're even interested in the weather in New York City?
So now, it's December and we have yet to go down to freezing. Weird… (The northern suburbs have had a touch of snow – not us.) I know it is winter because it is dark by 5:00, but that's about it… I should really try to get some snow boots anyhow (the zipper is jamming on my old ones) but it's hard to convince myself that I'll need them!
What I Ate
And… I made muffins, again. These finished up this batch of corn muffin mix – I'm about to launch into gingerbread season (I will convince myself it's December!) and the muffins, and eventually waffles I made last year. I got some protein powder again for my shakes – used almond milk and orange juice, this time. And I have no idea why that coffee looks like hot chocolate – it is coffee, though I'm drinking it darker than I used to.
Lunch was a leftover pork chop (cut up to heat quickly) and mashed potatoes. And the last tomato… sigh… I won't get a good fresh tomato for another seven months, though I can't really complain – I don't usually eat the last in December! You will start seeing canned tomatoes in quite a few dishes, though. I think they are much better than the poor pink balls I see in stores around here.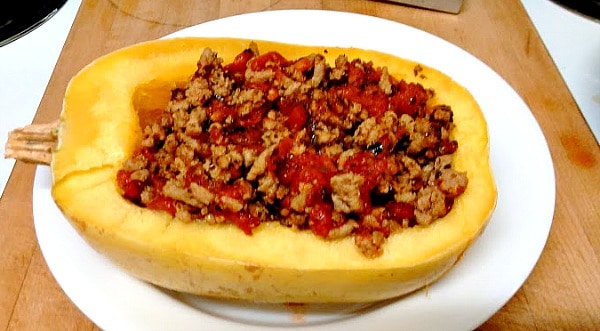 Well, in fact, dinner. OK, I'd seen the Stuffed Spaghetti Squash idea on Pinterest and in other blogs. Most of the ones I had were too big for two, but this one was just right, and it made an easy dinner – I tossed some of those burger crumbles and a cube of frozen basil into a pot with a can of diced tomatoes to heat up while I cut, cleaned, and microwaved a spaghetti squash. Dinner in maybe 20 minutes?
Peppers, I should have remembered hot peppers… This year we got surprisingly few hot peppers (in the past there have been plenty, but most people didn't want much. We cleaned up, but I guess the farmer decided to pull back…) but on the very last day we got a pile of dried red peppers! Each one is large enough for a whole soup pot, so I'll probably crush at least some of them – watch for this to be the Year of the Red Pepper Flakes!
So I guess this is an anniversary waltz, and a thank you and shout out to Jenn at Peas and Crayons who started this party in the first place! (Though her own life has moved on… A toddler will do that.)
Save
---
---