Gluten Free Gingerbread Waffles
Gingerbread waffles – gluten free, sugar free, but light and crisp, with the warm aroma of the gingerbread spice blend.
Yes, I'm still on the gingerbread kick…
I'd hoped to have actual gingerbread for Christmas this year, but I don't think I'm going to manage that one in the next week. I never really was much of a cake baker, so coming up with a cake recipe within my constraints is a major challenge. Maybe next year… (There are several cake concepts I've realized I want to work on, so… 2016 may just be the year of the Gluten free, Sugar free cake in my life. Or not. We'll see…)
But waffles, now… They were one of my original ideas in making the Gingerbread Spice mix. Wouldn't gingerbread waffles be a perfect breakfast on Christmas? I need to play with my recipe anyway… the one I wrote up last Spring worked all right on my old flat, slow waffle iron, but it's awfully dense on the new one, which makes thicker waffles. I need something lighter – dare I say, fluffy? I'm the one usually inveighing against the demand for fluffy bread, but waffles are a bit different. They're supposed to be light!
So, anyway, they're the same basic concept as the Gingerbread Muffins, since I thought they worked well. Half teff flour, to get that slightly acid, warm, distinct flavor. Half millet flour because I'm used to working with it, and it's my go-to for "all purpose", as it has a mild flavor and is cheaper in many ways behaves similarly to white flour. Apple sauce substituting for some of the liquid, to give it some sweetness. And, of course, Gingerbread Spice Blend.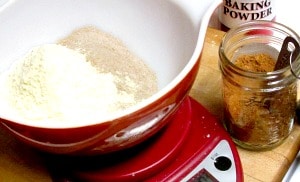 Mix 140 grams each of millet and teff flour with a tablespoon of baking powder (going for light, remember?) a tablespoon of the Gingerbread Spice Blend, and a pinch of salt. Mix all the dry ingredients well, and set aside.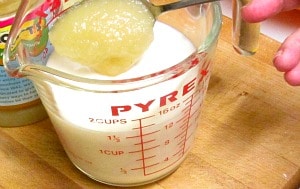 Beat two eggs well in a larger bowl. Again, looking for lightness,  beat them until they are foamy.  Then – the easiest way to measure something gloppy like applesauce when you are adding it to a liquid like milk – pour a cup and a half of milk into a measuring cup, then spoon applesauce in until you have two cups, total. Stir them together, and pour it all into the beaten eggs, and add 2 tablespoons of a neutral oil.
Beat the liquid ingredients together well, then pour the dry into the liquid, and beat it. Then let the batter rest about twenty minutes to hydrate the flour. It helps the texture of waffles, because it gives the starch in the flour a chance to soften and expand.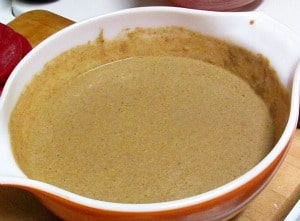 You're going to see that concept around here more, as I come to understand and use it… It is, in fact, a standard technique for waffles and other batters, but I have started to realize that it does amazing things for gluten free flours. I seem to keep looking up from whatever I am reading and saying "Hydration! It's all about hydrating flour!" So watch this space, as they say…
Anyhow, after letting your batter rest, go make your waffles – and I still can't give you much direction, because waffle irons really do vary tremendously. You need to get to know your own tool.
Rich, again, ate his with maple syrup – he's a traditionalist that way. (And doesn't have my issues with sugar.) I put applesauce on mine, one time  – I might make an apple compote, wouldn't that be nice for Christmas? But I've always eaten gingerbread with whipped cream, so – even for breakfast – whipped cream, with a little ginger in it (since I whip my own – I usually add a touch of vanilla.) And then add a dollop of the whipped cream to my coffee… So I decided to move ahead a bit and style a Christmas Morning Breakfast for my shoot… Doesn't that look good?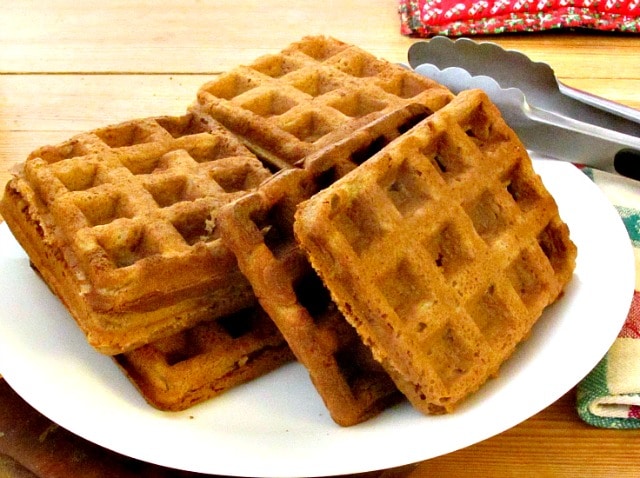 Gluten Free Gingerbread Waffles
Gingerbread waffles - gluten free, sugar free, but light and crisp, with the warm aroma of the gingerbread spice blend.
Ingredients
140

g

teff flour

140

g

millet flour

1

T

Baking Powder

1

T

Gingerbread Spice Blend

pinch

salt

2

eggs

1 1/2

c

milk

1/2

applesauce

2

T

neutral oil
Instructions
Stir the first five ingredients - the dry ingredients - together well.

Beat the eggs in a large bowl until light. Beat in the milk, applesauce, and oil. Beat well.

Add the dry ingredients to the wet ones. Stir well to mix thoroughly. Let rest 20-30 minutes.

Make waffles according to the directions on your waffle iron.
Notes
Serve with whipped cream to enhance the gingerbread flavor!
Reheat in a toaster, or in a 400 oven for five minutes.
Save
---
---