Little Bear's Gluten Free Porridge
Little Bear's Gluten Free Porridge – a gluten free hot cereal, without oats, nether dry nor bland, but creamy, flavorful, and just right.
I enjoy hot cereal. Oatmeal, specifically. In fact, very specifically, steel cut oats… ever since my college roommate gave me a tin of McCann's Steel Cut Irish Oatmeal as part of a basket of Fancy Foods for Christmas. (In those days, that was the only brand of steel cut oats I ever saw.) For years I bought it as a special treat – and for years now, since steel cut oats are more readily available, I ate them for breakfast most mornings. I did occasionally vary the oats with Wheatena, which I had grown up eating and also liked. They're both still a bit chewy, and have good flavor, and (unlike cold cereal) aren't soggy, and… texture is important, for me. I have had farina occasionally (though even there, most often a whole wheat version) but was never really fond of it – too bland. Good for a touchy stomach, but I rarely ate it otherwise.
So of course, now that I know I can't eat gluten, Wheatena is obviously out – but, because I can't do anything the way other people do, I react to oats as well. Which has, if anything, been more a problem for me than wheat. I ate oats more often! Oatmeal and granola and oat cakes, and oatmeal as an ingredient in apple crisp, and meatloaf and… It's an inexpensive, versatile, readily available whole grain that tastes good – what's not to like? Well… I don't like my gluten symptoms… so no more oats.(Even Rich doesn't eat oatmeal any more, since his bothered me, even though he took the same precautions that keep me safe from wheat cereal.)
I spend last winter trying various kinds of gluten free hot cereal. First of all, half the commercial gluten free cereals have oats. Eliminate them… I tried cream of buckwheat, which several of my friends (not all gluten free!) raved about. It was creamy and bland and entirely too expensive for something to eat every day (especially if I didn't even like it all that much…) I tried millet – it wasn't creamy enough. (Clearly I needed to find something that is Just Right…) And neither of them had enough flavor. I like polenta or grits, but I eat them with something flavorful – sauce, cheese,  fried eggs and sausage, they didn't quite make it alone. I tried commercial blends, and we were back to bland and creamy… I finally realized that the commercial blends are deliberately imitating Cream of Wheat – assuming  that if you prefer steel cut oatmeal, you eat it. But…
Then, when the cool weather began this Fall, I tried teff. I had read that its flavor was very sour and assertive. I guess it depends on what you were eating to begin with. There is certainly more flavor than in the other grains I'd tried, but it wasn't all that assertive, to my taste… and the sour flavor was more a tang, reminiscent of a good New York Jewish Rye. (Oh, now, that is promising… I miss rye bread!) And those teeny tiny grains – smaller than poppy seeds! – still manage to have some texture to the teeth… A bowl of just teff still wasn't quite right, though – and expense was a factor there, too (though it was less than the buckwheat cereal…)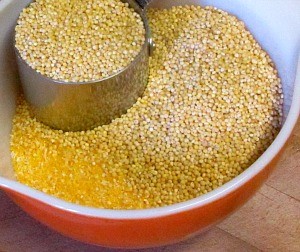 So I played with it, and found a combination I like. I started with the Papa Bear millet, which is chewy – 2 parts of that. Even after cooking, even with more water than I use for a dinner grain, it has a bit of bite to it. I then added an equal amount of coarsely ground corn (for polenta or grits) as the Mama Bear grain – creamy and mild, with a flavor that I find complements the millet. Creamy buckwheat cereal works here, too, if you cannot eat corn (or just prefer buckwheat, for any reason!) Again, it has a creamy, mild flavor. I usually use the corn because it costs less than half what the buckwheat does – and that is a factor for me, and for many readers.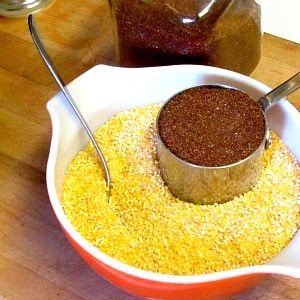 And finally, to make the Just Right Little Bear cereal, teff. (I don't usually go cute with names, but it seemed to fit, here, and make it easier to remember…) Just one part teff, so that in the end it's just one fifth of the cereal by volume. I find that's enough to improve both flavor and texture. In a funny way, it pulls the other grains together, while adding its own note. I mixed them all together, poured into a jar, mixed it more – and I do shake the jar before scooping some out, as I'm afraid the smaller teff will settle to the bottom. (Or float to the top… I haven't given it a chance to find out which!)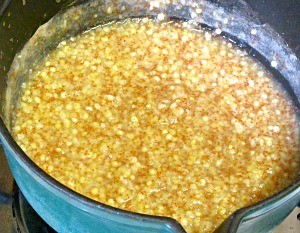 It's then very easy to cook. One part cereal (again by volume) to four of water – one cup of the cereal to a quart of water will serve three to four people, depending on how hungry they are and what else they eat… I usually use a quarter cup of cereal for just myself. Mix the cereal into the pot of cold water, bring it to a boil, and stir. Lower the heat and simmer for fifteen minutes, stirring at least once (twice is better) as the teff will settle and lump slightly if you do not. Then remove the pot from the heat and let rest a few minutes – this improves the texture. And there you have it.
I eat this, as I do other hot cereal, with a bit of butter and salt. (Which I learned from that tin of McCann's Oats back in college… I never had liked cold milk making my hot cereal cold and soggy!) If I am in the mood for milk, I may give it a quick zap in the microwave, as I often do for coffee, to keep everything hot.
There will undoubtedly be other versions – some just for variety, though I may find something else I like better. But for now, I am quite happy with this! Gluten free porridge, without oats, that is not too chewy and dry, not too creamy and bland, but Just Right!

Little Bear's Gluten Free Porridge
Little Bear's Gluten Free Porridge - a gluten free hot cereal, without oats, nether dry nor bland, but creamy, flavorful, and just right.
Ingredients
2

c

millet

2

c

coarse corn

for polenta or grits

1

c

teff
Instructions
Mix all ingredients, and stir well. Store in a sealed container.

To make cereal - stir 1 quarter cup porridge mixture into 1 cup water per serving. Bring to a boil, reduce to a simmer, and stir.

Simmer, uncovered, for 15 minutes, stirring every 5 minutes or so. After 15 minutes, remove from heat and cover - let rest for five minutes before serving
---
---