WIAW 142
Between holidays, migraines, and the last of the CSA, I've been distracted…
We have a dozen squash. Well, not any more – about half have been roasted, pureed, and frozen, but I still have the rest, along with five cabbages. The freezer is packed… roasted peppers, and frozen herbs, and sauteed celery and onion and mirepoix… Several gallon bags of the green muffins, all that squash, and more!
So – cut to the food. I had some breakfast sausage for Thanksgiving, and have enjoyed the rest of it since. (It always seems a treat to me!) So sausage and eggs, and corn muffins. I bet you thought I'd forgotten how to make muffins… with this grits kick I've been on. Honestly, grits is easier, first thing in the morning – but I do enjoy muffins, and finally made another batch of my mix (to make cornbread stuffing) so I will bake them in the morning… so they'll turn up again.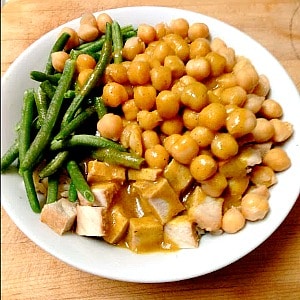 I have to get my act together on lunch. I'm not sure why it suddenly feels complicated – possibly because we're coming out of salad season but I haven't really felt like soup… so now I'm trying to pull together grain bowls. When I have all the ingredients I can assemble one in minutes – and that's supposed to be one of my strengths – but that overstuffed freezer means I've had less cooked meat and such on hand then usual. But organizing it, I found green beans hiding in the back, which really should be eaten – so I combined them with some chick peas. I had cooked an extra couple of pork hops a day or two earlier, so ate some of that, and added a touch of the sauce they'd cooked in. All over brown rice… fast and easy.
Gluten free pasta has been an issue for me. We like pasta firmer than I've been able to get with rice pasta. We found that corn pasta can work, but it's not sold in any store convenient to us. Every once in a while we grab some when we have a chance, and then carefully horde it… and I just found that I did have another pound tucked away behind some canisters. I had also just made the Burger Crumbles I wrote about, and had been planning to use them for dinner. And then I had the migraine hit just as I was about to cook – so Rich got to do his thing. A mix of turkey and tofu crumbles, a jar of supermarket sauce, and ziti – dinner in the time it took to cook the pasta, while I sat down and took my meds. And that's what it's all about…
So, Jenn's WIAW party is at Laura's today… Come join us, see what other people are eating! (I love getting ideas – like grain bowls, for example – from other people.)
---
---