WIAW 125 – Returning to Normal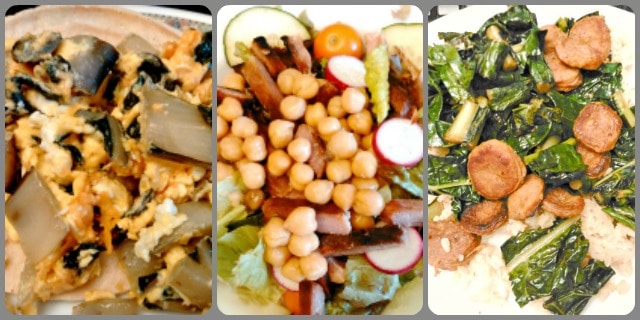 Slowly, I pick up the pieces. There are still calls to make, jobs to do, but everyday life is coming back. And in the long run, my daily life doesn't change, it's just… Every so often something hits me – this morning it was a reference to a movie that was a family favorite (our Family Cult Movie, we joked) since we were teens. There is no one left to quote it to me, or know what I mean when I refer to it…  But that's how it goes. I've lost people before, I know that normal life continues. It's just a new normal.
So I took my morning walk again – it somehow slipped away, between stress and heat. My cooking is still minimalist, but every week Rich brings a cartload of vegetables in from the CSA, which forces me to think about greens (and eat reasonably well!) And I sit down at my computer, and realize I haven't publicized some of my posts, so I get to work on that. And as I think I said, I tinker at the back end – that seems to take part of my brain that is working, and it helps to concentrate on something productive.
And I make sure I eat three decent meals a day, because I need that to function well.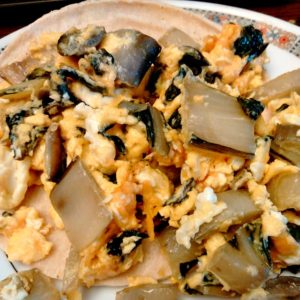 Last Thursday, I saw a Tweet from another blogger I know (Khadija of  Kitchen JS) about a bok choy omelette.  We had just eaten bok choy for dinner, but had that annoying amount… more than we wanted to eat that night, not enough to really use in another dinner… (This is the reason I make Green Muffins!) I decided I'd love to use it for breakfast!
OK, so this is not an omelette. It's sort of a mess. I just scrambled eggs and cheese the way I usually do, but added the vegetable as well… It was delicious! I should really do that more often… I've never quite wrapped my mind around vegetables at breakfast. Partly because they're not Traditional (but I didn't grow up eating beans for breakfast, either!) but mostly, I think, because I'm on autopilot in the morning. I need to go into the kitchen knowing what I will eat – or at least, having only a few specific options so I don't have to think. Leftover greens in eggs, though, or tomatoes with my tacos – I should be able to do that.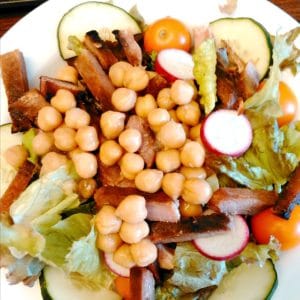 On the other hand, I have no problem eating vegetables at lunch, especially in summer! Remember a month ago, when I only had lettuce and radishes? Now – three kinds of lettuce, radishes and scallions, yes, but also cucumbers and the first cherry tomatoes…  I didn't put thin slices of small zucchini in this one – I've added that since. And some ham, with marinated chick peas. (I just put a splash of vinegar in the container.) I ate tortilla chips with it – I've eaten them as part of a meal more than usual lately, and am letting that slide a while, until I get back to the cracker making experiments.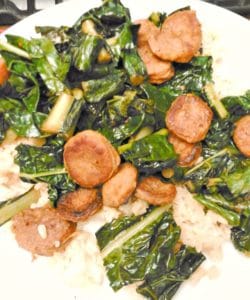 I'm not sure why, but every supermarket in the neighborhood was running sales on family packs of sausages for several weeks! Well – it's gluten free (always check, if that's an issue for you!) and sausage freezes easily and then is so easy to cook… so we laid quite a bit in. Mostly, they sold Italian sausage, but we found some chorizo. So for dinner, I just cut the still frozen chorizo in coins, and browned it. Then I added freshly washed kale, tossed it well, covered it and let it simmer/steam until the kale was tender and the meat was cooked. Served it over brown rice, and it was dinner.
And I didn't get it in the picture – I need to remember to do that – but I drank the mint lemon lime infused water I'd just photographed for the post! (We drank a lot of flavored water that afternoon… I usually only have it at dinner!)
So, pretty typical meals, for us. Vegetables, whole grains (yes – corn tortillas and tortilla chips are whole grains!) a variety of protein foods…
Normal life.
See you next week!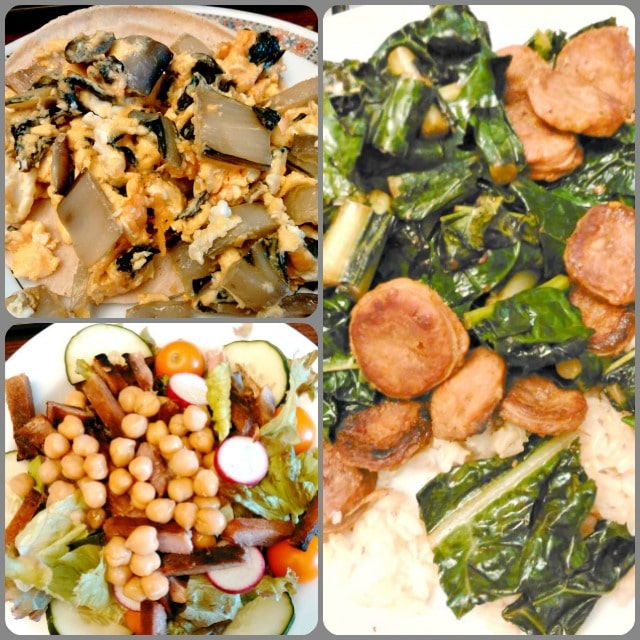 Save
---
---