Infused Water, Three Ways
All right, yes, I'm jumping on the bandwagon… In just the last few months, Pinterest and the blogging universe has suddenly bloomed with a vast collection of Infused Waters. Every time you turn around, someone seems to be touting the benefits of water with some combination of food soaked in it.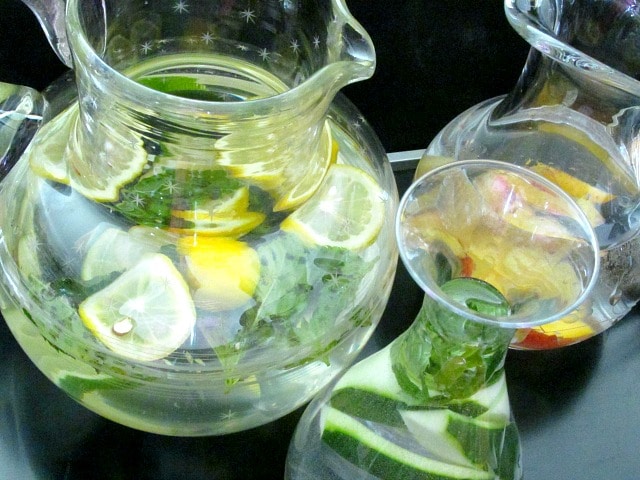 But, well.. you see… these days I don't drink wine, beer, soda, or juice, and I don't want vast amounts of tea or coffee. I drink water happily throughout the day, and continue drinking it with meals. But sometimes, I miss flavor… I'm also aware that I have the advantage, here in New York City, of having good tasting water, and some of you do not. I've lived other places where it tasted bad (though filtering helped…) and it's harder to drink enough when it's not delicious. I learned long ago that adding a lemon or lime wedge to my water helped the flavor, so I've done that for years. I realize that most of the time, in my WIAW posts, if I mention a drink with meals at all I usually just say water, but at dinner, that water usually has a bit of lemon or lime. I squeeze it slightly to get the juice, then continue adding water and squeezing.
But I started seeing more interesting combinations. I wondered if a piece of fruit really made much difference, especially if I couldn't squeeze in juice? Would I taste, say, a strawberry? Would I need to set it up hours in advance, to steep?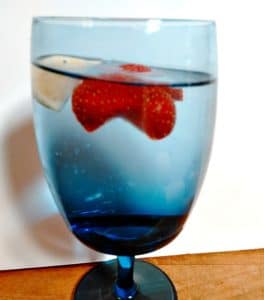 When the first local, ripe strawberries appeared, I tried. Took one medium sized fully ripe berry, cut it in half, and dropped it in my glass. Yes, I definitely could taste it! The flavor is subtle, though distinct, and stronger if I let it sit.  I didn't mind subtle, as it did not interfere with what I ate.
Then I started to play. A strawberry with a wedge of lime? Definitely. Then the CSA gave us fresh mint. Mmmm, a sprig of mint adds another layer! I know cucumbers are added to refreshing drinks in the hot Middle East – what about that? And what other kinds of fruit? Other herbs?
I have always, shall we say, checked the kitchen an hour before dinner. Some things need to be started then, if I haven't done them earlier – set up the brown rice in the rice cooker, make sure the meat thawed, wash vegetables –  even if the actual cooking can begin later. Often, then, I just ask Rich to pour water (and put ice and lemon in my glass!) when he sets the table shortly before I serve. Sometimes I've used an attractive pitcher for ice water on the table… First, Rich became interested in the infused water, and when he went to pour the water, he'd add a berry and mint or lime. But now, when I first go in the kitchen, I take that pitcher, fill it with water, and add some mint, or fruit, or… and let it infuse for the hour before dinner, when I add ice and serve. It only takes a minute.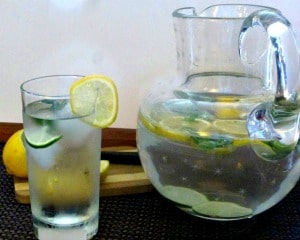 That hour turns out to make a difference in flavor to even my original citrus water, and a longer rest adds more flavor. So the first version, available year round, is citrus mint. I won't give measurements in any of this. Even more than usual, you need to vary by your taste, the size of your container, even the size of your fruit. I used my largest pitcher for this (you know, I also enjoy using my beautiful pitchers!) Scrub your lemon and lime, of course, and slice them very thinly. I used about half of one of each, and squeezed the juice from the end pieces. Then crush and add a few sprigs of mint, if you have them, and let soak. If you want, you can set this one up hours earlier – as time goes on the water picks up flavor from the oil in the peel, as well as the juice in the fruit, and adds another layer of depth. (If you let it soak too long – I tried a full day, just to find out – that lemon peel can start to get bitter… Setting it up in the morning for dinner totally works.)
Branching out in a different direction, I tried (equally traditional) cucumber mint. Whatever you choose to infuse, you need to cut to expose the inner flesh, not just the peel. I decided to cut wedges, not slices, but they had to be thin wedges. And then, the mint. And again, do crush the mint – muddling, it's called – to bring out the flavor. (You can keep a few leaves to be pretty, if you want!) I found this the most subtle flavor I tried – delicate and elegant. Doing some last minute research, I found a reference to grating cucumber to add to drinks. Another time I may try pureeing it – even using the frozen cubes I make in August when the CSA gives me half a dozen big cukes every week! It won't be as attractive, but it should certainly taste good!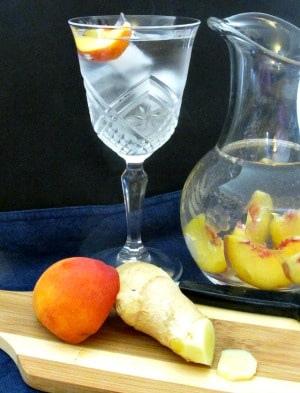 But what about fruit? There is a whole world of stone fruit out there… Again, I waited for the first local peaches. Do use the ripest, most flavorful fruit you can get for all of this. Unripe, tasteless fruit has no flavor to impart! What to use for a compound flavor? Well, ginger tastes wonderful with peaches – let's try a few thin slices of fresh ginger! I suggest using just a little ginger at first – you can always increase, but you don't want it to overwhelm the fruit. At the same time, you may want to put it in the water earlier in the day, and then add the peaches an hour before serving… But play with it yourself, and see what gives you the result you prefer.
That, in fact, is what I really want you to do, more than follow these recipes. I've written them up as a place to begin, but I'd love to see what you do with the idea! I know a few I want to try… Watermelon. I love the flavor of a truly ripe melon, but a whole slice is too sweet for me these days. The same with fresh pineapple – but a small piece in a pitcher of water should be refreshing with just a hint of sweetness. Perhaps cantaloupe, with that ginger again? I will freeze some of the mint, which should go well with many fruits. Recipes don't need to be compound, though – a single fruit will be delicious itself.  I just wrote these up to demonstrate options.
So many ideas to play with! I will continue to post these over the summer to social media. (Honestly, Twitter is made for this sort of mini-post!) So follow Inhabited Kitchen on Twitter, on Facebook, on Instagram…  (I have dipped my toe into Snapchat – username inhabitkitchen. I have yet to post, or even figure out how to link from here, but… yet another project!)
And please – try these, and your own ideas for infused water, and tag Inhabited Kitchen so I can see them! I so want to see what you are all doing with this! Let's make social media social – and thirst quenching!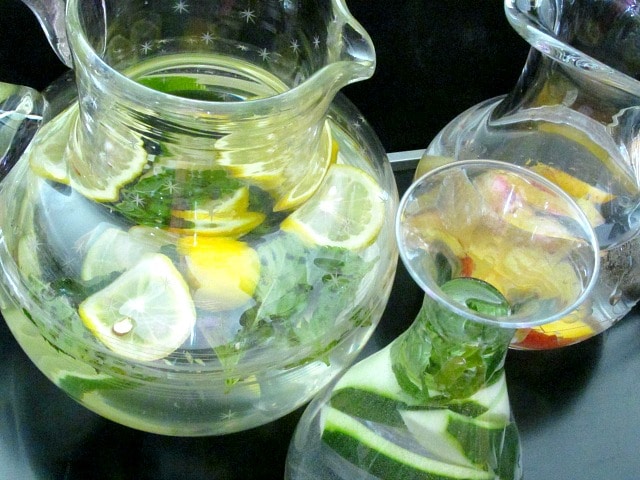 Infused Water, Three Ways
A cool pitcher of flavorful infused water, sugarfree, delicious, and refreshing! Drink with a meal or throughout the day.
Ingredients
Citrus Mint
half a lemon

sliced thin

half a lime

sliced thin

sprig of mint
Cucumber Mint
One cucumber

cut in 8 wedges

mint leaves
Ginger Peach
one peach

sliced

thin slices of fresh ginger root
Instructions
Choose the fruits, herbs, or other ingredients you want to infuse.

Place them in a pitcher of water at least an hour before serving.

Add ice and serve.
Notes
This is only a place to begin - try your own!
---
---