WIAW 126 – Still Hot
Well, it's July…
Much of the US is in a heat wave (though it's nothing compared to, say, India!) I write about infused water and popsicles, because I can't face much else! We also have the usual July severe thunderstorms, with their temperature  swings…
But with the summer weather, we also have summer produce. The first tomatoes, cucumbers, and peppers are here, we feast on perfectly ripe peaches and fresh sweet corn.
Somehow in all this I still eat a hot breakfast. I have not found a cold cereal that works for me… I used to make granola, but I seem to cross react to oats, and I haven't found a grain to substitute that I like. I did experiment a bit with that – and need to get back to it… On the other hand, the iced coffee stays – and that helps.
But meanwhile – I baked corn muffins. And I hadn't eaten eggs with beans (other than as tacos) for a while. It is a great combination.
I have to get back to my bread experiments, though. It almost worked – and I'd put it aside and the next version would almost work… and… I have some new ideas, though, and may just start from scratch. (And then come back… it's a circular process, I think.) But I miss bread in summer – toast for breakfast, bread for sandwiches… it's just so convenient. And now that Rich no longer brings gluten bread into our kitchen (we found that the change did help me) I really need to give him more options, too.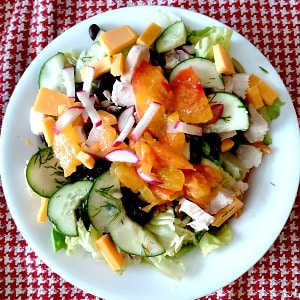 At lunch we ate salad, with all the lovely new produce. The orange bits are an heirloom tomato, I made a cucumber dill salad and we enjoyed it for several days. (Picked up the first bell pepper last night!) I grilled chicken breast, sliced in strips, to use in salad, and added some cheese. Then some (not pictures) rice cakes – I do need bread!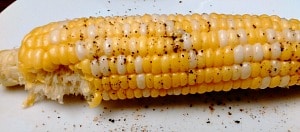 The first fresh corn of the season simply must be eaten as corn on the cob. I'm sure there's a law… The rest of the summer, I'll cut it off the cob to use in recipes (Rich isn't fond of corn on the cob… LOL) but sometimes one must uphold tradition. Not the traditional cooking method, though. I never thought a microwave would work for corn on the cob until his mother showed me, but it's wonderful!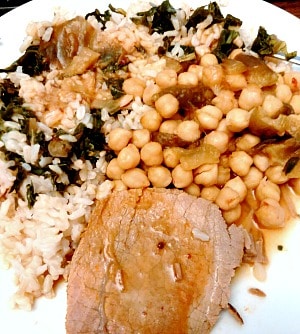 And, speaking of modern appliances, the rest of the meal went in the pressure cooker. I had about a pound of round roast, and soaked chick peas, so popped them in with sauteed onion, water, and a little tomato paste. Seasoning would have been a good idea, I'll elaborate on it the next time, but the basics were good, and I have several meals from it, all ready in the freezer and fridge. And it didn't heat up the kitchen, or take much time or attention.
Then I grabbed another coconut blueberry popsicle (didn't take a new picture of it) and relaxed in the lovely air conditioning…
What are you doing for summer meals? Do you enjoy salad? Any other cool foods? Or do you support the "hot and spicy food cools the body" concept? (I got my first hot pepper, yesterday, too… you'll see a little more heat!)
So now we dance over to Laura's for Jenn's WIAW party. (She lives in San Diego. Of course it's hot!) Come on over!
---
---