Stewed Chicken with Tomatoes
Stewed Chicken with Tomatoes turns a simple recipe into a real meal. Easy enough to make with low energy, but enough flavor to be interesting!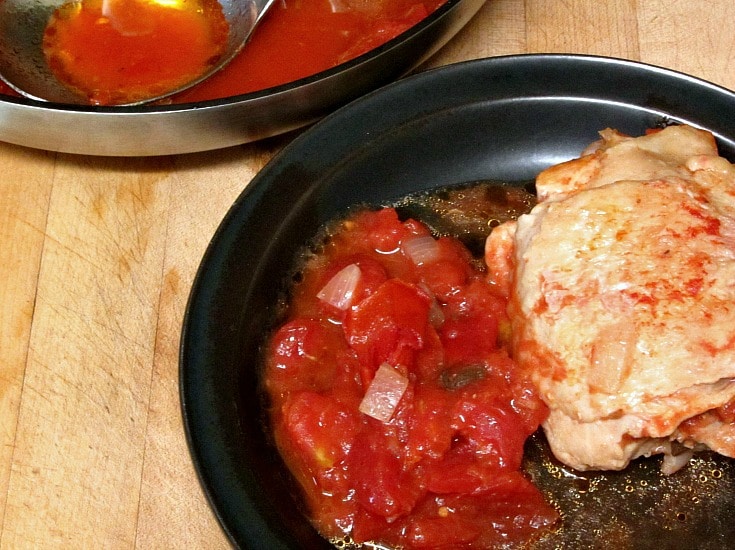 Well, I said things were a bit scattered here, with  the move – but I didn't know the half of it!
First – I said end of November, but in fact we haven't moved yet. We were able to put it off into  mid December, which got us away from trying to move over Thanksgiving weekend – that was a relief! (I can't tell you how totally I did not want to drive down I-95 past every large city on the East Coast on a major travel day!) But then, we lost every other advantage of the delay – and then some – by both coming down with a nasty virus that's going around. I'm finally doing better now, but I've been sick for three weeks, and had no voice for 10 days, and that really puts a crimp into selling things, packing things, talking to movers, and so on… (Rich wasn't quite as sick, but still coughing terribly.)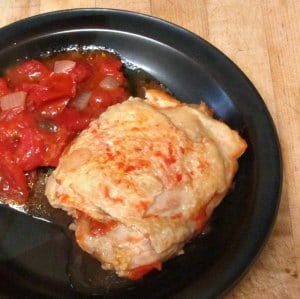 So I haven't been posting anything on the blog.  (Or doing terribly much else.)
But a friend asked me the other day what I've been cooking. It seems her daughter deals with chronic illness, as I do with chronic migraine, and she has been able to use some of my recipes and techniques to get a good meal on the table. (And I can't tell you how happy it makes me when I hear that this does help someone!)
Unfortunately, in the last few weeks, the answer has been "Every last leftover in the freezer, and a fine collection of canned soup and chili." I'd spent the previous month carefully using up all the food in the freezer I'd usually use in Planning for Meals!
Oh – and some chicken thighs, on days I felt a bit more together. Thighs are easy, there's just the one bone, and they tend to come in roughly single serving sizes.  I cook four at a time, we eat one each for dinner, then I have two to use in other things – they usually become lunch.  So – here are some chicken thighs. And to make it more a meal, I stew the chicken with tomatoes.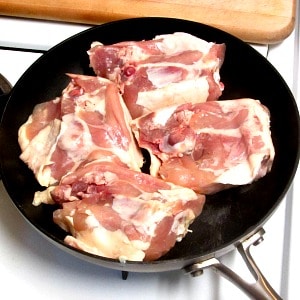 Directions for Stewed Chicken with Tomatoes
You start a bit differently from other recipes. Usually you heat the pan, add a little oil, and then put the food in. This time, the goal is not to brown the meat but to render out the fat in and around the skin – so put the thighs, skin side down, in a cold pan. Then put the pan over medium heat, and let it heat up slowly.
See – you can, of course, simply pull off the skin and start there, but you lose a lot of the flavor if you discard all the fat. On the other hand, if you keep all of it, your food will taste greasy… I find that this hits a happy medium. Cook it like this for about five to ten minutes – it will vary a bit, depending on both your pan and your stove, and how long it takes the pan to heat up.  (And if you feel the way I did, go sit down and rest…)
When you see a good bit of liquid chicken fat in and around the thighs, turn them over.  The skin should have browned a little. (Depending on the pan, the skin might or might not stick a bit – but it really doesn't matter… This doesn't have to be pretty, and you'll probably discard the skin later anyway – it gets soggy.) Now there is enough fat in the hot pan that your meat will not stick.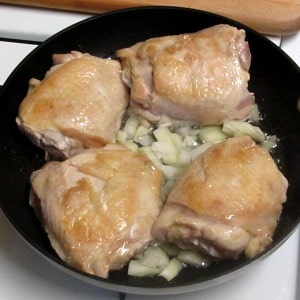 At this point, you should pour off some of the chicken fat. Some will stay in the pan. If you want to, you can also now add chopped onion (or other aromatics) to cook – stir them around to coat them.  And give the chicken another five minutes.
Now, you have Choices. When I wasn't well, I skipped the onion, and at this point just added about a cup of water… and at the end I had perfectly good, if bland, stewed chicken (and a little chicken broth, for good measure!) And if you just want cooked chicken to use in other recipes, use the water, with or without aromatics, and you're good. But here,  we're making a real meal, so add a can of diced tomatoes. (Yes – opening a can of tomatoes can be a big step if you're sick, crazy busy, or both.) Bring the liquid to a simmer, cover, then simmer it for fifteen minutes. Turn the chicken over again, and simmer for another ten to fifteen minutes, or until the meat is done. Smaller thighs of course take less time, bigger take longer – I've been known to go ahead and serve the smaller ones and give bigger ones another five minutes just to be sure they're cooked through to the bone.  (Not, of course, if they're still giving up pinkish juices. Everything we eat needs to be fully cooked.)
If you're more together than I was, if you haven't already packed some of your spice cabinet or used up all your fresh or frozen herbs, you can add a pinch of basil or oregano with the tomatoes and that's good… You could put a bit of hot pepper and garlic in with the onion. You could – well, season all of this…  But if you're not up to it, don't worry – this is still perfectly good, if unexciting. Comfort food, really…  at a time when we really needed comforting.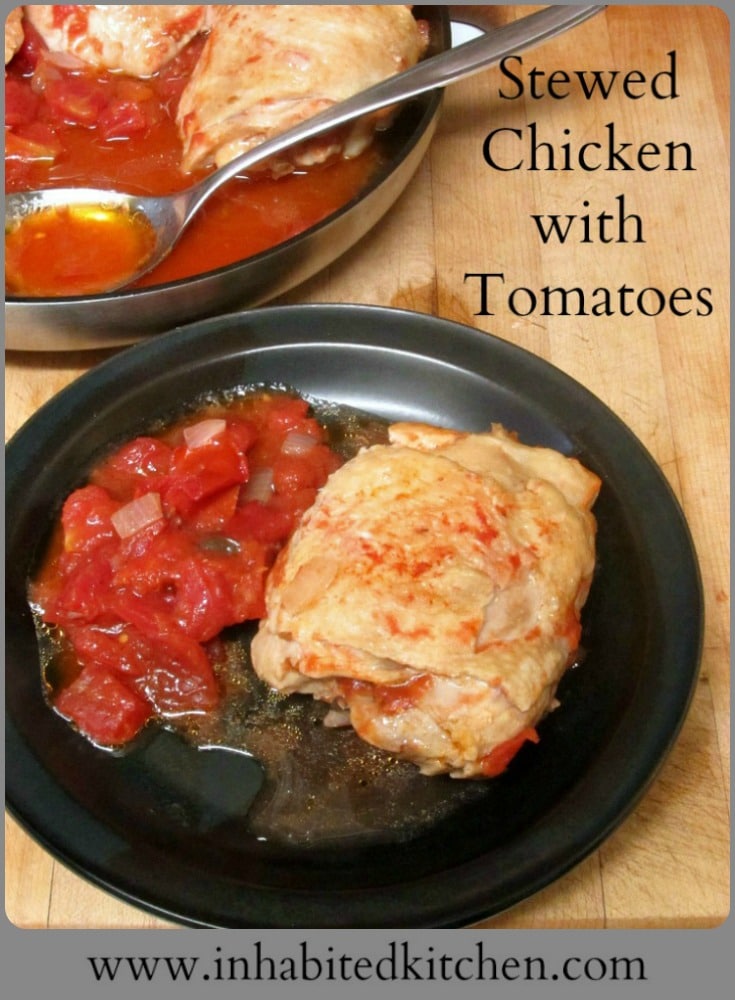 Anne Murphy
Yields 4 servings
Stewed Chicken with Tomatoes
Stewed Chicken with Tomatoes turns a simple recipe into a real meal. Easy enough to make with low energy, but enough flavor to be interesting!
45 minCook Time
45 minTotal Time
Ingredients
4 chicken thighs (with both skin and bone)
1 small onion, diced
1 14.5 oz can diced tomatoes
Instructions
Put chicken, skin side down, in a cold pan over medium heat. Let cook for 10-15 minutes, until the pan heats, the skin starts to brown, and fat renders out.
Turn the meat over. Pour off most of the chicken fat, leaving some to grease the pan. Add the onion and stir to coat with fat. Let cook another 5 minutes.
Add tomatoes. Bring to a simmer, cover and let simmer for 15 minutes.
Turn the chicken over. Simmer another 10-15 minutes, until the meat is done. (This will vary by the size of the pieces.)
7.8.1.2
262
https://www.inhabitedkitchen.com/stewed-chicken-tomatoes/
---
---