Down'n'Dirty Vegan Chili
A super simple, fast, and easy vegan chili for those days you Just Can't Cook (but need to anyway…)
No matter how good a cook you are, sometimes you just need to open a can of chili and call it dinner. And if that isn't an option – well…
OK, backing up a step. If you haven't read my last WIAW post, I have News! Rich and I are moving – in about a month! Eek!!! – to North Carolina to live with his parents. (More information here...)
Since we're basically moving into the spare room, we need to downsize radically… We're selling as much as we can, and right now seem to have a parade of people coming through the house to look at books and LPs and craft supplies and plates…  And when they're not here, we're sorting things into piles for people to look at later.  (At some point I'm sure we'll find the sofa again – and then, we'll sell it, too…)
His mother was an excellent cook, though she really isn't up to it at all these days, so I'll be moving into a well equipped kitchen. I'm keeping some tools and appliances I particularly like to use, and my favorite cookbooks, but many pots and pans and cookbooks need to go away.  And somehow, after a day of posting stockpots and baking dishes for sale, and juggling arms full of cookbooks (I have mine, and his, and my mother's,  and the ones his ex left, and the ones he picked up at a thrift store, and the gifts my friends have given me, and…) well… after a day of all that I don't really want to cook.
So, the can of chili… that wasn't in the cabinet. And sometimes that's the problem, sometimes you need a quick meatless meal for someone, sometimes you need to work around a food sensitivity, sometimes you're OK with cooking – as long as you can have dinner on the table quickly…  I'd been playing around with ideas for a vegan chili made with the tofu burger crumbles, so I decided to go with the most basic version of that.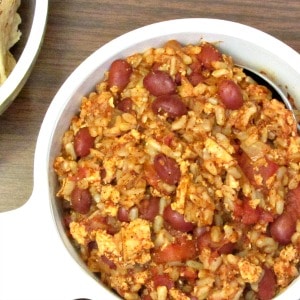 I also decided to use a commercial chili powder blend, so I wouldn't have to fuss with other seasoning.  Now, the thing about chili powder is that it can be… well, not really just anything, there are parameters, but it can be powdered dry chilies of any variety (with wildly different levels of flavor and heat) or it can be a mixture of powdered chilies and other seasoning – cumin and oregano being the most common.  I grew up with the latter, which is what I used in this recipe for convenience, though I usually now use plain chili and add my own other herbs and spices. This also means that levels of heat are totally different – and of course people prefer different levels – so any measurement of chili powder in a recipe is merely the vaguest possible guideline…
Speaking of vague guidelines, this recipe really is just that. I'd finished my premade burger crumbles – if you have them, use them. Or for that matter, if you have preseasoned chili meat go ahead and use it. If you have and want ground meat it can replace the tofu – and honestly, beef or  pork will give it a bit more flavor. (Turkey or chicken – not enough to make much difference, with the spices…) The recipe is gluten free, of course (and some canned chili is not – read labels!) And I stirred in cooked rice, which I usually have – if you don't, just serve it with taco chips or corn bread or whatever sounds good and is available.
I had half a package of tofu – I'd used the rest a day or so earlier – so I took it out, sliced it, and wrapped it in a towel to dry while I started everything else. Do that… or get out your burger crumbles.
Put your pan over medium heat, add oil, and a small chopped onion. (or half a medium one, which is what I did…) Stir that around and saute the onion for a few minutes until it starts to soften. Add chili powder to taste (well, see, that's always tricky, since of course tasting doesn't help at this stage. Add your best guess – and at this point use a little less than you think likely. You can always add, you can't subtract…)  For reference, I used a tablespoon – we like things a bit spicy, and in fact this was on the bland side for our taste. It might not be for yours…
Now take the tofu that's been wrapped to dry, and crumble it into the pan. Stir the bits around so they pick up the seasoning, and you drive off any moisture still in it.  Once they are all nice and reddish brown, and firm (you see them down in the front of the picture) add a can of rinsed, drained beans and one of tomatoes. I used red beans, here – kidney, pinto, or black beans are all terrific, and you can certainly try something else…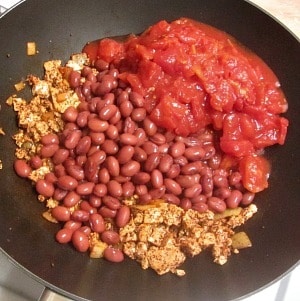 Stir all that together, to distribute seasoning, and add half a cup of water. Simmer it for ten minutes so the flavor has a chance to permeate the tofu and beans.  (OK, you can skip that part if you absolutely have to – but it does help.) Then add the cooked rice, stir in, and heat through. Taste it now to see if it needs more seasoning – but don't make it too hot,  remembering that the rice is already in the mix!
And it's done. We did add some cheese – Rich doesn't think it's chili if it doesn't have cheese – but for you and me, that's optional. (And of course, that changes it from Vegan to Vegetarian, unless you have Vegan Cheese.)
This is not the best chili you ever ate – or even the go-to recipe for ordinary weeknights. But it's a perfectly reasonable dinner on a crazy night when you really do not have the time to cook,  or a night when you are suddenly feeding someone who can't eat the meal you planned.  Or whatever emergency you face.
So – speaking of crazy times – posting here is going to be a bit sporadic until we get settled in…  Please bear with me! And then, well… we'll see…  I will certainly be doing much of the cooking, and I do not expect my essential style to change though I will, of course, add a few things the parents like… and I will cook for four, not two.  I'll continue to concentrate on easy meals, though! (Well – a little more complex than this one, usually…)
Anne Murphy
Yields 2 servings
Down'n'Dirty Vegan Chili
A super simple, fast, and easy vegan chili for those days you Just Can't Cook (but need to anyway...)
5 minPrep Time
20 minCook Time
25 minTotal Time
Ingredients
6-8 oz (half a typical package) tofu
oil for pan
small onion
2-4 t chili powder (or to taste)
1 can red beans, rinsed and drained
1 14 oz can diced tomatoes
2 c cooked brown rice
Instructions
Slice tofu and wrap in a towel to dry.
Heat a pan and add oil. Mince onion, Add onion to pan, saute briefly. Add chili power and stir to distribute.
Crumble the tofu into the pan. Stir to coat with chili powder, and saute briefly until dry, and onion softens.
Add beans and tomatoes, stir well. Simmer for 10 minutes.
Add rice, stir in, heat through.
Taste and adjust seasoning, if needed.
Serve at once.
7.8.1.2
261
https://www.inhabitedkitchen.com/easy-vegan-chili/
---
---