Sausage and Kale Rice Bowl
Italian Sausage and Kale come together in a rice bowl for a quick and easy, but hearty and delicious, skillet meal!
It's been an interesting year for weather, here in the Northeast. It was a cool summer, and now we have a warm September – it's been in the 80s all week (and the 90s yesterday!) but this time last month was in the 70s.
And of course this does weird things to seasonal produce… I just bought strawberries, peaches, and apples all at the same time, all from the same farmer! Usually the strawberries stop in August (I always assumed, at least, from the heat) and the peaches end in early September from the cold, about the time apples turn up in quantity.
So, I don't know if this is the reason, or how much it was a factor – but we've been getting the dense curly kale from our CSA farmer all along. Usually we get it starting around now, but the lighter, leafier kinds that do well with saute and steam preparation all summer. This stuff needs to be simmered, at least briefly, or it stays tough.
But that means that all summer I've been working on recipes that I can continue to use with winter kale, so that works!
This is one of those great, basic, easy one pan meals. Do note that it calls for cooked rice, so make sure you have some leftover, or start it ahead of time. As I've said, we eat so much rice that I routinely cook enough for several days at a time, so that's usually easy – but there is nothing quite like reaching in the fridge at the last minute for the container of cooked rice that isn't there… check that before you start.
You also may have noticed that I use Italian sausage for all sausage recipes. We have a local brand that is always available, reasonably priced – and gluten free. See, I love sausage, but there are two issues… One is that here in New York, it's seen as a Value Added product, rather than as what you do with the cheap meat, so it is often surprisingly expensive. The other, and more urgent one for me, is that sausage is not always gluten free… Many traditional recipes for sausage call for bread. It may have originally been filler, but now it is there because it holds the meat juices, and gives you a moist, delicious product. But if a company makes even one recipe with bread crumbs, such as British bangers, I cannot eat anything made on the same equipment. So… I can only eat sausage clearly labeled as gluten free.
Good thing I like Italian sausage! I always get hot – mostly  because we like the zip, and partly because there is more fennel seed in the mild and I'm not fond of that flavor. If you prefer it, though, use it. And you could use a different sausage all together in this recipe, if you like, though I would recommend one with some spice.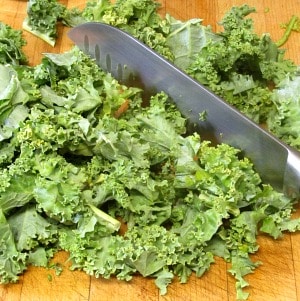 I had a smallish bunch of curly kale. I washed it, stripped the leaves from the larger stems, and chopped it. Then I measured out a quart, piled in very loosely. If you have less ruffly leaves that sit together more densely, you'll want only two to three cups, but there's almost as much air in this quart as there is kale… You don't need to worry about exact measurements, this is just to give you a general idea.
Put a pan on the stove over low heat. You can either remove the casing from the sausage and crumble it in, as I did here, or slice it thin (as I would if it was frozen – another reason I like to cook sausage is that I can easily use it right from the freezer!)  Put the sausage in the pan. Now, I like to cook it over low heat, which helps render out the fat, so I don't need to add any oil – but that does take a little more time. If you're in a rush, you can start the pan with a little oil, raise the heat a bit, and hurry through the next step.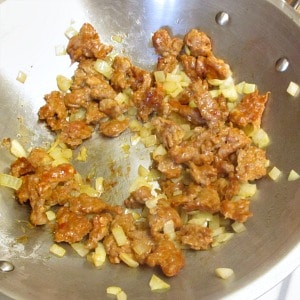 While the sausage browns, chop an onion. Once enough fat has rendered out – or right away, if you started it with oil – add the onion to the pan. Stir well, and continue to cook until the sausage is browned and the onion is softened and starting to turn golden.
Now add the chopped kale. Toss it well – I find tongs work best for this – to coat it as much as possible with the cooking fat. Then add broth. I had broth from cooking a ham bone, so I used it – any pork broth would be great, chicken would work fine, and you can certainly use a good stock base. Water will work in a pinch, though I do like to add flavor.
Bring the broth to a boil, then down to a high simmer, and stir well. Again, I find tongs are easy. The kale will start to cook down, so you want to make sure it all gets into the simmering liquid. Let it all simmer until the meat and kale are fully cooked – exact time will vary, but it should be only about five to ten minutes at this time of year. (As kale gets tougher in colder weather, it  may take a little longer – taste a piece to make sure it is tender and cooked to your taste.)
Once the kale is fully cooked (the meat will be, by then) stir in the rice. We always eat brown rice, and I strongly prefer the taste in a hearty dish like this, but you can use white if you prefer. It's not the recipe to fool around with jasmine or basmati – the other flavors are too dominant, and the delicate flavors would be wasted. Heat that, stirring well, until the rice is fully heated, and it has a chance to absorb the broth. Then serve.
The description seems to take almost as long as the actual cooking… Though I wrote it first, if you wash and chop your kale while the sausage and onion brown, it moves pretty quickly. You have time to set the table while it all simmers at the end., just before you add the rice. And so, you have a complete meal on the table in roughly half an hour.
And while, as always, I wrote this for two servings, it doubles very easily – just make sure your pan is large enough for the kale! You may notice I used a different pan than usual – that much of the raw curly kale would be hard to handle in the saute pan I typically cook with, but was fine in the larger wok. If you need to, you can add a small amount at a time, adding more as it cooks down – always a useful trick to know, but doing it all at once was faster.
[adinserter block="2″]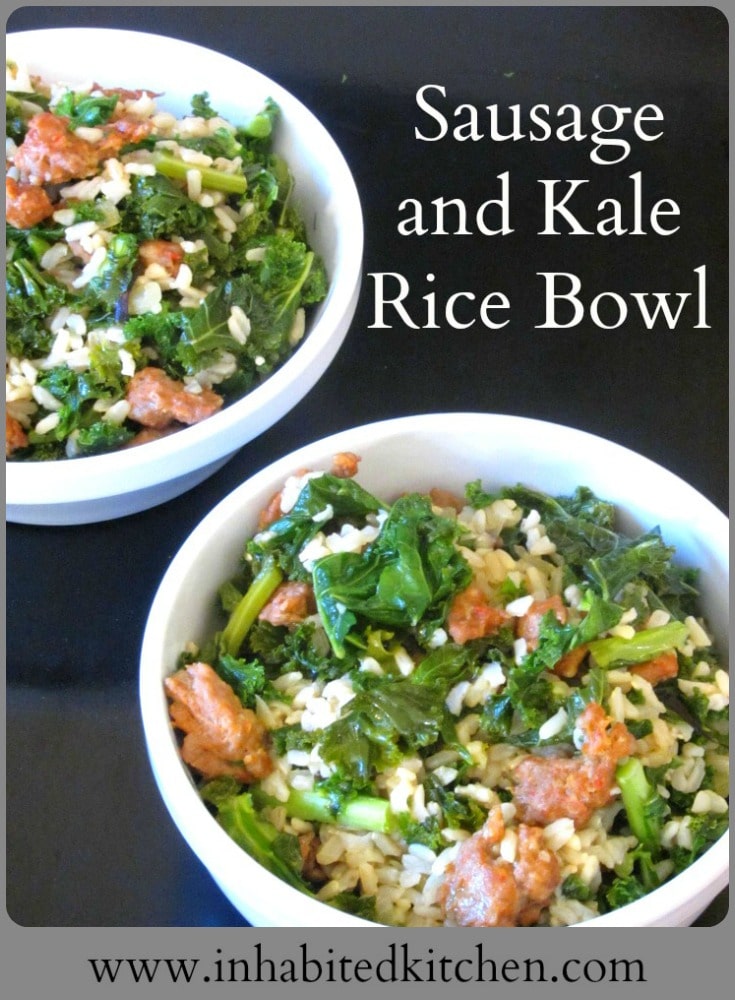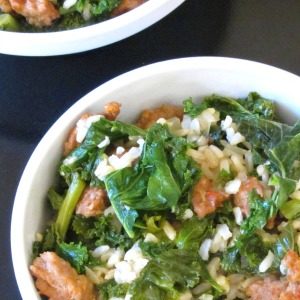 Sausage and Kale Rice Bowl
Italian Sausage and Kale come together in a rice bowl for a quick and easy, but hearty and delicious, skillet meal!
Ingredients
1/2

lb

gluten freeHot Italian sausage

1

onion

chopped

1

qt.

loose chopped kale

1

c

broth

2

c

cooked brown rice
Instructions
Slice or crumble the sausage into a pan over low heat. Cook gently a few minutes to let the fat melt out. Add the onion, stir, and let the sausage and onion begin to brown.

Add the kale, and toss well. Add the broth, let simmer, stirring so all the kale cooks down. Simmer 5-10 minutes, or until kale is cooked to your taste.

Add rice. Stir in, and cook until it is heated through, and has a chance to absorb the broth.
Save
Save
Save
Save
---
---