WIAW 182 – Scattered Thoughts, and News!
We still don't have scattered leaves – what an odd year! – but my thoughts and concentration have been scattered enough to make up for them.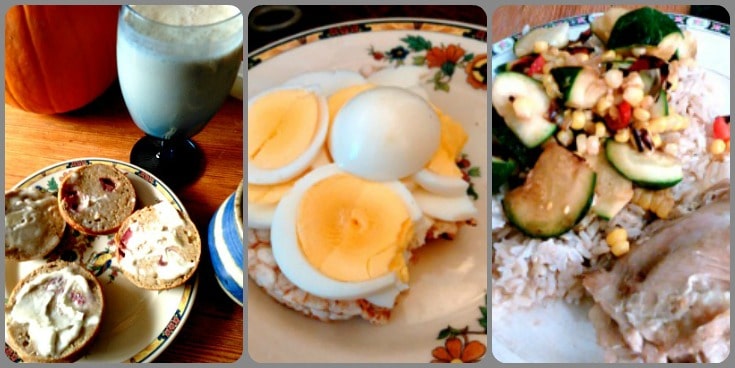 I've said once or twice that something was going on, and I'd tell you later… well, now it is Later.
Rich and I are turning our lives completely upside down, and moving to North Carolina, to live with his parents. It is not something we ever intended to do… but right now, it makes sense on many levels.
Lifelong New Yorkers that we are, we had reluctantly started to consider leaving the city. Rent and other costs here have skyrocketed, while our client base has diminished (because small businesses are going out of business, because rent and other costs…) We had, however, still intended to stay in the state – we had connections upstate, and would be able to get back easily for visits.
His parents moved some years ago, to join his brother (who had moved there some decades ago to join his wife's family, who had… this is the way people migrate…) They've been asking us to join them ever since, and we had resisted, but… they're in their nineties, now, and… Right now, this just solves too many problems, for them and for us.
But since we are combining households… well… we're downsizing radically! We need to sell (for preference!) or give away most of our stuff, since there just won't be room… They have a well-equipped kitchen, but I will keep some tools just because I like using them, and some because they work better for the blog. (And any New York Area Bloggers – I am selling props!   anne at inhabitedkitchen dot com  if you've seen anything you'd like to buy – though not the breakfast plate in the picture – I only have two and I'm keeping them.)
In the long run… I expect to do most or all of the cooking. Their tastes will start to influence my recipes, of course, though I will still make easy gluten free meals (because that's what I need.) And we will be sorting out a mixed gluten free and not kitchen, again… I am not asking them to give up the bread they eat at every meal, or their cereal in the morning. My recipes, though, will continue gluten free – there will be no wheat flour in the house (they haven't baked for years, and that gets into everything.) We'll see if they like my muffins and waffles – new taste testers!
So, I've been a bit distracted while we worked this out… and will continue to be! We'll move sometime in late November – eek! I may skip posts, I expect to do roundups and Gift Guides and avoid developing recipes in a kitchen I am dismantling…  It's about the worst time of year for a food blogger to move (though at least I'm not a baker, or a Gourmet Cook – I'll just need to catch the Healthy Food Wave next January with all my vegetables!)  I'll probably still do at least some of these WIAW posts, because we do still need to eat.  (I'm not going to even discuss Thanksgiving…)
And I even remembered to take some pictures this week…  (though I confess it's a cheat – not all on the same day. All pretty typical, though…)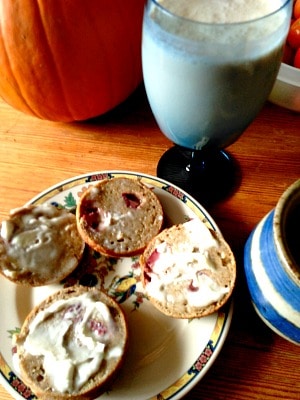 So help me, that is a strawberry muffin, with fresh strawberries from the farmer's market, sitting in front of my pumpkin. It is such a crazy year! And a protein shake made with kefir and juice. (No more fruit in my shakes – the blender has already gone to a new home, as a good friend needed one now.)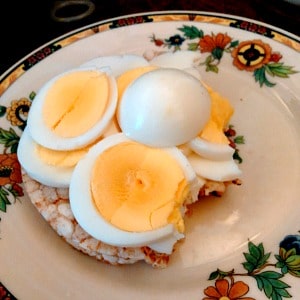 The pressure cooker, however, will stay – and be among the last packed and the first unpacked, I think. And that's how I cooked these eggs – pressure cooked eggs are amazing! Just the right texture, and so easy to peel! And, well… I also had some kind of salad…
I got a family pack of chicken thighs, and braised them all. We ate some right away, and then had cooked chicken to toss into other meals – you know my methods…  And those vegetables were wonderful! Zesty cooking peppers, and zucchini, and corn all sauteed together, and served over brown rice. I definitely expect to continue fixing this kind of meal!
So now, let's go join Laura (and that intriguing eggplant recipe!) for Jenn's WIAW party!
---
---