WIAW 183
Well, I guess I was scattered – I gave two posts the same number! But let's move on to 183, which is really 184 (but I am so not going there…)  
In case you missed it – Rich and I are moving, and combining households with his parents (who are in their 90s, and…)  So we are very largely Making Things Go Away. Which is complicated by the fact that we combined households ourselves later in life, so it feels as if we already thinned down drastically…  But when you're deciding between two sets of dishes, or saucepans, or sofas, it only makes sense to clear out the ones that would have to be moved five hundred miles. (Though I am keeping the Art Deco wardrobe my grandmother passed down to me when she died! It is both beautiful and practical, and… I'm keeping it. That is all.)
But – we were readers long before ebooks (walls of books) and music lovers long before mp3s(LPs – though we've been able to sell, those! and cassettes and CDs,) and I was a theatrical costumer (sewing machines and dress forms) and am a fiber artist (I'm keeping one loom)  as well as a cook, and all of this required material possessions…  And, well – I'm the last of my family, so I'm the keeper of the mementos – and the paperwork. (OMG the paperwork… But I'm thinning it down, and getting rid of the big file cabinet!)
But – food. We still have to eat. (Sometimes I think that's my mantra – we still have to eat…)  The CSA of course still gives us vegetables each week – though the cold front this week seems to be finally slowing that down! So today I palmed off a big basket of vegetables on a friend – who is a cook and will enjoy them. Leeks and another pumpkin and fresh thyme, and… everything I got that I thought would need some effort from me!
Breakfast… Now that the weather finally feels like Fall, I'm moving to hot cereal. (Not to mention that I'm finishing up odds and ends of grain…) I cooked a millet and corn blend, and then dropped in some cheese and eggs. Last year I did this with just corn, but I need to finish the millet and stretch the corn, and I do like the chewiness of the combination, so…  And it is easy. It does take a little while, but first thing in the morning I'm able to take a bit of time to drink my coffee, read news and email, and wake up to start my day, so it works for me.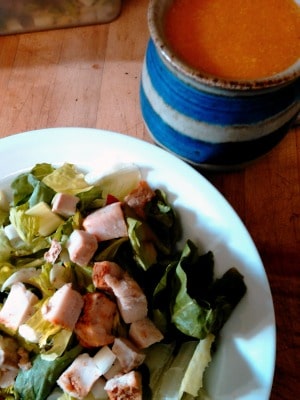 Lunch was Pumpkin Pie Soup. Well, see… first you microwave all available winter squash (including a small pie pumpkin.) Then you put quite a bit of the squash pulp into a soup pot with a quart of the vanilla almond milk (in the aseptic pack) that you need to finish up, and a good dash of pumpkin pie spice. Blend with an immersion blender, heat, and serve…  I suggest actually eating it alone, it's not actually sweet (well – my almond milk is unsweetened) but it clashes a bit with, say, salad dressing.  But all week lunch has been a cup of that soup and then a salad.  Two kinds of lettuce, and celery, and leftover pork roast.
I'm sure we ate dinner… but then, I was sure I'd taken a picture of it. (Trying to remember…) I'd made a big batch of ratatouille a while back and froze it in single meal containers – so I cut up and browned some Italian sausage, added the ratatouille, added some cooked rice, served…  An easy, quick dinner at the end of a busy day.
Posting will be quite sporadic for a while, now.  (Good thing I'm not a baking blogger!)
But come on over to Laura's for Jen's WIAW party!
Save
---
---