Shrimp and Tofu with Vegetables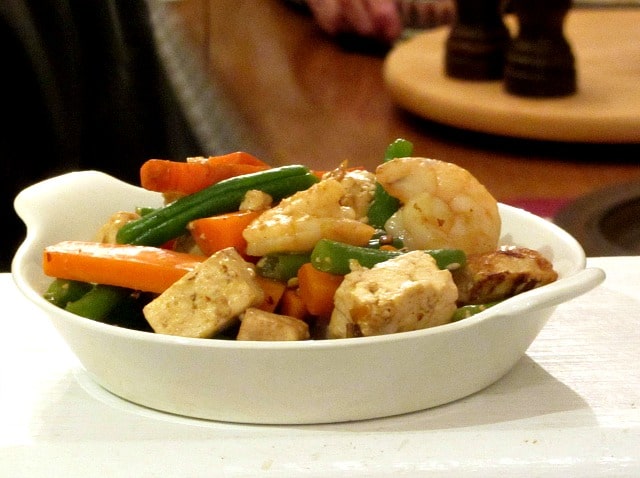 The recipe actually started with the vegetables…
I found, and bought, a lovely big bag of fresh green beans. Big being the operative word…  After all, we don't want green beans every night, and we certainly don't want plain steamed green beans every night… so I needed to find other ways to cook them.  I have carrots, so I thought about sauteing beans and carrots together – the color is so bright and pretty!
Then I bought tofu (at the request of the parents – they do enjoy it.) But while they don't eat as much as we do, one package of tofu is still definitely not enough for four people… but there was shrimp in the freezer. Good combination, but how – oh, I'll combine them with the carrots and beans! And so I did.
But certainly not plain. There was fresh ginger, and chili paste. A vaguely Asian inspired treatment sounded good. I didn't want to make a sauce, as such, because we'd eaten a few meals with sauce in a row, but I did want the seasoning to cling to the food…  oh, look, they do have cornstarch! It's a challenge cooking in a kitchen where I'm still learning what staples are on hand! I don't want to buy duplicates, after all. I'm also, of course, still learning what they like, though I have some idea from when they lived in New York. Fortunately they have always enjoyed trying new foods!
I'm still here in the stage of learning about my sources. So far I've concentrated on the obvious – the local supermarket, Costco, other large companies… I've been to the Farmer's Market, though. (Not much produce when I was there on a Monday in January, but a building with small local vendors with other products. Looks like both produce and seafood, at least, available on weekends, even in January – I'm discovering how to find the vendors!)
I have also been told that Raleigh (and the Triangle in general) has a wonderful assortment of ethnic stores – once I know where to look, I'll have no trouble finding Indian spices, Middle Eastern beans, Mexican chilies, and so on! (Though if anyone can tell me where to find Italian cookies locally, which the parents love and miss, I will be in your debt!)
Directions
To begin with, slice the tofu in four pieces, and wrap in a towel to drain.  Then scrub or peel your carrots and cut into sticks about an inch and a half long. Wash and trim your beans and snap them to the same length, and measure two cups. Cut about an inch long piece of fresh ginger, peel it, and shred it. Now take your tofu, and cut it into bite sized pieces. And while you  are in prep mode, mix one teaspoon of cornstarch into one tablespoon of water in a small bowl, and set aside.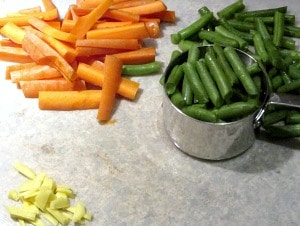 Heat a pan, then add oil and swirl it around. Add chili paste and the ginger, and stir them into the oil. Then add the tofu, stir to coat with seasoning, and let cook a few minutes to brown slightly. Add a tablespoon of tamari, stir again, and add the carrots. Saute a minute or two, then add the beans and a quarter cup of water. Cover and cook two to three minutes.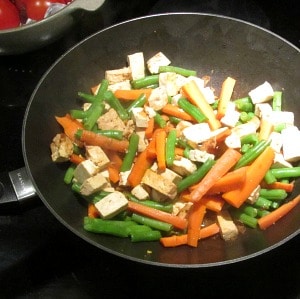 Now the shrimp. I had raw, peeled shrimp flash frozen with a coating of ice to keep it fresh. I used a cup of that, which worked for us and would for you if you are serving two adults and two young children… I would add more (or serve another dish with some protein ingredient) for four more adults or teens. I added the shrimp to the pan, stirred, covered – and checked and stirred every minute or two until the shrimp was cooked and opaque. (Which took a little longer than I had expected because the ice was thicker than I'd realized – but you need to keep an eye on it so you don't overcook the shrimp.)  As soon as the shrimp is barely cooked, stir in the cornstarch slurry, stir it around and cook a moment to thicken any liquid in the pan and coat the food. Then serve at once.
The food was moist and flavorful, rather than seeming to have a sauce. The seasoning was subtle but present – you may, of course, increase or decrease to the tastes of your own family.  The parents definitely enjoyed it, as did we. As I hope you do!
Shrimp and Tofu with Vegetables
Saute shrimp and tofu with matchstick vegetables, then add just enough sauce to coat for a delicious, but simple, dinner.
Ingredients
1

container firm tofu

2

carrots

2

c

trimmed and snapped green beans

1

" fresh ginger root

1

t

cornstarch

1

T

water

oil for pan

1

t

chili paste

1

T

tamari

1/4

c

water

1-2

c

raw shrimp

Frozen is fine
Instructions
Slice tofu and wrap in a towel to drain

Cut carrots in matchsticks, snap beans to roughly same length. Peel ginger and cut into shreds. Cut tofu into bite sized pieces.

Mix cornstarch into water in a small bowl, reserve.

Heat oil in a pan. Add chili paste and ginger, stir. Add tofu, stir to coat with seasoning, and let cook a few minutes to brown slightly.

Add tamari and carrots, stir. Saute a minute or two. Add beans, stir, add water and cover. Cook for 2-3 minutes.

Add frozen shrimp. Stir well. Cover and cook, checking every minute or two, until the shrimp is opaque and done. (Time will vary.)

As soon as shrimp is just cooked, add cornstarch slurry, stir well, let cook a minute until it is clear.

Serve at once.
---
---