Spiralized Salad – and Seasons of My Life
Cut long strands of vegetables with a spiralizer and toss them into a simple Spiralized Salad – tender-crisp, fresh, and easy to eat!
So I finally broke down and bought a spiralizer…
I'm not a fan of the "zoodles/courgetti" concept. Summer squash and pasta are radically different foods, which provide different nutrition and meet different needs. On the other hand, I have long known that various ways of cutting vegetables create interest – you change the texture and the whole feel of the food when you change the cut. So I have been curious… But not curious enough to get a big awkward gadget with limited use.
But now, I am cooking for Rich's parents. And they are in their nineties, with (between them) an assortment of typical aging issues.  And that of course affects my cooking.
Inhabited Kitchen always concentrated on seasonal food, seasonal vegetables. Back in New York, I would be picking up my first CSA share tomorrow – a few greens, some spring vegetables, not much yet, in New York…  Now, though, I will concentrate on the season of my life, not of the year. Now the most important thing for me is to cook the food the parents need, want, can and will eat… They want their out of season tomatoes and salad – I serve them. They do not want cooked greens – I do not serve them.
And they need food that is easy to eat. As we age (the professionals working with them have explained to me) it takes more energy to chew food, and swallowing can become harder. Sometimes when they reject food it is not because they don't like it, but because it has become more difficult to eat (and less rewarding for the effort. One can miss this if they make the effort for food they really love, but not things they just kinda like… )
So – bite sized food. Single bite sized, not what I've been calling that, which are more two-bite… Some mashed and pureed food (though not so much that it gets boring…) Above all, moist food, it's easier to swallow… ("Think of a peanut butter sandwich" the therapists say to me. "Adding moist jelly makes it easier to eat.") I have previously commented that the parents like sauce, and assumed that it was because it added flavor. Well, that's one reason, but so is the liquid – I now serve some kind of sauce or gravy with most meals.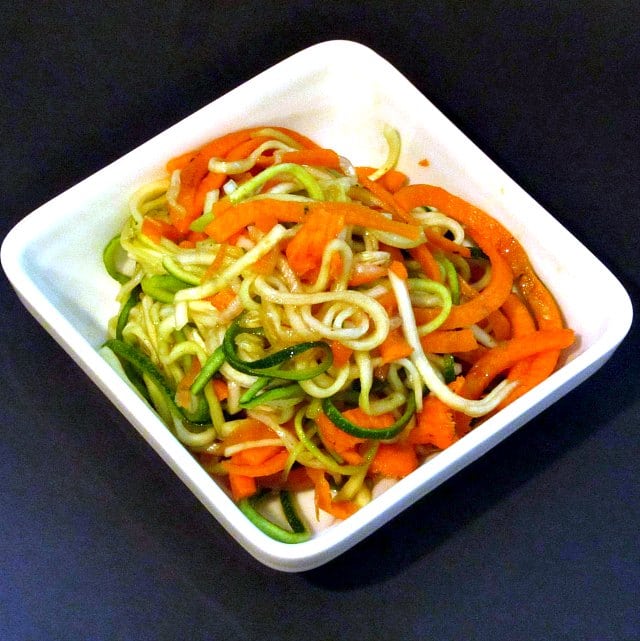 And (to bring this back to the beginning) I looked at the spiralizer, and realized that it would let me serve the crisp vegetables they prefer in a form they could more easily eat. So I bought it. And I have been playing with it. (Rich is starting to make comments about the addictive nature of spiralizers…)
It is perfect! It allows me to saute vegetables for just a minute, so they are still tender crisp, and have the flavor the parents prefer,  but are also easy for them to eat. I introduced it with a big bowl of shredded pork and spiralized summer squash, and sauce on the side, and they literally ate it up! (Recipes will follow, as I experiment more… But right now I need to give them a break!)
And a spiralizer lets me give them raw carrots that are easy to eat. I already had, actually – I have made them  Ginger Carrot Salad, with grated carrots, and they like it. But I like options… And as summer heats up, I will want to serve cold vegetable dishes, and indeed entire cold dinners.
Directions for Spiralized Salad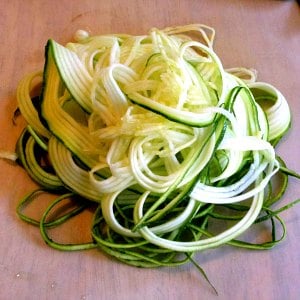 The salad is pretty simple, really. I took one medium zucchini, and one smallish carrot, and you can definitely change those proportions… I just wanted a little chewiness with the softer squash. Put the zucchini though the spiral gadget, on the thicker setting. (And you know – you could use the julienne blade on a mandoline, or just cut it in very fine strips with a knife… It won't be exactly the same, but it will work.) Cut the pile in half with a big kitchen knife, to make it more manageable. Well, I cut it in quarters, which does still leave some long shreds, but makes it all easier to eat.
Then put the zucchini in a bowl, and sprinkle just a pinch of salt over it. Stir that in. It will draw out some of the water naturally in the vegetable, to keep it from going soggy.
Let the zucchini sit while you spiralize the carrot, on the thin setting, then cut the pile of carrot as above. Then toss it with the zucchini, and let it all sit fifteen minutes or so. You will see the liquid collect in the bottom of your bowl – drain that.
Add one teaspoon of olive oil, and two of balsamic vinegar.  (Yes, this is the opposite of traditional salad dressing.)  Toss well. Then serve as a vegetable side dish, as a salad, on top of a tossed salad…  The zucchini is soft but not mushy, the carrot is still crunchy but not hard – just enough contrast in texture for interest. And it is, in fact, easy to eat…
Now, I do not think this salad will keep well, unlike many of the vegetable salads I make. The zucchini is perceptibly softer even by the end of the meal, from the continuing action of the salt, and I think it would be mushy by the next day. But it is easy to make in small amounts, and it was lovely fresh, just enough different from other salads.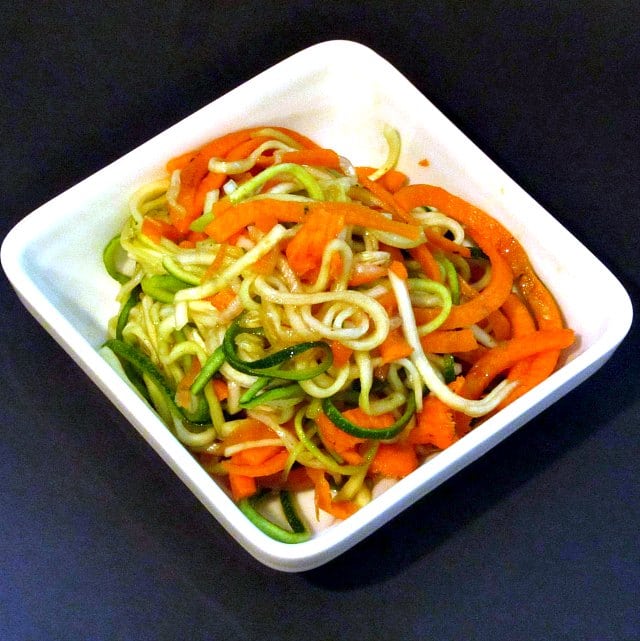 Spiralized Salad – and Seasons of My Life
Cut long strands of vegetables with a spiralizer and toss them into a simple Spiralized Salad - tender-crisp, fresh, and easy to eat!
Ingredients
1

zucchini

pinch

salt

1

carrot

1

t

olive oil

2

t

balsamic vinegar
Instructions
Spiralize zucchini. Toss with salt, and set aside.

Spiralize carrot. Add it to zucchini, and toss. Let rest for 10-15 minutes.

Drain off collected liquid. Add oil and vinegar, toss well.

Serve.
Notes
Let rest for 10-15 minutes during the recipe preparation.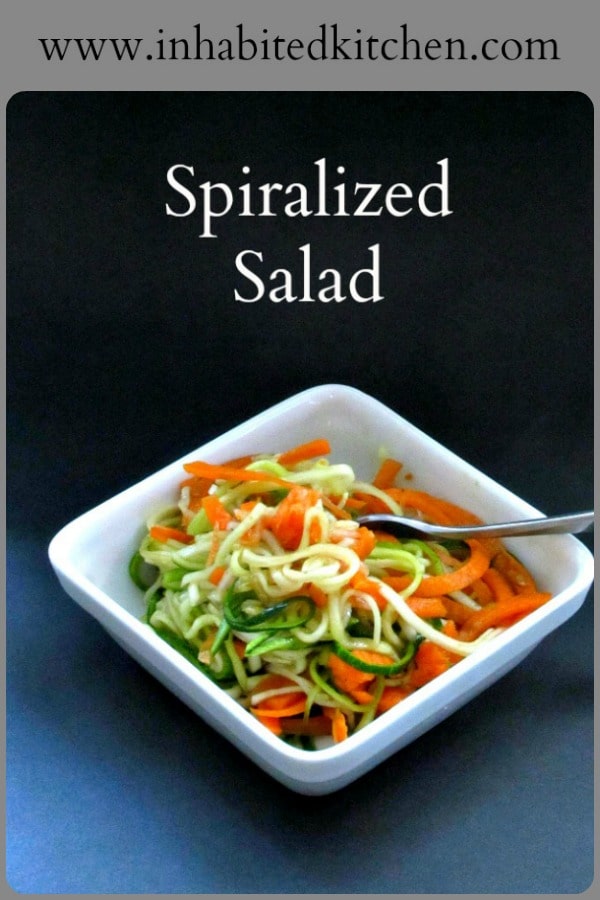 ---
---