Garlic Green Beans
Improve less-than-fresh supermarket green beans – and dress up lovely truly fresh ones! – with this simple recipe for Garlic Green Beans.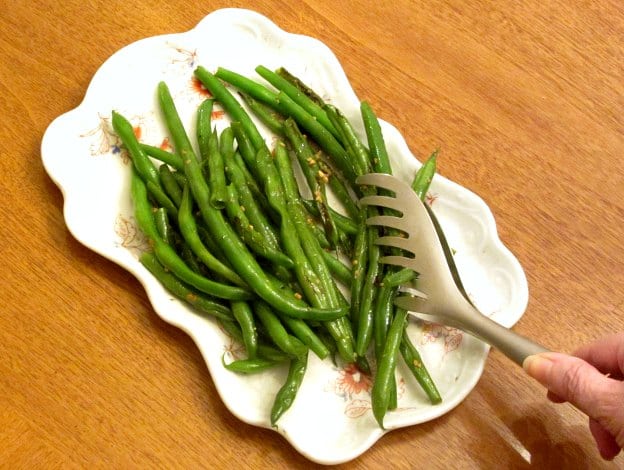 A glance at Inhabited Kitchen will tell you that we like vegetables, and the fresher, the better. That's why we participated in Community Supported Agriculture for years, and also shopped at Greenmarket (a wonderful farmer's market) in New York City.
But long time readers, who have been around in February and March before, have also seen me discuss the problem of "fresh" produce in winter in the Northeast. Which is that it isn't really fresh…  The vegetables in the produce section of supermarkets, especially when it is not growing season in your area, were often harvested weeks before, then shipped across the continent (if necessary.) They've spent time in trucks and warehouses and distribution centers, they've been handled countless times, and, well – they're not very fresh. (Here in North Carolina I will be able to get really fresh local vegetables much sooner than I could in New York – and I look forward to that!)
And that is the reason that in winter, I have cooked cabbage and root vegetables (which may be local storage or may have also been shipped cross country – but stand up to the treatment well) but also used frozen vegetables – which are flash frozen a day or two after harvest. Which means they are often much better quality.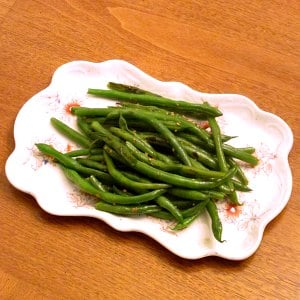 The parents, though, strongly prefer their "fresh" vegetables, and I need to give them what they like.  And, well – the quality varies…  Take this week. I got a big bag of Brussels Sprouts, which are in fine condition (although they were harvested in Chile three weeks before I bought them – Brussels Sprouts, like most cruciferous vegetables, keep well.) I bought green beans at the same time, though, and, well – they look nice, but they need a little help. I just steamed them, the first night, and while not bad, neither taste nor texture were quite what one would hope for. (That's another issue, here, at least – they all seem to come in prepacked bags, so I get more than even our family eat in one night, so they sit around even longer!)
Anyhow – I have found, over the years, that lightly sauteing vegetables often helps with texture issues. It somehow seems to crisp limp vegetables and tenderize tough ones. These were a bit more chewy than crisp, so I thought it would help. I could also use it to add flavor (which was also lacking.) Garlic is both easy and a classic combination, so I went for it.
Most directions I've seen for garlic green beans tell you to boil the beans first, then saute them in butter and garlic. And you can certainly do that…  (And if you chose to follow this recipe with frozen beans, just for the flavor, you essentially have done that!)  But that wasn't going to sove my texture issues, so I did it the other way around.
Directions
First, of course, wash and trim the green beans. When I was a kid, Mom taught me to trim both ends, but there's no real need for that – just snap off the stem. And if an end is already snapped or cut, break it off as well – you don't want the cut part that has browned…  I'll be honest, I usually continue to snap into bite sized pieces, but I left them long this time because it is pretty…
And the garlic – I used minced garlic from a jar (It's easy, the parents keep it in the house) but if you use fresh garlic, mince it now, before you start cooking.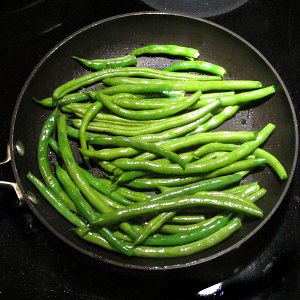 Heat oil in a fry pan. Once it is hot, add the beans. (Not the garlic! If you add it this soon, it will burn and get bitter.) Stir the beans around every minute or so. You can see, looking at the picture, that parts are a brighter green – that's where they have started to cook. And if you get a few spots that start to brown and sear, that's all to the good – more flavor – but I don't want a lot of searing with this the way I do with some vegetables.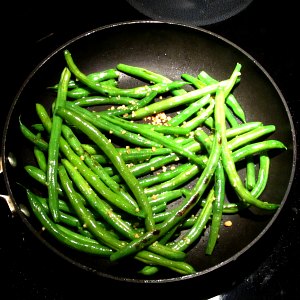 Once they are mostly that brighter color, add the garlic and stir well. Give it just a minute to start cooking in the oil in the pan and on the beans – and then add a splash of water, and cover. Lower the heat, and steam the beans until they are done to your taste.  (And if you start with frozen beans? Just saute them with the garlic until heated through. They're already fully cooked.)
Now – green beans are one of the vegetables where "Your taste" really varies… I knew a cook in a residential retirement community who complained that some residents had told him that green beans should be cooked five minutes until crisp, and others half an hour (preferably with bacon) until soft… and he could not very well do both to the same innocent bean! I was reminded of this a while ago looking at a recipe on another blog where half the comments said they'd cooked it five to ten minutes longer, and half five minutes less. So I have to tell you –  I'd check it in three to four minutes (remember, the beans are already partially cooked) but if you like them cooked more, give them longer. I gave them about five minutes, removed the lid, let the tiny amount of water remaining cook off, and served.
And they were a hit. Tender crisp, and plenty of flavor.  Much nicer than the plain steamed ones!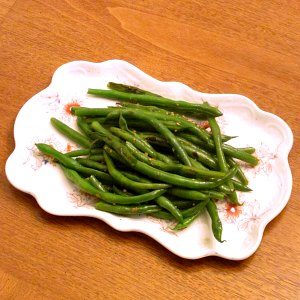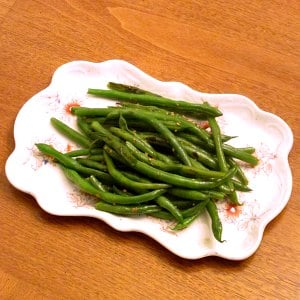 Garlic Green Beans
Improve less-than-fresh green beans - and dress up lovely truly fresh ones! - with this simple recipe for Garlic Green Beans.
Ingredients
oil for pan

1/2

lb

fresh green beans

1

t

chopped garlic
Instructions
Wash and trim green beans. Either leave whole or snap in pieces, as desired.

Heat oil in pan. Add beans, stir. Saute for a few minutes, until beans are brighter green.

Add garlic and stir a minute. Immediately add 2-3 T water, and cover to steam.

Steam until done to your taste. (Check every 3-4 minutes, add a splash more water if needed.) Then remove the lid, stir until water evaporates.

Serve at once.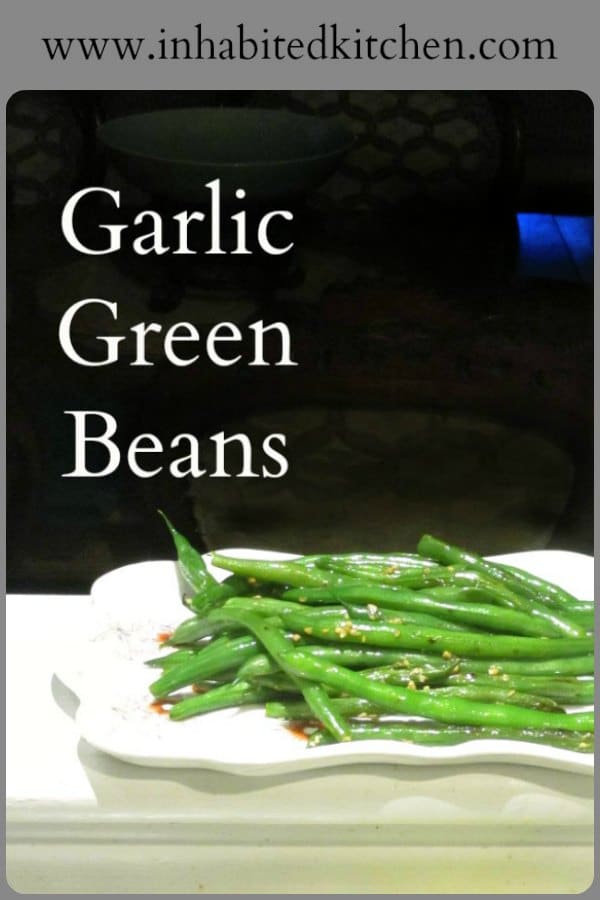 ---
---